Kalbarri Skywalk
Kalbarri Skywalk
Overlooking the impressive Murchison River Gorge near Kalbarri, two new steel skywalks enable visitors to completely immerse themselves in the ancient landscape.
Words: Rachael Bernstone.
Photography: Dermot Boyle, Department of Biodiversity, Conversation and Attractions
Cultural & Tourism · WA
Dec 2020
New Perspectives on an Ancient Place
Visitors to Western Australia's Murchison River Gorge are able to connect with the landscape like never before, thanks to two cantilevered walkways fabricated from REDCOR® weathering steel.
Overlooking the impressive Murchison River Gorge near Kalbarri, two new steel skywalks enable visitors to completely immerse themselves in the ancient landscape.
This new tourist attraction in Western Australia's mid-west combines equal parts function and sculpture, and offers new vantage points from which to admire the sandstone river valley below.
"The geology and landforms of the park provide a dramatic and scenic landscape."

Management Plan

Kalbarri National Park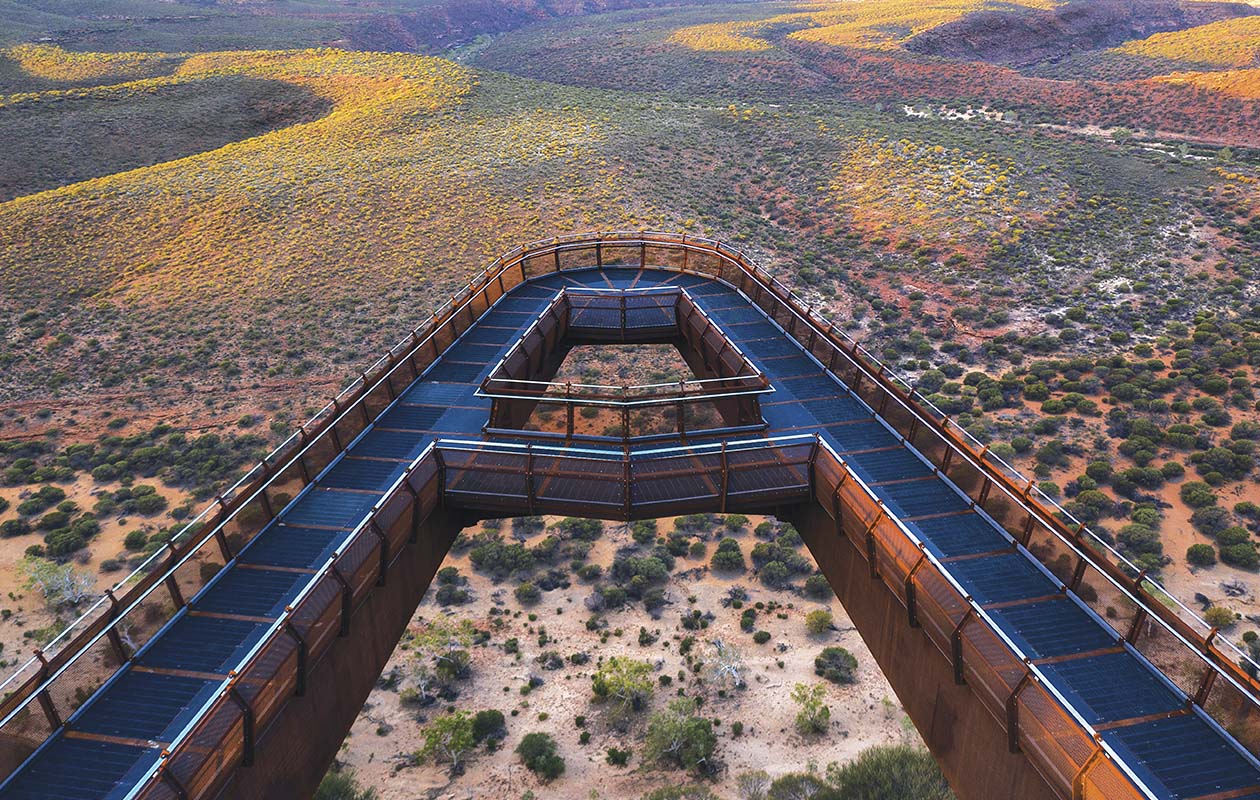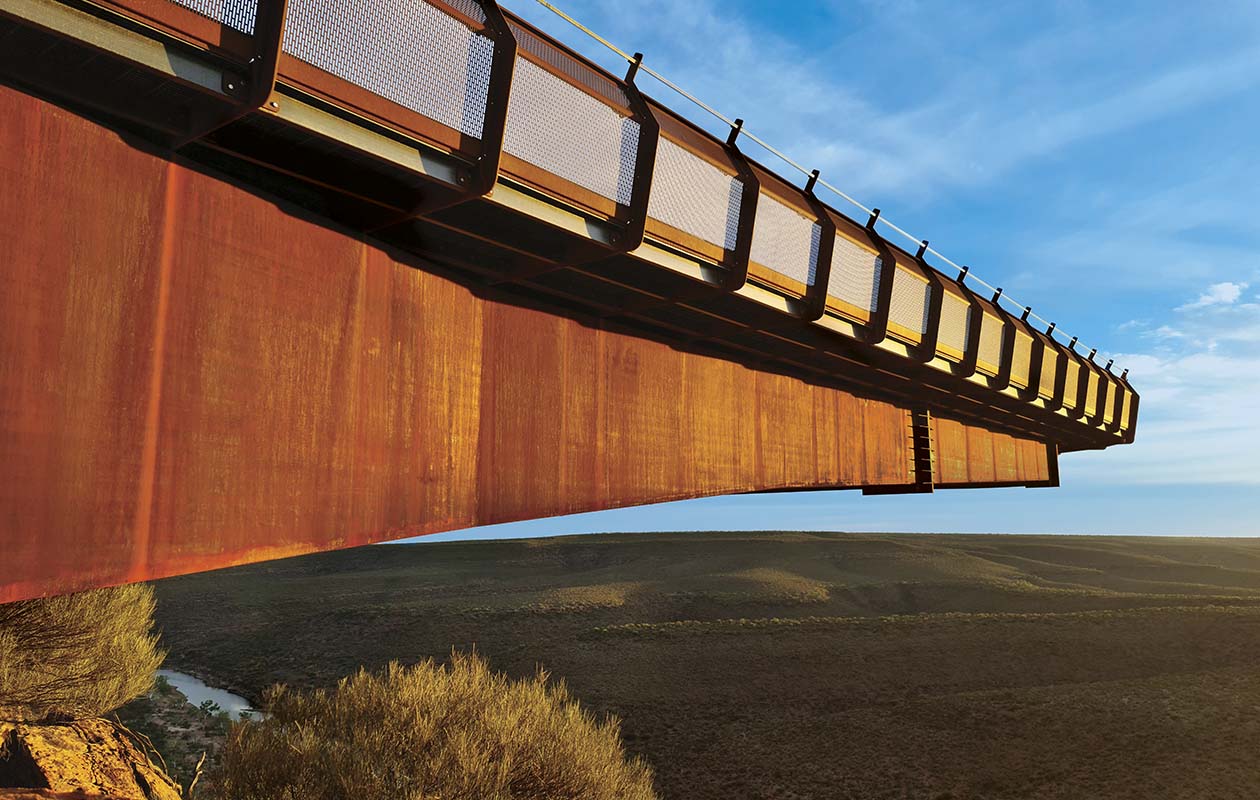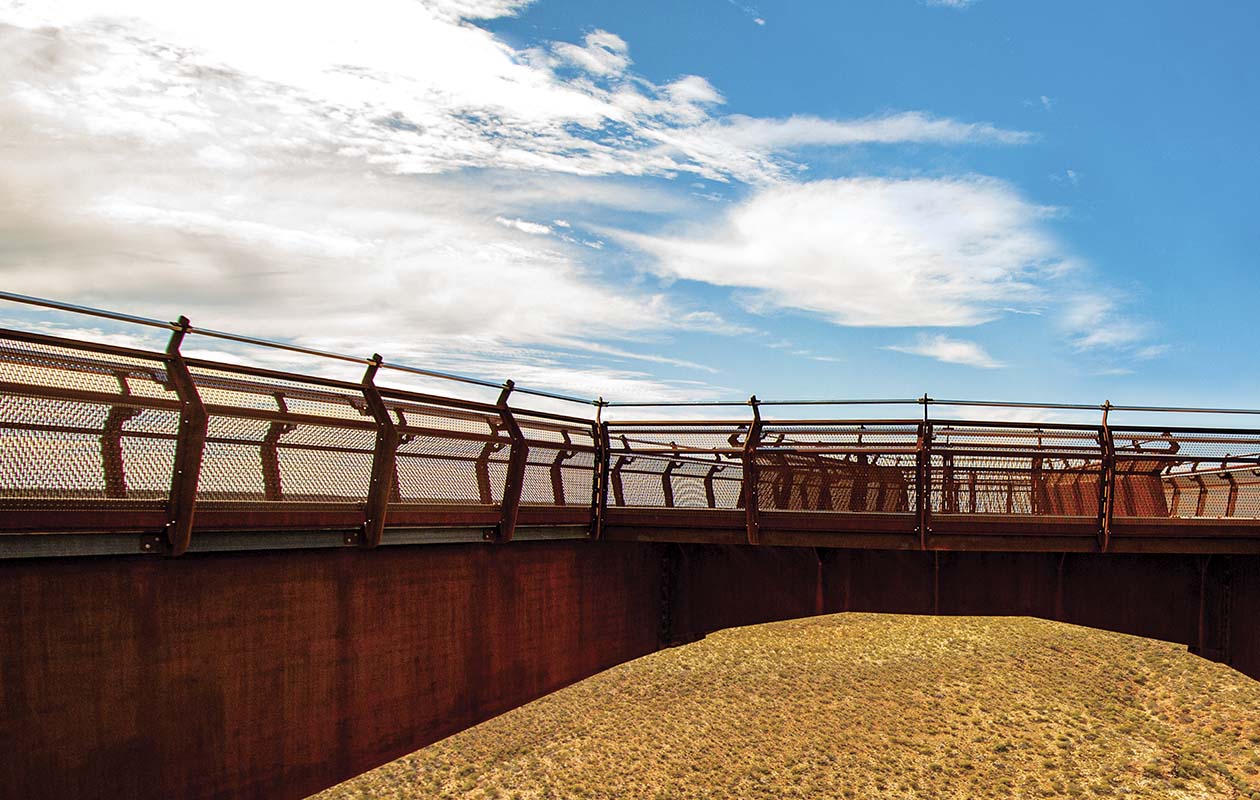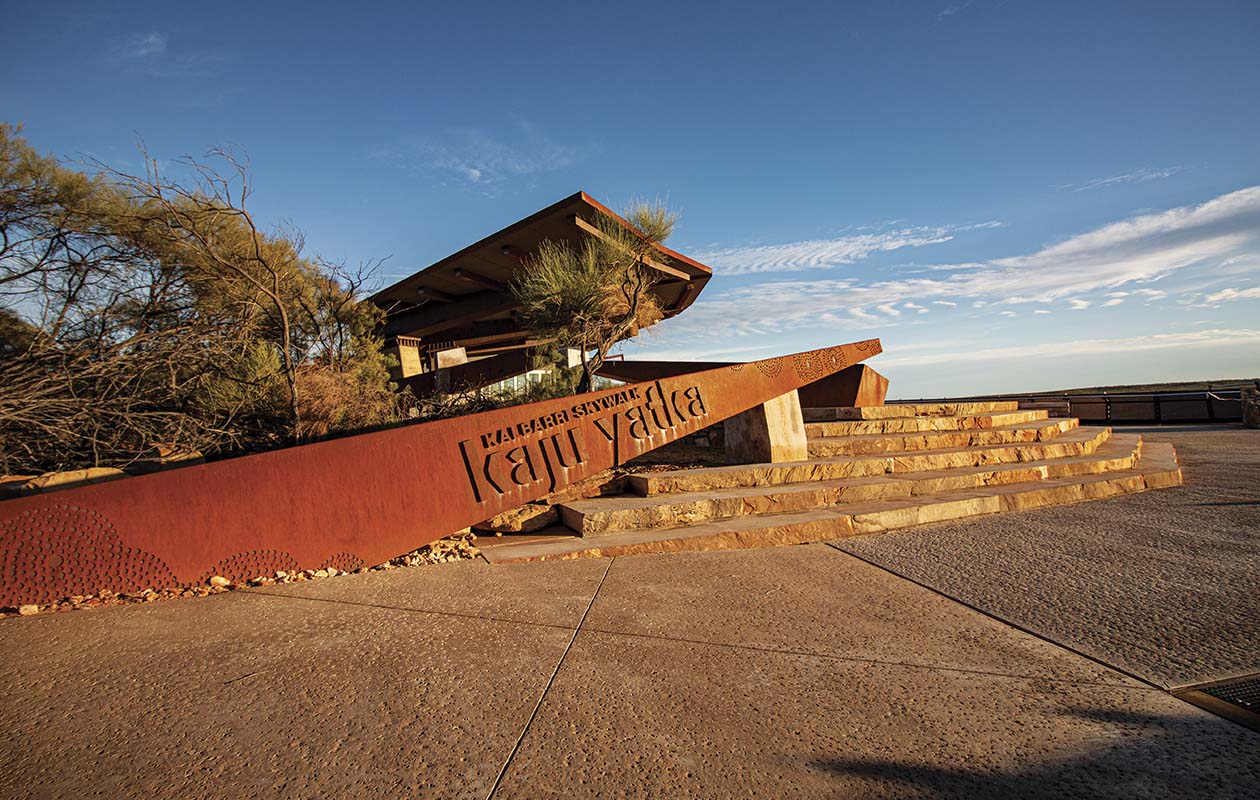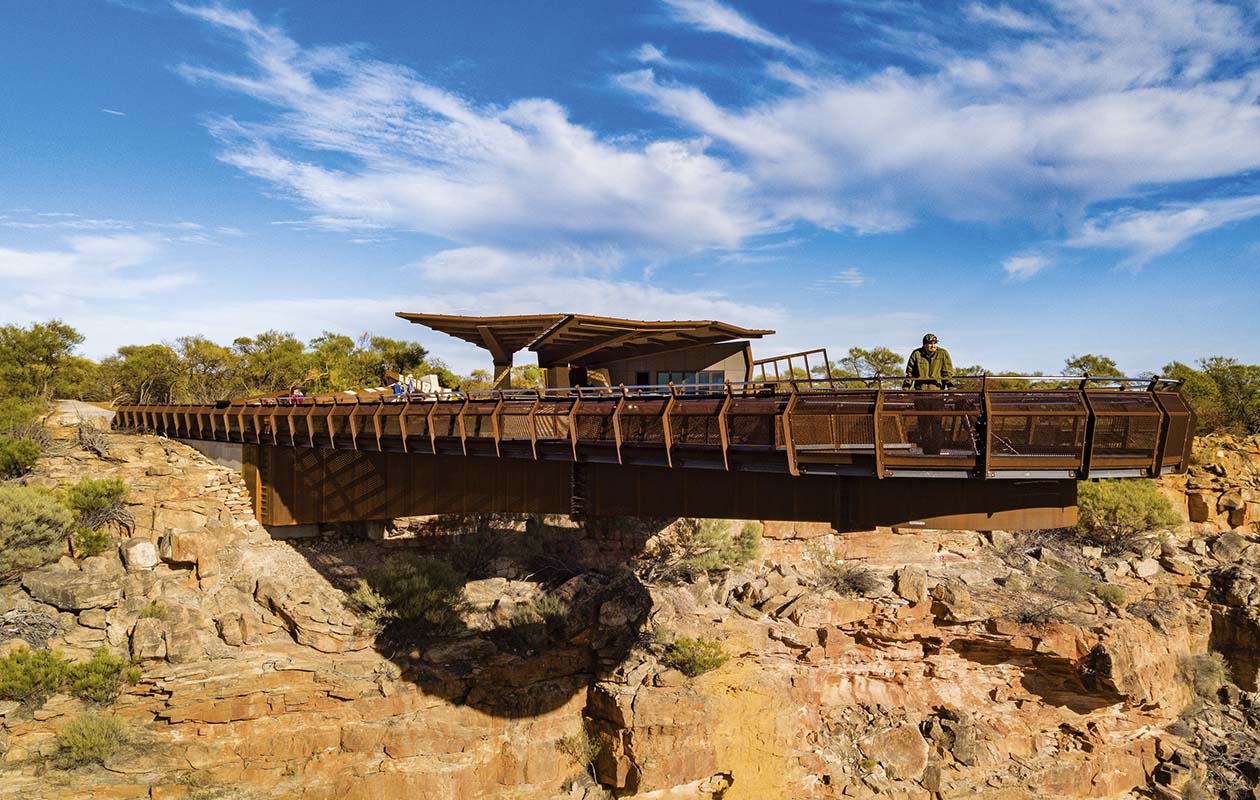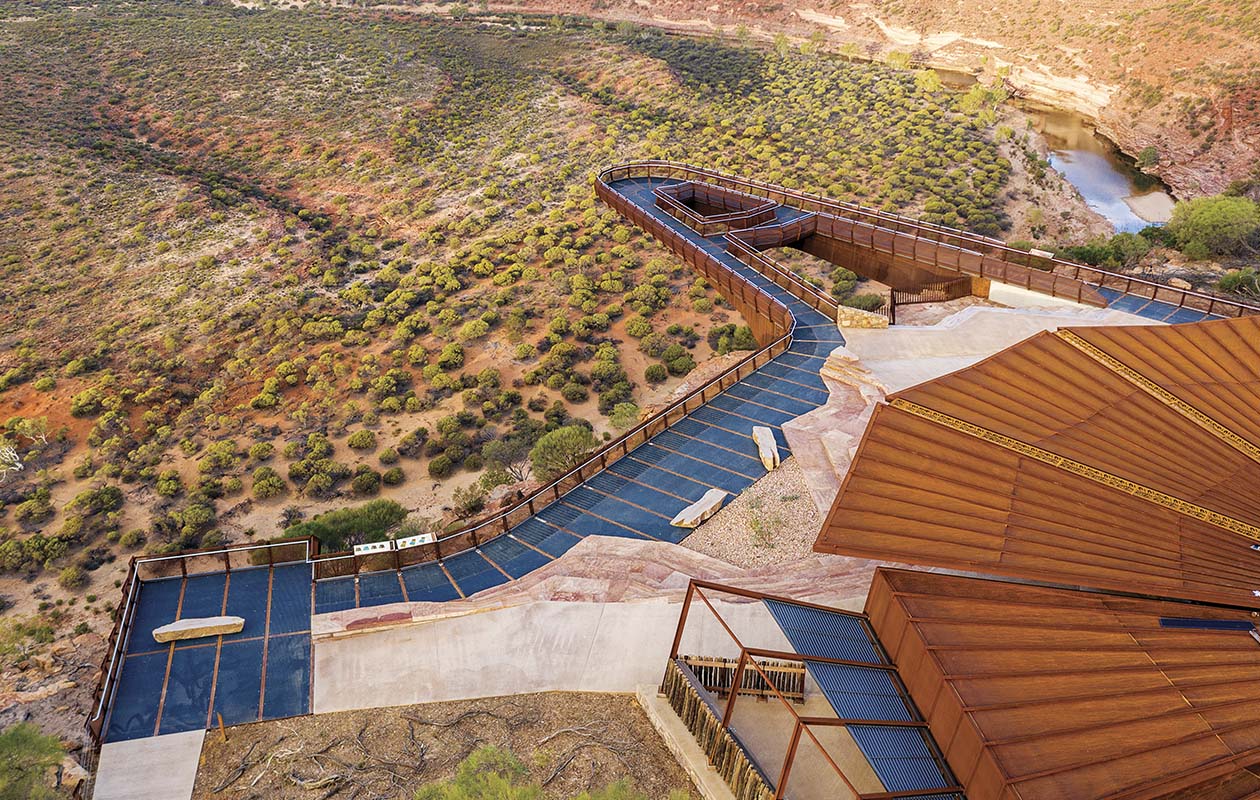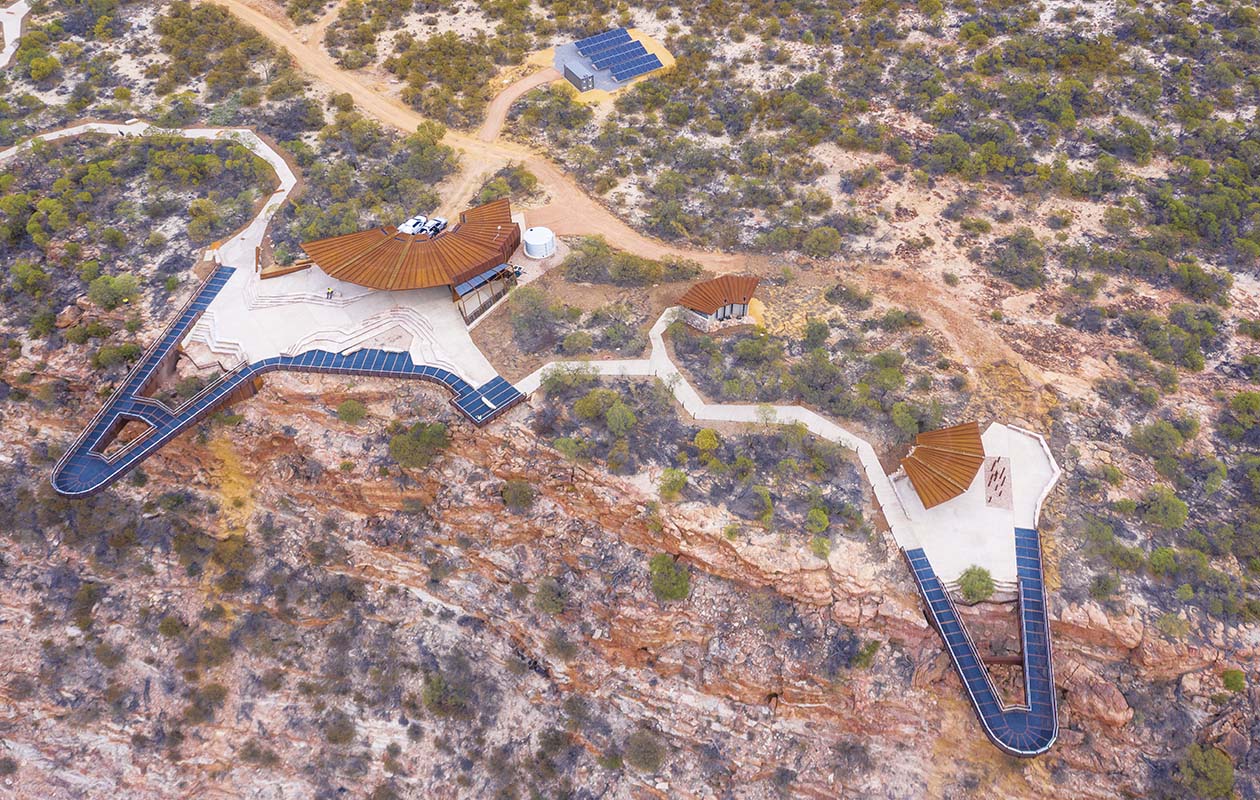 About 600 kilometres north of Perth, the national park sits within Nanda country, and input from the local indigenous salt-water people played an important part in the design and delivery of this project. A new sign at the entrance proclaims the Nanda words for 'sky' and 'to walk': kaju yatka.
Accessible to all ages and abilities, the skywalk is the central showcase within a $13.2 million redevelopment at the National Park. In the 2019/20 financial year, the Kalbarri National Park attracted more than 200,000 visitors, a marked increase over the previous year.
Back in 2015, the Department of Biodiversity, Conservation and Attractions (DBCA) 'Parks and Wildlife' engaged Geraldton-based Eastman Poletti Sherwood Architects as principal designer for the planned tourism upgrade.
DBCA project manager Rory Chapple recalls meeting with architect Craig Poletti at the highest point on the cliff – the site of a previous lookout and where Skywalk 2 sits now – to envision a new attraction.
"Craig and I stood on the cliff edge together, mulling over how things might look there, and he was sketching," Chapple says. "We were having issues with rough roads in the park – which required a 4WD to get anywhere – so we wanted to create a drawcard that would be seen as a tangible benefit in the national park.
From those initial discussions, client and architect determined that the innovative structures would be created using weathering steel, in keeping with the park's management plan, which states: "The geology and landforms of the park provide a dramatic and scenic landscape. Any proposed recreation site, infrastructure or access developments in the park will require careful planning to minimise visual impacts since any visual impacts to the landscape become obvious in the predominantly low vegetation."
During the design phase, BlueScope's REDCOR® weathering steel in grade WR350LOB was chosen for several key reasons. These included the remote location of the site, and a desire to minimise maintenance over its projected 100-year lifespan.
The brief called for a structure with a 100-year design life that would require low ongoing maintenance, and that blended into the surrounding natural landscape at the top of the gorge.
High-strength weathering steel from BlueScope – REDCOR® – was deemed a perfect choice for the cantilevered box beams and decking outrigger joist/baluster elements, because its naturally forming patina provides long-term corrosion protection without additional protective coatings. In addition, the material's rich colour mirrored the surrounding natural rock gorge face.
The massive box beams required extensive steel detailing because their tapered shape gives rise to varying dimensions and details along their length. "To prevent confusion between the connection requirements, each box beam splice was detailed in plan and section," Poletti explains. "Typically, end-plate thicknesses and stiffeners were standardised across both Skywalk 1 and Skywalk 2. Additionally, only two bolt sizes were used in the main box beam connections."
Steel was also an obvious choice to meet the extreme wind loadings for the site, which are equivalent to Region D cyclonic. The use of structural steel enabled the Skywalk to be prefabricated in segments in Perth and transported to site to be craned into place, where, as an environmentally considered building design, it blends harmoniously with the surrounding landscape.
The national park is located on an undulating sandplain plateau of white and yellow quartz sands with patchy outcrops of laterite, which contributes a reddish tinge to the iron and aluminium-rich soil. This particular plateau was uplifted during the Tertiary period – about 50 million years ago – and, since then, the Murchison River has carved the spectacular gorge, exposing Tumblagooda Sandstone along its length.
During installation, the largest crane used on the site – at 350 tonnes – was transported to site from Perth, along with smaller cranes that were brought in from Geraldton.
Part of its appeal is the fact that the spectacular skywalks are unique in Australia.
Here, the larger horseshoe-shaped structure extends 25 metres beyond the cliff edge, where it defies gravity thanks to 10-metre-deep anchors and massive sub-surface concrete box beams.
These are concealed beneath 200m3 of sandstone landscaping, re-using stone that was cut and dressed after being excavated from the site. The skywalk structures were fabricated using 150 tonnes of REDCOR® weathering steel in a range of thicknesses.
The box beams, which range from two to 2.2 metres deep and form the main spine, are topped with Fibre Reinforced Plastic (FRP) mesh walkways – which enable viewers to effectively see through the structure to the Murchison River below – and perforated weathering steel balustrades and stainless steel handrails.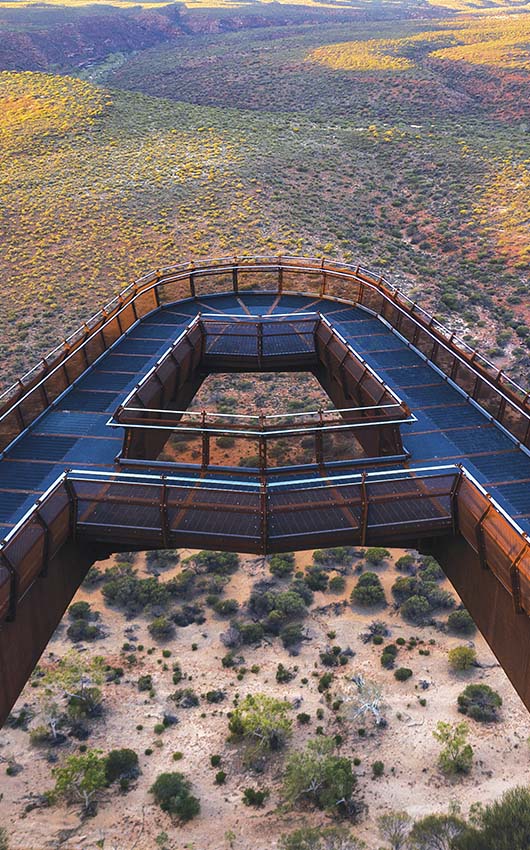 BlueScope supplied an additional 62 tonnes of REDCOR® weathering steel for the auxiliary buildings and kiosks and for interpretive signage, artworks, shades and landscaping.
In addition to the challenges posed by the site's remote location, and the degree of difficulty of the cantilevered structures, budget was a third key challenge on the project.
"It was a long haul with issues around costs," says Chapple. "Craig and Paul worked hard to determine the best materials and suitability, and we had to revisit our design and work through some serious issues to get it over the line.
"For example we had to source high-tensile bolts because it was important to me as the client that they were also weathering steel. Bocol was a fantastic contractor in the way they met these challenges."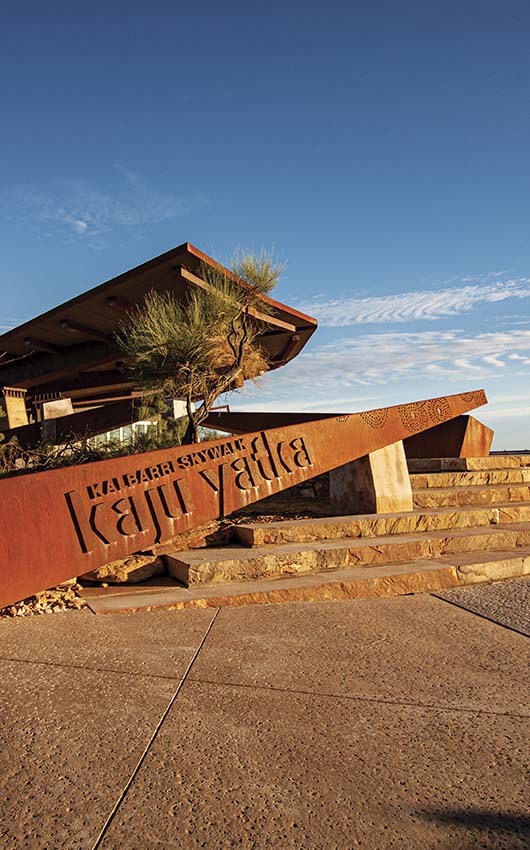 "One critical aspect was selecting connection elements that were compatible with the weathering steel," says Paul Terpkos, engineer. "High-strength friction grip (HSFG) bolts to the main box beam splices were selected based on their similar chemical composition to the weathering steel plate - preventing the potential for galvanic corrosion - and closer bolt spacings were documented to prevent crevices forming between the connected plates."
Since the new facilities opened, the response from visitors has been highly favourable, Chapple says. "It's been really amazing. We've had a lot of people - in fact double the number of visitors over the previous 12 month period. And while COVID-19 has prevented international and interstate visitors, our local visitor numbers are up," according to Chapple.
"It's quite moving for people to go there – the structure fits in with the landscape and it's very quiet and respectful, because it was designed so that people don't see the skywalks immediately; it's a revealing experience when you come to the cliff edge."

Rory Chapple

Project Manager - Department of Biodiversity, Conservation and Attractions
Chapple says that visitors are also moved by smaller elements within the precinct. "The link between architecture and landscape - the steel and the rock – creates a very earthy feeling for the site, and it's obvious that the design team worked hard to integrate the architecture and the landscape," Chapple explains.
The result is a place that makes it easy for visitors to feel at one with this ancient landscape, and that's exactly what client and architect imagined when they stood on the cliff edge back in 2015.
Project information
Architect
Eastman Poletti Sherwood Architects
Project
Kalbarri Skywalk, Western Australia
Copyright © 2020 BlueScope Steel Limited ABN 16 000 011 058. All rights reserved.
No part of this publication may be copied, reproduced or distributed without consent. BlueScope Steel Limited, to the extent permissible at law, is not liable to any person for loss or damage arising from reliance upon information contained in this publication. The articles featured in this edition of STEEL PROFILE® are sourced, written, fact-checked and curated by the authors with editorial contribution from BlueScope Steel Limited. Any statements or opinions attributed to a person are the views of that person alone and do not necessarily reflect those of BlueScope Steel. The decision to use any particular product or material in the projects featured in this publication was made by the team involved in each project and not BlueScope Steel Limited. While care has been taken to verify the accuracy of details in this publication, BlueScope Steel Limited assumes no responsibility or liability for any errors or omissions in the content of this publication. All information is provided with no guarantee of completeness or accuracy.
Images shown throughout have been reproduced to represent actual product colours as accurately as possible. However, we recommend checking your chosen colour against an actual sample of the product before purchasing, as varying screens and devices may affect colour tones and finishes.
Every project is different and not all products are suitable for all applications, projects and environments. You should confirm the suitability of particular products for your project by contacting the supplier directly and by obtaining information and advice specific to your circumstances.
REDCOR® is a registered trademark of BlueScope Steel Limited.
Submit your project
We encourage you to share your projects for consideration in a future issue of STEEL PROFILE® magazine. We invite you to submit projects that feature a ground-breaking or an innovative use of steel. We love celebrating and writing about such projects!
Related projects