WA Museum, Boola Bardip
WA Museum, Boola Bardip
Beneath its pleated metal façades, shimmering surfaces and glassed bridges, the bones of this building, predominantly made from BlueScope's XLERPLATE® steel (450 grade), has managed to literally unify and reinforce the old and the new in the remarkable WA Museum, Boola Bardip.
Words: Lucy Salt.
Photography: Peter Bennetts
Cultural & Tourism · WA
Feb 2022
Project Summary
Straddling an entire city block, the new museum provides eight new galleries, while also creating clear connections to the existing heritage buildings. The choice of structure made from high-strength XLERPLATE® steel (450 grade) helped overcome some very particular design challenges.
See Project Information
Sturdy History
WA Museum Boola Bardip was always intended to be locally inspired, globally admired, and designed by world-class architectural teams drawn from international and local talent pools.
For the design-competition-winning team, Hassell and OMA, led by managing contractor Multiplex, the site would prove extraordinarily complex, but close collaboration has yielded a remarkable new public place that establishes fresh connections to Perth's Cultural Centre, while also giving new life to its existing heritage fabric.
At once a multi-layered celebration of Western Australia's unique features - its diverse landscapes, particular light quality, its interconnected and sometimes conflicting stories of people and culture; here we contemplate the 'how', and in this story, structural steel lies at the centre of how this project has been made possible.
"As you walk around, you get to see the complexity of the relationships between the old and the new, and the way the architecture responds to that, but it's also supported by steelwork," says Peter Dean, design director at Hassell. Elevated walkways and bridge structures traverse open spaces to form links between, around and over the old, while the new building's voluminous gallery space, minimal vertical structural elements have given the museum new flexible accommodating spaces. "They're no mean feats, and once explained, people are in awe as to what was achieved within a very tight timeframe and a very tight budget" says Dean.
"As you walk around you get to see the complexity of the relationships between the old and the new, and the way the architecture responds to that"

Peter Dean

Design Director, Hassell
For Paul Jones, regional director at OMA, this project is a continuation of the practice's relationship with steel. "Steel has played a significant role in the work of OMA and in some ways this project continues that lineage of OMA's exploration of architectural structural expression," says Jones, pointing out that the trusses inside the building are not hidden, which makes them an important part of the architecture. "And part of the expressive nature of the architecture comes through the use of that material and that structural system," he says.
"Our design thinking and process are very similar, there's a synergy about working together," observes Dean. The combined design teams worked from a central project office in Perth for the duration, which helped reinforce the collaborative nature of the project. "The team was chosen around skill sets and individual qualities," says Dean, in what proved to be a seamless process to bring to life a "very challenging project".
As its name suggests (Boola Bardip means many stories in local Nyoongar language), the competition design brief called for an architecturally significant building to showcase the diverse stories of Western Australia. "The key words in the brief were people, place and culture, so therefore we were looking for the design to respond to those themes," says Jones.
"The brief was comprehensive in terms of its technical requirements and its functional need, and vague in terms of the built form and urban design outcome…so it was a good document to respond to," explains Dean.
The functional needs of the museum included column-free gallery spaces with high load capacity. Additionally, the existing heritage buildings needed to be reconciled from a disparate bunch of historic architectural buildings to a cohesive, navigable whole. Achieving this latter ambition would be no simple matter: "Even their frontages misalign, so they all have different presences to the street, and then also in section they have different [floor] levels between them," says Jones.
The heritage buildings would also need significant restoration to bring them up to the Australian National Construction Code. "We were keen not to just preserve those buildings, but actually upgrade and revitalise them so that they would become a very important part of the cultural precinct," says Dean.
Straddling an entire city block, the new museum provides eight new galleries, while also creating clear connections to the existing heritage buildings, and the City Room, which is a new public open space that wraps around the Old Perth Gaol building. "By stacking the program on top of itself we made space around the gaol, which then made it like a piece of content within the museum," explains Jones.
Dean adds that, "for us it was always a challenge between the existing heritage aspects and the challenges of the stories not told of the gaol on the site,and then trying to embrace and express the Aboriginal heritage of Western Australia," says Dean.
Two key moves inform the logic for organising the public space in the site. There's the aforementioned City Room, which along with providing generous and protected public space, also forms a shimmering and dramatic main entry to the museum. Secondly, the so-called narrative loops, which Dean describes as "circulation devices in the vertical and horizontal sense" are the solution to some tricky site conditions. "Because work with the heritage buildings was a significant design driver, for us one of the key conceptual moves was having that City Room as a big public space that allowed people to be in the museum and engaging with it, without necessarily entering the museum itself," says Dean.
As for the narrative loops, while they allow visitors to seamlessly explore the museum in any number of ways, they also open up opportunities for further dialogue between the new and the old. "Wherever you go on the site there's always a view from within or over the new buildings," says Dean. And here is where the architectural steel framework made from XLERPLATE® steel (450 grade) has been used with a great deal of expertise and design consideration. Perhaps most dramatically, there's the two levels of gallery space which cantilever over Hackett Hall. Here, the roof of the building below has been physically removed, framed with steel and suspended above. A new steel structure made from XLERPLATE® steel (450 grade) provides a glass-floored bridge to allow visitors to see into the gallery below, while also getting a closer look at the heritage ceiling. New bridge links utilise large spans of structural steel through the City Room to facilitate the horizontal circulation loop. "That's a bridge structure that spans from new to new and doesn't touch the old building," explains Dean.
Elsewhere, gable ends of heritage buildings have been removed to open up vistas to the gaol, while new steel columns and beams have been spliced into the heritage buildings to provide a seismic upgrade and bring them up to code. "I always thought that it was a bit frightening, the idea that we would insert pieces of steel into the [masonry] buildings, to give them the rigidity and all the support needed in a seismic mode," says Jones, who muses now that such interventions happened seamlessly during construction.
Some twelve months on from being opened, Dean, who is Perth-based, has observed how well received the museum has been by the West Australian public – who, for now at least, have had the place all to themselves. Reflecting on its success, he signals the 2021 Walk for Reconciliation, which used the museum as its starting point. "That's testament to all the hard work the museum is doing, but also the way the landscape responds to the Indigenous cultures and the way we are able to come from a place of sorriness around the gaol, to one of celebration and coming together. I really think it's testament to everybody involved in the project that we actually managed to see that level of engagement and public acknowledgement."
For his part, Paul Jones says that being involved in public buildings brings its own form of satisfaction. "It's for people, it's not a private place, that's the nice thing about a public building – a lot of people get enjoyment out of it. Projects like this often take years, but once finished, it's time for it to have its own life. As we understand, the museum has exceeded expectations and it's one of those places where people go and just hang out."
Reflecting on the project now, Jones appreciates the level of Western Australian expertise when it comes to working with steel. If the museum is a place for many stories, then surely the steel industry is a big story for WA, he says. "The builder and structural engineers really carried out the installation of the local steel with a level of finesse," he says.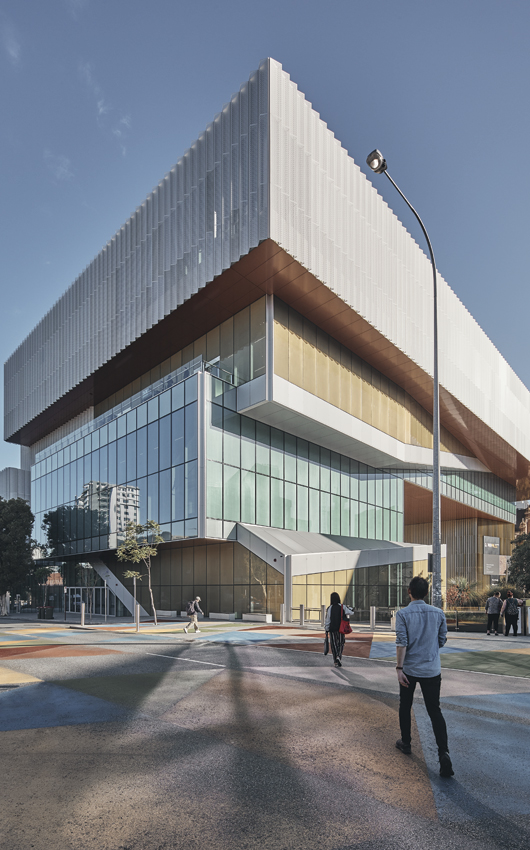 STEEL DETAILS
A TECHNICAL DIVE INTO WA MUSEUM
Everywhere you look, the structure made from XLERPLATE® steel (450 grade) has a presence in this building, from the cantilevered galleries to huge spans across open space, to the detailed work found in the spiral "Beaufort Stairs" and glassed openings in the heritage buildings. Clearly there are "Structural gymnastics" going on, as Peter Dean puts it: "From an architectural perspective, all that detail work relating to being able to go inside and outside, over and above buildings, and keeping everything aligned to those [allowed] degrees of movement and tolerances between the old and the new is a big challenge," he says.
"I was interested in the way that the steel frames and trusses have a potentially low impact on the site," says Paul Jones, noting that steel prefabrication solved the tricky problem of meeting tight deadlines, of being able to be transported through tight city streets and finally erected quickly and with minimal disruption on site.
While the structural steel and all its tricks may not immediately be apparent for the average visitor, for Jones, it's the hero: "Steel has a presence in the building because it clearly hovers over [Hackett Hall] and makes a huge span across the City Room." Those large spans were made possible using lightweight steel trusses, made from XLERPLATE® steel (450 grade).
Two main cores support the horizontal spanning structure, which were designed as the equivalent of two 30-storey buildings. "What you see when you first approach the building from the street is those two big architectural moves which enable a lot of the structure, which is steel supplied by BlueScope," says Paul Jones. The choice of structure made from high-strength XLERPLATE® steel (450 grade) helped overcome some very particular design challenges. "The live load for the [elevated] gallery is 8 kPa, that structure had to be very stiff, with very flexible heavy loading zones, without bearing any weight onto the heritage buildings," explains Peter Dean. Here, the lightweight steel trusses span 54 metres between the two main cores. "By using the higher strength grade XLERPLATE® steel (450 grade), we could get the structural capacity and rigidity that we needed, but also reduce the overall weight of the steel frame," says Dean. Along with a 25 percent weight reduction, the XLERPLATE® steel (450 grade) also delivered a 15 percent cost-saving.
Elsewhere, the steel work has played a significant role in being able to connect to and support the existing fabric, and in doing so, overcoming the challenges presented by differing floor levels found in the heritage buildings. "We have effectively fused on to the back of those buildings with this horizontal loop in the new build, which means you can circulate between all these buildings almost as one," says Dean.
Again, he says, steel is the construction material of choice, enabling the design "To open up those connections and do it in a way where you can get more light and better circulation into the buildings." It's on this last point that Dean strongly agrees: "We could really express the view to the heritage building by having very lightweight structural steel elements," he says.
Project information
Awards
2021 WA Australian Institute of Architecture Awards
The Jeffrey Howlett Award for Public Architecture
The John Septimus Roe Award for Urban Design
The George Temple Poole Award
Commendation for Steel Architecture and Commendation for Heritage
2021 WA AILA Awards: Award of Excellence for Civic Landscape and Landscape Architecture Award for Cultural Heritage
Copyright © 2022 BlueScope Steel Limited ABN 16 000 011 058. All rights reserved.
No part of this publication may be copied, reproduced or distributed without consent. BlueScope Steel Limited, to the extent permissible at law, is not liable to any person for loss or damage arising from reliance upon information contained in this publication. The articles featured in STEEL PROFILE® are sourced, written, fact-checked and curated by Indesign Media Asia Pacific with editorial contribution from BlueScope Steel Limited. Any statements or opinions attributed to a person are the views of that person alone. The decision to use any particular product or material in the projects featured in this publication was made by the team involved in each project and not BlueScope Steel Limited. While care has been taken to verify the accuracy of details in this publication, BlueScope Steel Limited assumes no responsibility or liability for any errors or omissions in the content of this publication. All information is provided with no guarantee of completeness or accuracy.
Images shown throughout have been reproduced to represent actual product colours as accurately as possible. However, we recommend checking your chosen colour against an actual sample of the product before purchasing, as varying screens and devices may affect colour tones and finishes.
Every project is different and not all products are suitable for all applications, projects and environments. Some products may perform better than others in certain applications and conditions. BlueScope generally recommends the use of COLORBOND® steel or ZINCALUME® steel for the majority of external cladding applications.
BlueScope recommends routine preventative maintenance for eaves and other "unwashed areas" of structures that may not be regularly cleaned by rainfall. To determine the most suitable material for your project, please contact your supplier or visit steelselect.com.au. For information about product maintenance, including preventative maintenance, please call BlueScope on 1800 753 658. To determine whether a warranty may be available for use of a product in your particular project, please visit bluescopesteel.com.au/warrantiesor call BlueScope on 1800 753 658.
COLORBOND®, XLERPLATE®, and ® colour names are registered trademarks and ™ colour names are trademarks of BlueScope Steel Limited.
Submit your project
We encourage you to share your projects for consideration in a future issue of STEEL PROFILE® magazine. We invite you to submit projects that feature a ground-breaking or an innovative use of steel. We love celebrating and writing about such projects!
Related projects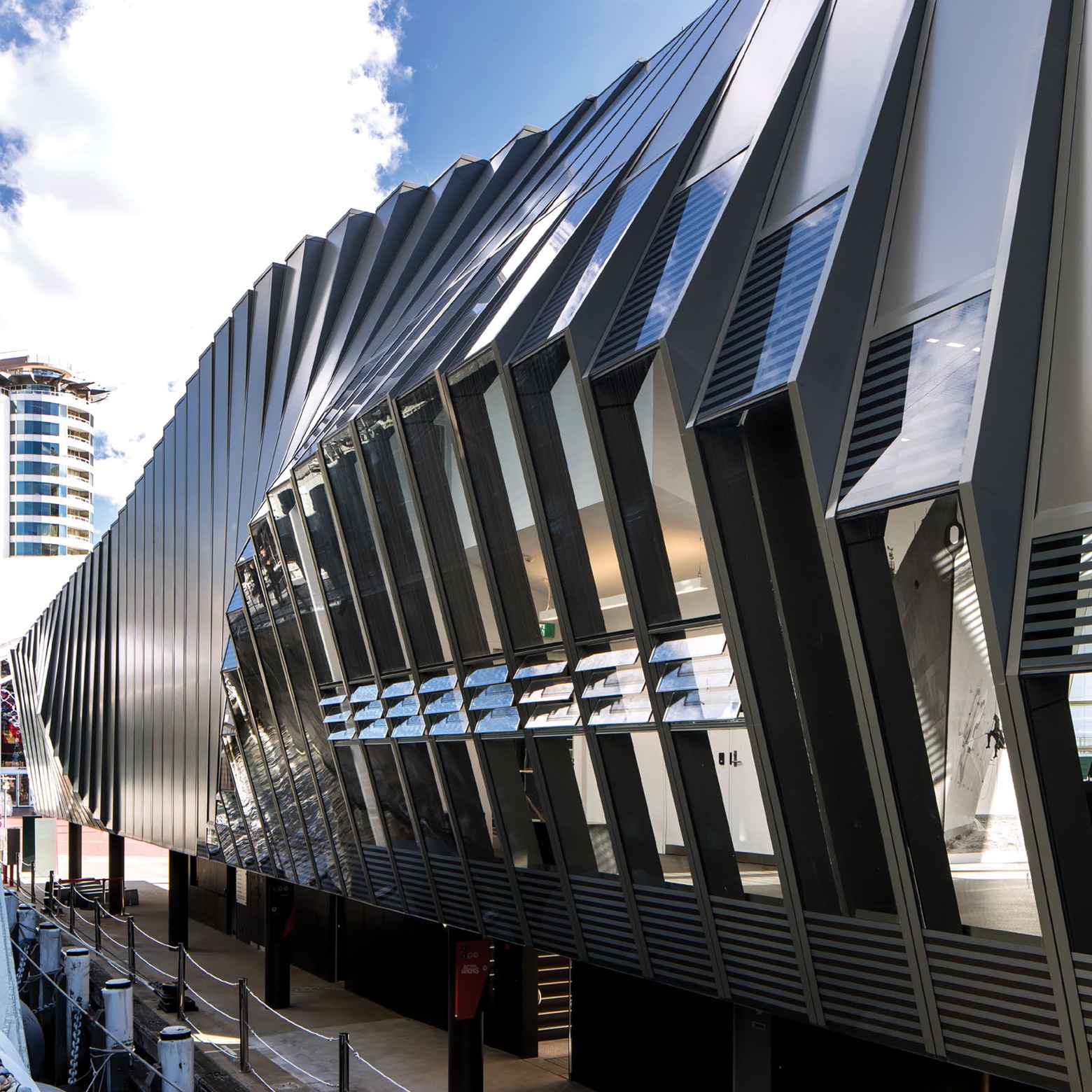 Cultural & Tourism · NSW
Sep 2016