Yagan Square
Yagan Square
Yagan Square is a dynamic public space in the heart of Perth that respects and represents Country through strong symbolism and a robust material palette showcasing cladding made from REDCOR® weathering steel.
Words: Leanne Amodeo.
Photography: Peter Bennetts
Retail & Mixed Use · WA
Feb 2022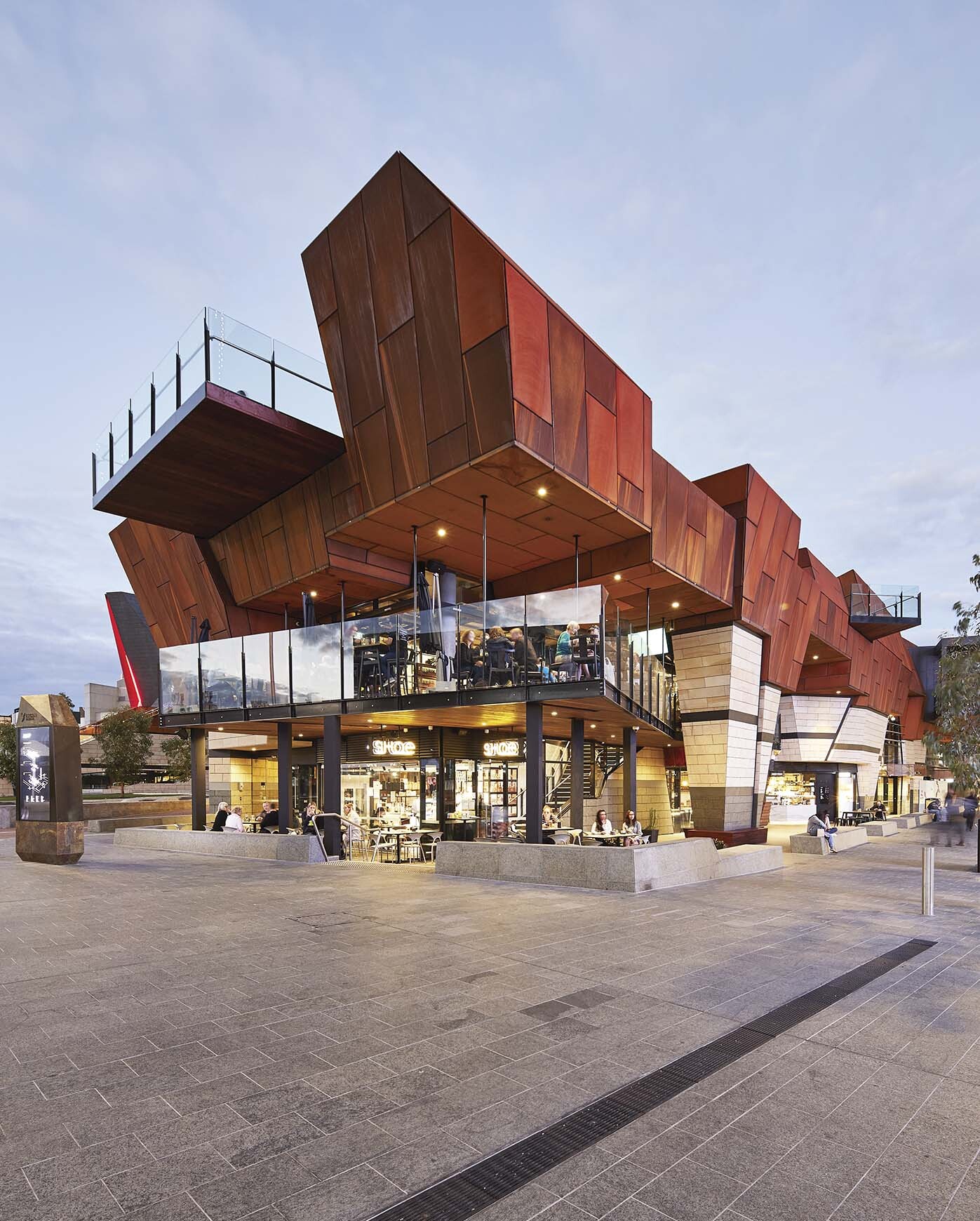 Cultural Narrative
In terms of urban renewal and redevelopment in Australian capital cities, it doesn't get much more ambitious than Western Australia's Perth City Link.
The mighty infrastructure venture is managed by the Metropolitan Redevelopment Authority (MRA) – currently Development WA after merging with LandCorp in 2019 – and reconnects the CBD and Northbridge, which were previously separated by the Fremantle railway line. Undertaken in stages and still ongoing, it includes the sinking of a small section of the Fremantle line and the demolition of Wellington Street Bus Station prior to the construction of a new underground bus station in the same location.
The CBD has essentially been extended to the north and what is a refreshed network of infrastructure has greatly improved the commute to and from. Generous allowance has been given for the creation of some exciting new public precincts too, including the still relatively new Yagan Square. At 1.1 hectares, the square is situated between the CBD and Northbridge, bounded by the refurbished Perth Central Station, heritage Horseshoe Bridge, Wellington and William Streets and the Perth Cultural Centre.
A joint architectural commission by Lyons in association with Iredale Pedersen Hook and landscape architects ASPECT Studios has given rise to an incredibly attractive public space that's interactive and accessible.
Significantly, the site sits on the land of the Whadjuk people of the Noongar nation and was traditionally a meeting place for First Nations Peoples, particularly women who gathered food from lakes that were once in the area. For the MRA and architects, expressing the convergence of Indigenous and non-Indigenous peoples and cultures was crucial, with the project's name itself paying homage to a Noongar Warrior, Yagan.
As Lyons director Neil Appleton explains, "This is one of Australia's first public spaces designed collaboratively with First Nations Peoples. Whadjuk Elders, including Dr Richard Walley OAM, a Noongar Man, contributed to the project, authorising cultural narratives to bring deep Country experiences to the design conceptualisation." The seamless integration of architecture, landscaping and public artwork in turn ensures that the Country theme is prioritised cohesively across the project.
"Using steel that was sourced from local suppliers was vital to the overall design and its great strength-to-weight ratio means we used less material to achieve more"

Neil Appleton

Director, Lyons
During the development of Yagan Square's plan, the project team was faced with the constraint of building over the live rail dive tunnel that runs beneath the middle of the site. As a result, the project's three buildings are positioned towards the boundary, with the main amphitheatre, or Meeting Place, located centrally. The site's complex level changes have been cleverly reconciled via landscaping decisions that offer connections between all facets of the project, generating a topography that adds a sense of dynamism to the overall scheme. A Walking Track loop gives definition to the amphitheatre space, leading from the William Street Mall, under the overpass bridge and into the Meeting Place. It also leads to Horseshoe Bridge and the café on the roof of the Market Place that showcases small cafés along its perimeter.
Yagan Square has ultimately been articulated through a strikingly bold material palette and key to this is the use of steel that facilitates the project's narrative expression. Layers of Country are represented as a stratum of materials across the buildings' façades: granite, limestone, sandstone and the top-most band made from REDCOR® weathering steel.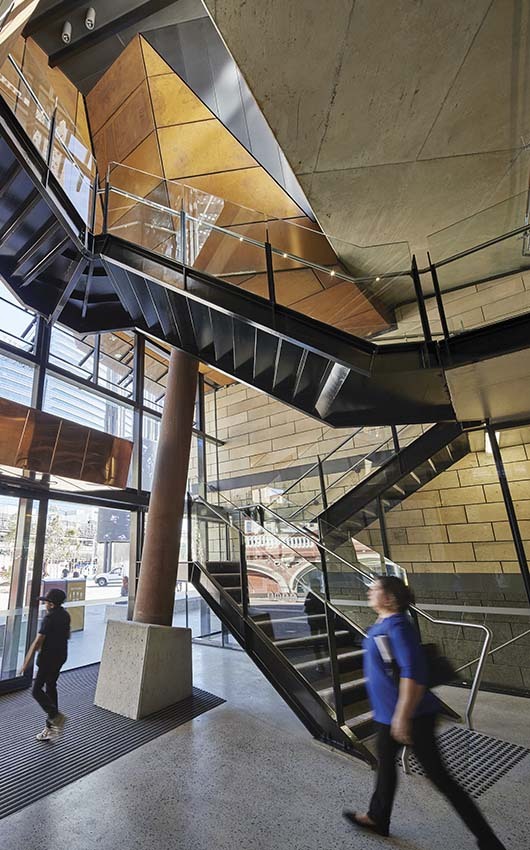 "With its deep oxidised hue signifying Western Australia's red earth, you couldn't get a better product for referencing the identity of the state," says Lyons principal Paul Dash. "We worked with BlueScope specialists early on in the project who showed us samples of the original weathering steel panels used in Wood Marsh's Australian Pavilion at Shanghai Expo 2010 and they were a beautiful chocolate colour. It has its own inherent finish that becomes richer over time and so the panels' appearance just gets better with age," says Dash. In the case of Yagan Square, there's the added poignancy of the BlueScope REDCOR® weathering steel having local provenance, highlighting Western Australia's natural resources and how integral they are to its economy.
Mechanically fixing the 5mm-thick panels made from REDCOR® weathering steel to the façades wasn't without its challenges though, especially considering there are some 2,297 square metres of them. The panels are different shapes and had to be laser-cut and formed to fit the buildings' geologically styled configurations.
Dash recalls a suggestion during construction to use aluminium composite panel instead, to which the architects responded with a resounding 'no'. "If we'd done that the outcome would have looked very flat. Not to mention we required the malleability and versatility that steel affords, as well as its durability and longevity, because the client wanted something that doesn't need replacing every five years and the REDCOR® weathering steel may still be there in 50 years' time," he says.
Selected to withstand harsh climatic conditions, the cladding made from REDCOR® weathering steel punctuates the project's robust material palette. Each material also projects a strong sense of place, from the Astral Verde granite, which is widely associated with civic spaces in Perth, to the limestone, which is a building material commonly used across Western Australia and particularly in Fremantle.
Recycled jarrah, used for the upper levels' decking and balconies that cantilever towards the Meeting Place, softens the palette, while Pilbara Red marble creates visual interest in the smaller building's tapered tower. This bright marble, along with the structure's black granite cladding, symbolises the red-tailed black cockatoo and is a nod to the feather Yagan wore in his headband.
The symbolism continues with the Market Hall's upper level, where perforated raw metal shade canopies represent the site's original lakes.
Dark bands of cladding made from COLORBOND® steel Matt flat sheet in the colour Monument® demarcate the buildings' material strata and while they add a strong graphic element to the design their purpose is not a purely aesthetic one. "The fact weathering steel does age is something we had to consider in the architectural design," explains Dash. "And we were very conscious that we needed to detail the façades to control the rainwater run-off, so the weathering steel doesn't stain any of the stonework that sits below it." The top band made from COLORBOND® steel cleverly conceals gutters that capture the run-off, channelling it back into the stormwater system to avoid any chance of staining or marking."
Lyons' Neil Appleton appreciates the COLORBOND® steel Matt flat sheet's finish because it subtly contrasts with the REDCOR® weathering steel and quarried stone materials, while at the same time providing the project's junctions and flashings.
The roofing made from COLORBOND® steel in LYSAGHT KLIP-LOK 700 HI-STRENGTH® profile – a wide-cover concealed fixed cladding offering long spans and excellent uplift performance – and Stramit Longspan® – a profile offering excellent strength and water-carrying capacity and weather-tightness allowing very low roof pitches – also made from COLORBOND® steel, both in the colour Monument®, offer contrast and also complemented the project's landscaping. "Steel provided the structure that allowed us to design amazing urban landscape experiences on top of the buildings," explains ASPECT Studios' director Kirsten Bauer. "It made a play space and water play area three storeys up in the middle of the city possible. You need excellent structure to achieve those types of outcomes and without steel neither of these elements would exist." Certainly, the landscaping is key to Yagan Square's success as a public space. It not only defines the programme and expresses narrative at every turn – for example, the children's play area represents rock formations of regional Western Australia – but genuinely stirs real engagement, interaction and curiosity.
The use of steel as reinforcements in concrete and as supporting structural elements also enabled the landscape architects to incorporate deep soil zones, trees and sculpted stone in the upper levels' design. BlueScope supplied the project with a whopping 335 tonnes of structure made from XLERPLATE® steel (450 grade). "Yagan Square's materials were sourced locally from the south-west of Western Australia, which reduced transportation costs and emissions," says Lyons' Appleton. "Using steel that was sourced from local suppliers was vital to the overall design and its great strength-to-weight ratio means we used less material to achieve more." Shade canopies are supported by steel columns and the digital tower itself made from 155 tonnes of XLERPLATE® steel (450 grade) at the project's south-western entrance features 14 steel 'reeds' that represent the language groups of the Noongar Nation. This feature is a particularly eloquent manifestation of steel's capabilities, with each reed rising thin and tall into the sky, cantilevering over 25 metres above the last lateral support. The tower's verticality provides a nice counterpoint to the central elevated footbridge made from XLERPLATE® steel (450 grade) and REDCOR® weathering steel, which references the geology of the Darling Range Batholith that forms part of the Yilgran Craton.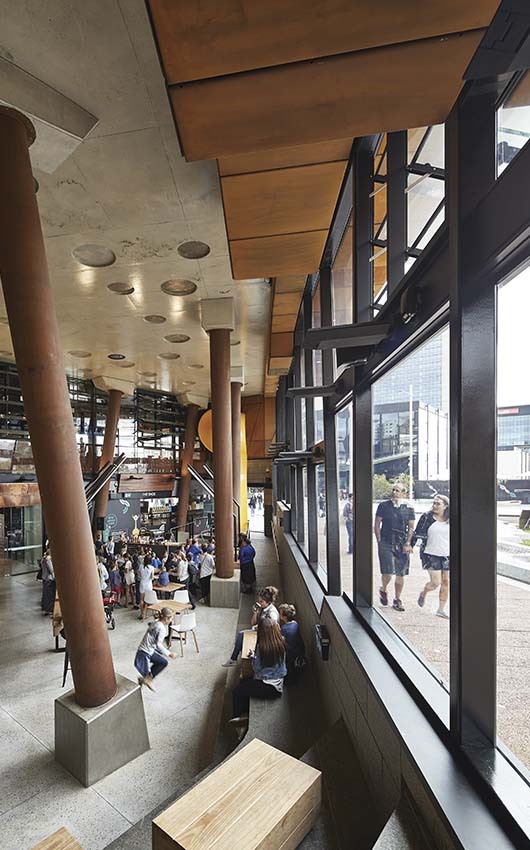 These elements have an artistry to their form and engineering that complements Yagan Square's public artworks, providing a framework for a number of specially commissioned pieces by Australian artists. Envisioned at the beginning of the project and not as an afterthought, they address the Noongar Nation, its People, culture and traditional land, and include Tjyllyungoo – Lance Chadd's nine-metre statue, Wirin, that faces William Street, Paul Carter's seven text-based artworks titled Passenger and Sharyn Egan's Balga plant resin wall, Liquid Fire.
The architects used steel in the form of circular columns sleeved in 32 tonnes of oxidised raw steel, echoing the aged hue of the façade's REDCOR® weathering steel. As a bustling food hall, its interior extends the exterior's geological formations with a scheme that references a cave or mine. Polished concrete flooring adds to the robustness of the material palette, as does the concrete soffit, which is rock-like in appearance. Yagan Square's welcoming accessibility and effortless flow belies the project's architectural complexity and rigour. With many of the key features not able to be realised in a material other than steel, a materiality rich in texture and colour is integral to its successful outcome. The project itself functions as a vessel through which the themes of Country are compellingly narrated and as a built precinct, it is nothing short of diverse, fun and entertaining.
STEEL DETAILS
A TECHNICAL DIVE INTO YAGAN SQUARE
So much of Yagan Square's success as an engaging public space comes down to its material palette. The architects carefully considered their selections in order to best represent cultural narratives and the ensuring Country theme. But while embedding the materiality with a high level of symbolism was important to the overall design, so was performance. Each material is absolutely robust and its strongly tactile finishes guarantee durability and longevity, not to mention compelling visual impact.
The cladding made from REDCOR® weathering steel is perhaps the project's most striking material, for its rich oxidised hue, which has already deepened and will continue to do so over time. Its malleability was advantageous when forming it to fit the façade's top geological projections and while installation came with a necessarily high degree of skill, the distinguished outcome could not have been achieved with any other material.
The architects incorporated concealed folded gutters and downpipes directly below the REDCOR® weathering steel cladding to capture the rainwater run-off
Part of working with weathering steel is factoring in its inherent aging properties and how they might affect other materials in the palette. Rainwater run-off was a factor flagged in the initial stages of Yagan Square design, as this had potential to leave marks on the stonework beneath. To avoid this, the architects incorporated concealed folded gutters and downpipes directly below the REDCOR® weathering steel cladding to capture the rainwater run-off. The downpipes channel the run-off back into the stormwater system, leaving the exterior free of any ochre-coloured markings.
The gutters and downpipes were also covered with flat sheet made from COLORBOND® steel in the colour Monument® Matt, so they appear as a layer, or band, in the material stratum. "The REDCOR® weathering steel part of the façade also projects beyond the stone cladding below and emphasises the geological or tectonic nature of the building," says Lyons' Paul Dash. "From the perspective of the project's design narrative, the gutters represent as cracks, or fissures, in the surface."
Another two bands made from COLORBOND® steel in the colour Monument® Matt are incorporated into the façade below – one between the limestone and sandstone layers and one between the Astral Verde granite and limestone. These don't feature the concealed gutter detail, rather they assist in visually articulating the material stratum in a way that's graphic, lending a bold sense of cohesion to the façade's overall treatment.
Project information
Architects
iredale pedersen hook architects
Project
Yagan Square, Perth Western Australia
Awards
The National Colorbond® Award for steel architecture
Australian Institute of Architects – Western Australia Chapter; Commendation for Public Architecture
Australian Institute of Architects – Western Australia Chapter; The COLORBOND® Steel Award for Steel Architecture
WE-EF After Dark People's Choice Award – Regional Winner (WA/SA)
Australian Institute of Landscape Architects; WA Landscape Architecture Award
Australian Institute of Landscape Architects; The John Septimus Roe Award
West Australian Award for Urban Design; Winner Steel Clad Structures – National Steel Excellence Awards
Australian Steel Institute; Winner Steel Clad Structures – Western Australia Steel Excellence Awards
Australian Steel Institute; President's Award, Urban Development Institute of Australia (UDIA) National Awards; Urban Renewal
Urban Development Institute of Australia (UDIA) National Awards; Government Design Award Silver (Architecture, Public Realm)
Good Design Awards; Architectural Urban Winner, Good Design Awards; National Tourism Award of Excellence
Australian Institute of Landscape Architects; National Civic Landscape Architecture Award
Australian Institute of Landscape Architects; National Award for Urban Design.
Copyright © 2022 BlueScope Steel Limited ABN 16 000 011 058. All rights reserved.
No part of this publication may be copied, reproduced or distributed without consent. BlueScope Steel Limited, to the extent permissible at law, is not liable to any person for loss or damage arising from reliance upon information contained in this publication. The articles featured in STEEL PROFILE® are sourced, written, fact-checked and curated by Indesign Media Asia Pacific with editorial contribution from BlueScope Steel Limited. Any statements or opinions attributed to a person are the views of that person alone. The decision to use any particular product or material in the projects featured in this publication was made by the team involved in each project and not BlueScope Steel Limited. While care has been taken to verify the accuracy of details in this publication, BlueScope Steel Limited assumes no responsibility or liability for any errors or omissions in the content of this publication. All information is provided with no guarantee of completeness or accuracy.
Images shown throughout have been reproduced to represent actual product colours as accurately as possible. However, we recommend checking your chosen colour against an actual sample of the product before purchasing, as varying screens and devices may affect colour tones and finishes.
Every project is different and not all products are suitable for all applications, projects and environments. Some products may perform better than others in certain applications and conditions. BlueScope generally recommends the use of COLORBOND® steel or ZINCALUME® steel for the majority of external cladding applications.
BlueScope recommends routine preventative maintenance for eaves and other "unwashed areas" of structures that may not be regularly cleaned by rainfall. To determine the most suitable material for your project, please contact your supplier or visit steelselect.com.au. For information about product maintenance, including preventative maintenance, please call BlueScope on 1800 753 658. To determine whether a warranty may be available for use of a product in your particular project, please visit bluescopesteel.com.au/warrantiesor call BlueScope on 1800 753 658.
COLORBOND®, XLERPLATE®, and ® colour names are registered trademarks and ™ colour names are trademarks of BlueScope Steel Limited. Stramit Longspan® is a registered trademark of Stramit Corporation Pty Limited.
Submit your project
We encourage you to share your projects for consideration in a future issue of STEEL PROFILE® magazine. We invite you to submit projects that feature a ground-breaking or an innovative use of steel. We love celebrating and writing about such projects!
Related projects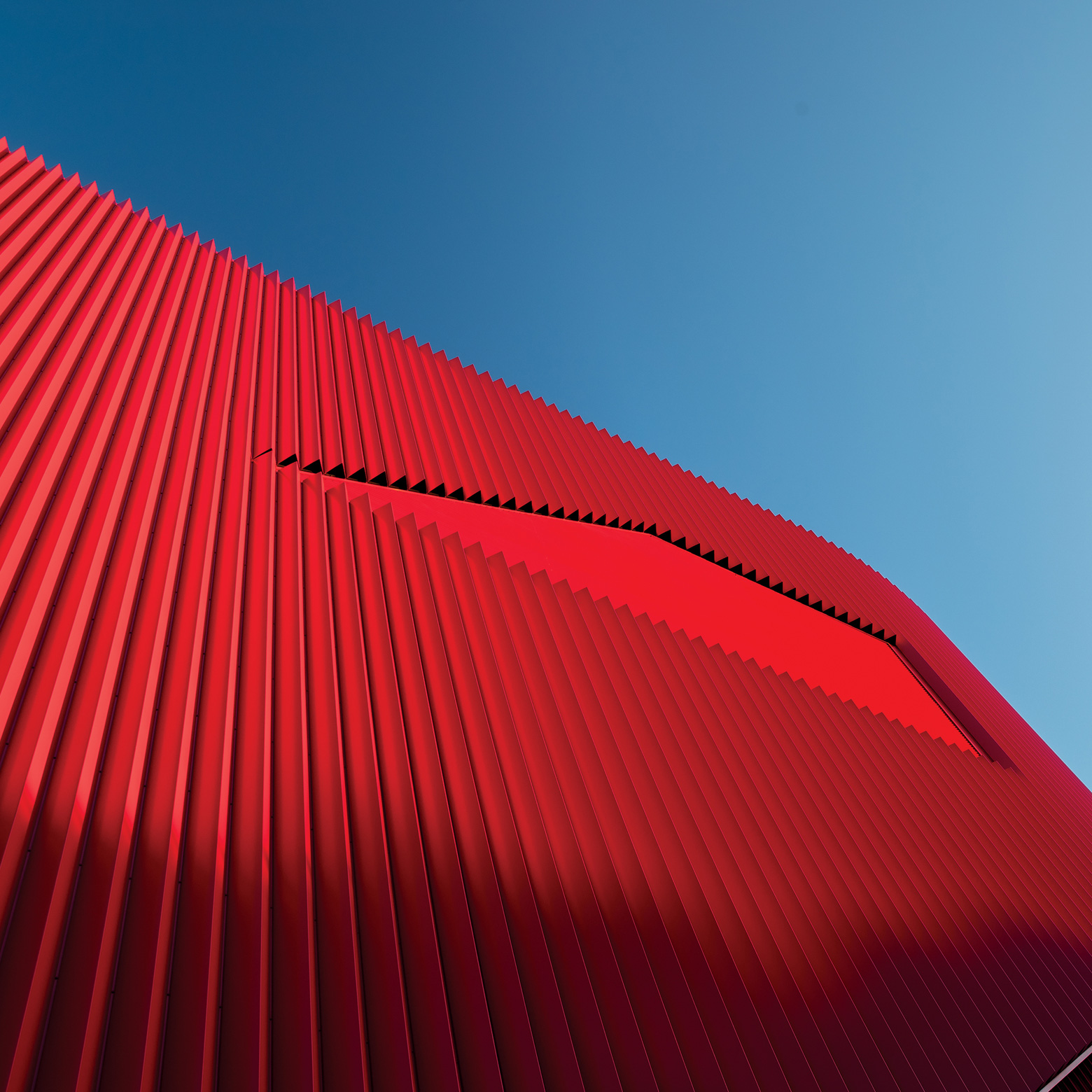 Retail & Mixed Use · VIC
Dec 2019