Cinema Complex at District Docklands
Cinema Complex at District Docklands
This eye-catching cinema building project by NH Architecture makes a spritely statement with flashes of architectural cladding made from COLORBOND® steel – most notably in Australian Rollforming Manufacturers custom-made MegaRib™ profile, in the custom colour Monika Red®.
Words: Peter Hyatt.
Photography: Paul Bradshaw
Retail & Mixed Use · VIC
Dec 2019
Picture Pretty
Streamlined and striking, this cinema stands well-apart from the common typology of the rabbit warren-like Brutalist cinema megaplex. Architectural wall cladding made from COLORBOND® steel, wraps around the building like a curtain and provides the project's vivid design motif.
Particularly striking is the western facade's triangular-shaped waterproof cladding profile, from Australian Rollforming Manufacturers, called MegaRib™ - which acts as a rainscreen. This is custom-made from COLORBOND® steel which is folded into 210mm by 305mm angles and repeated in series to form an intriguing, textured architectural steel pattern.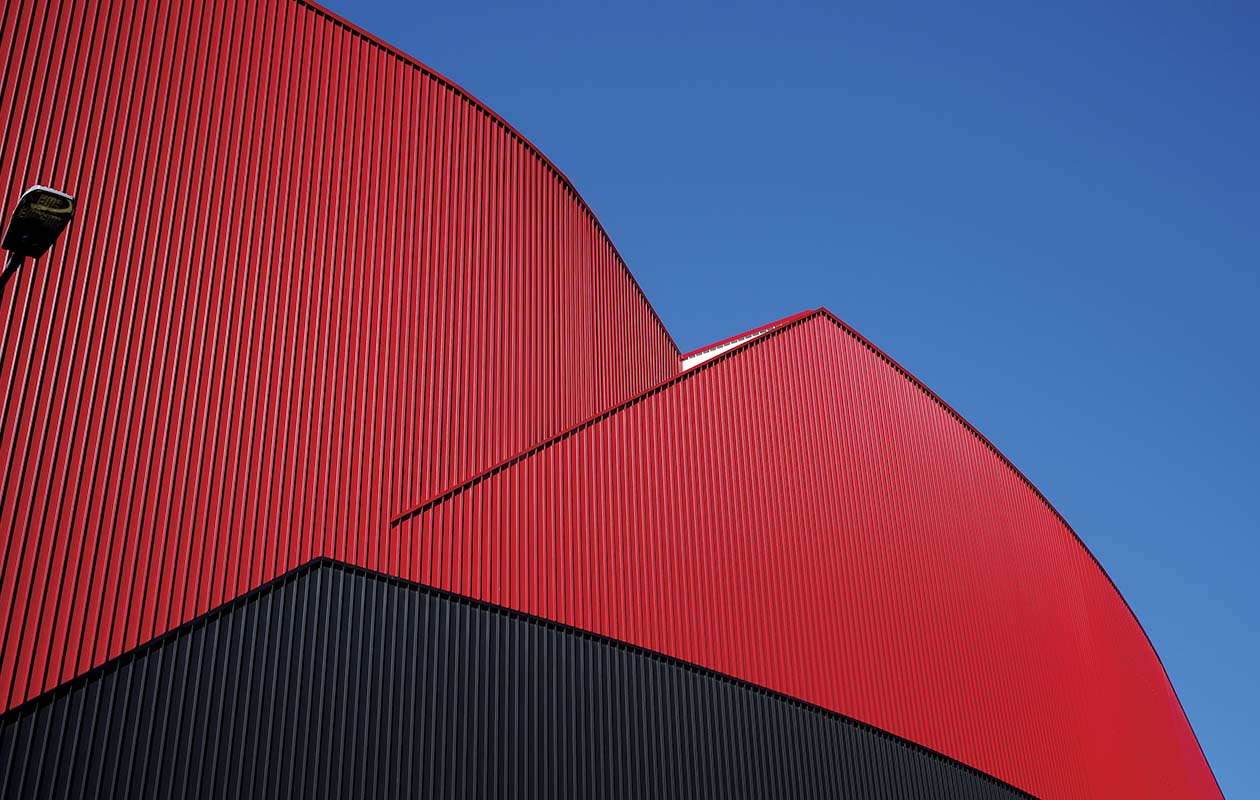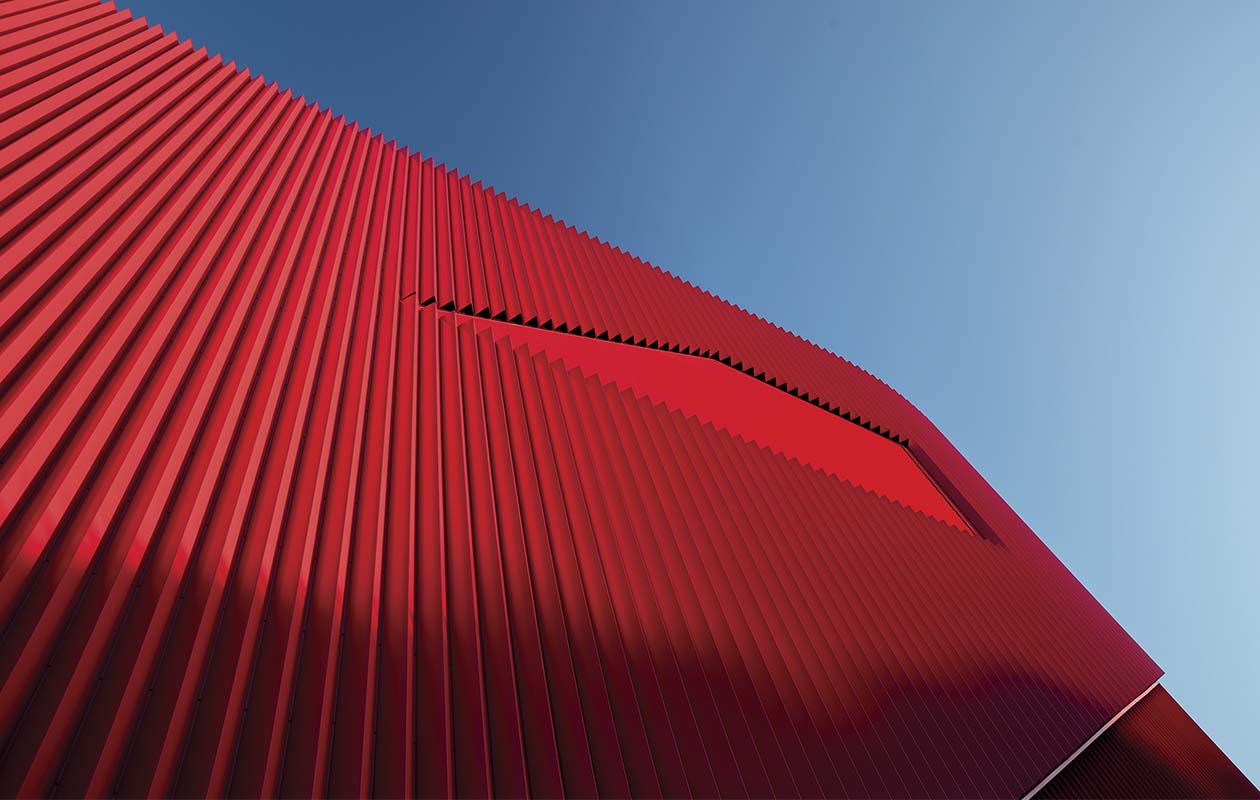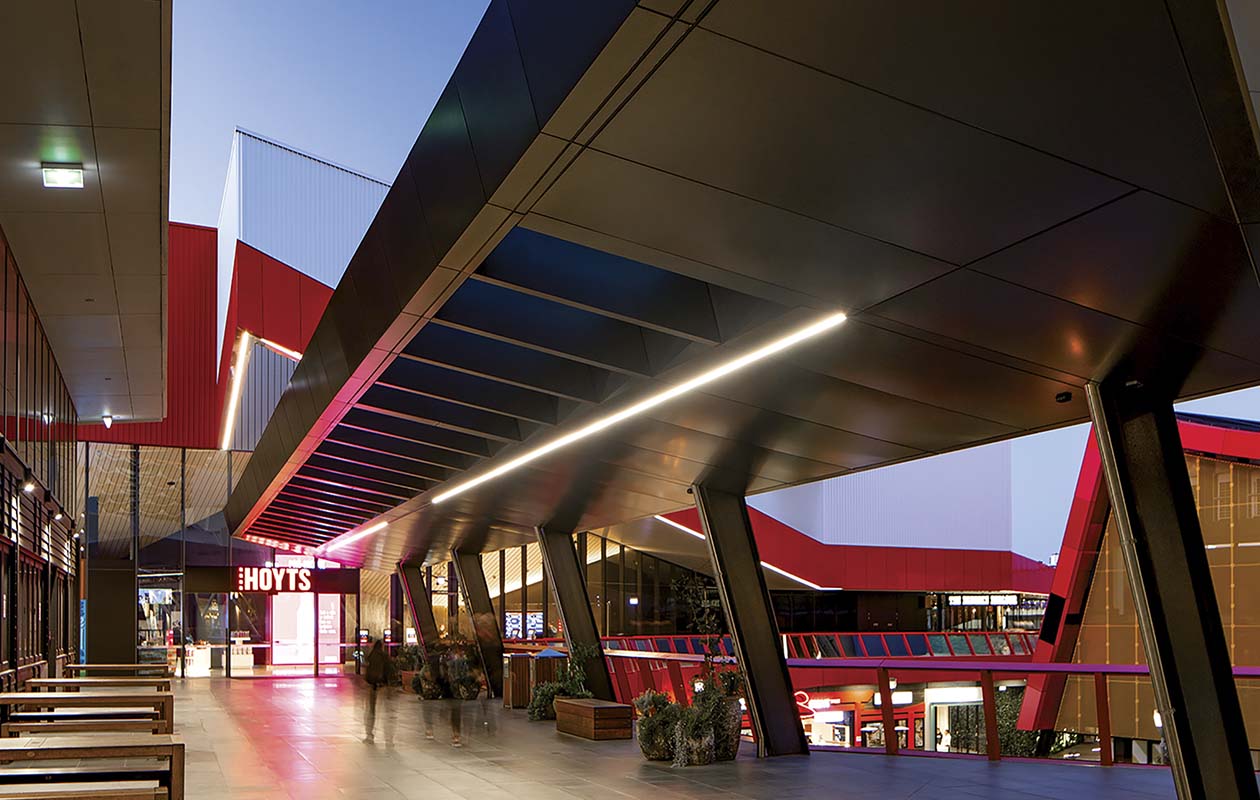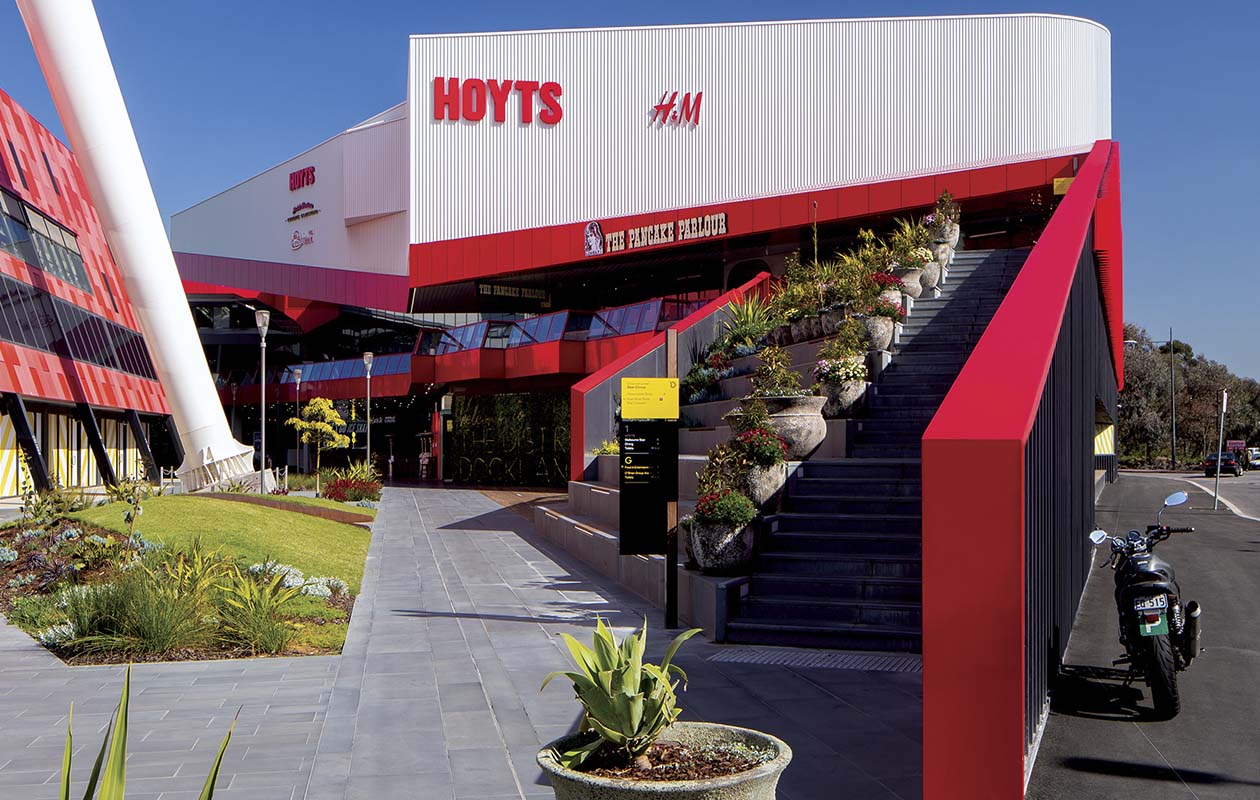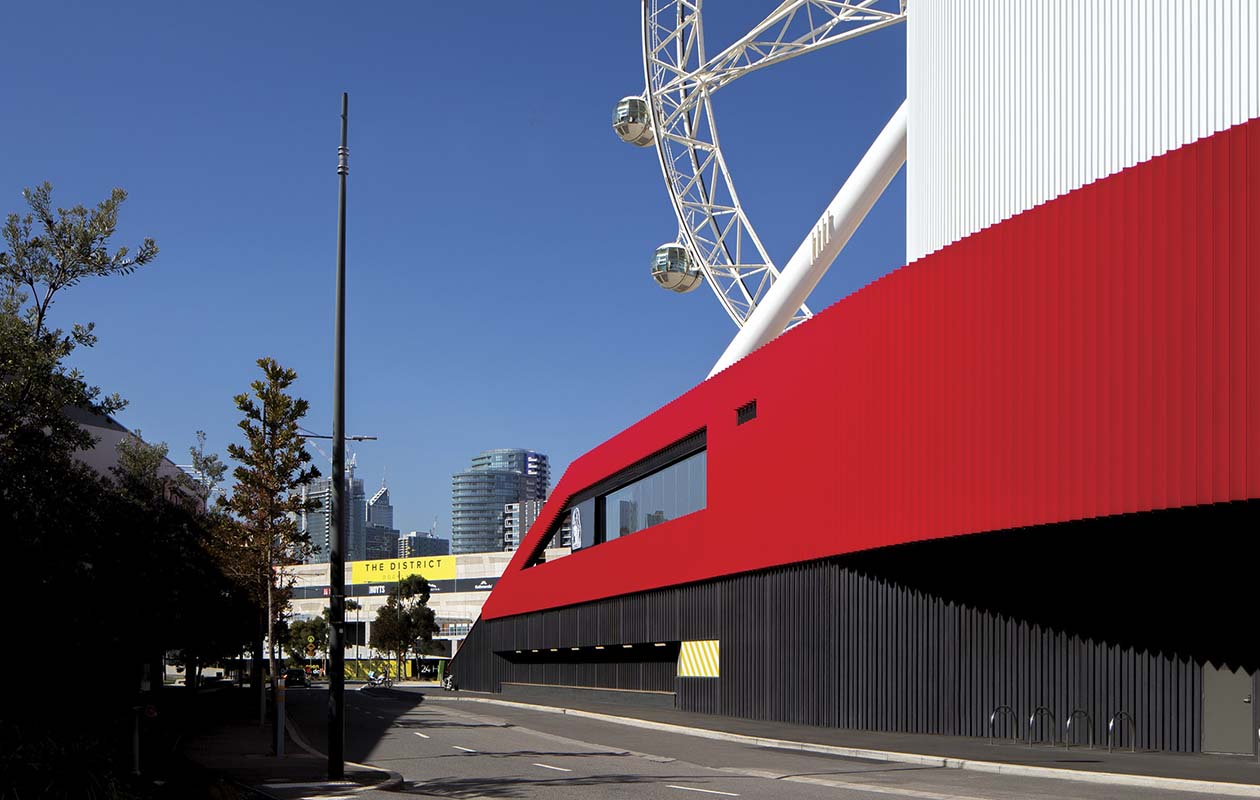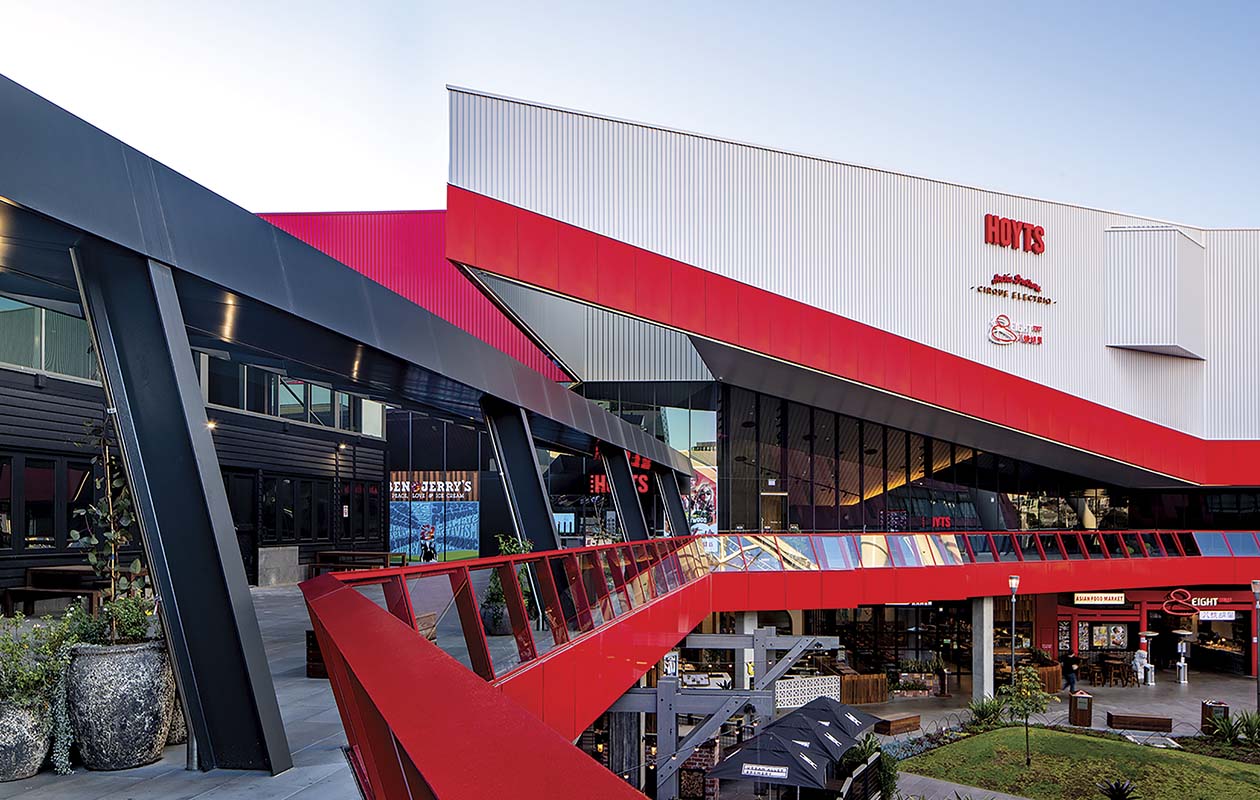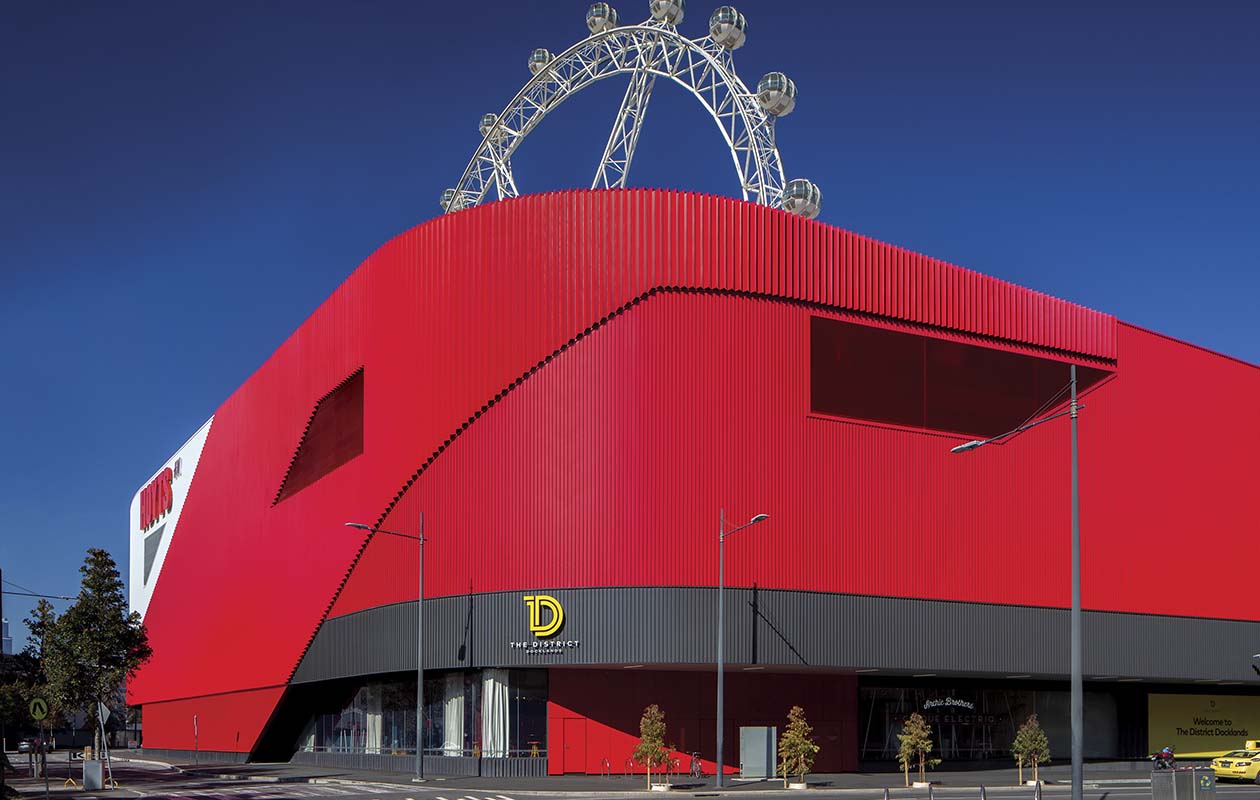 Painted in the custom colour Monika Red®, the cladding provides a daring signature that project architect, Nick Hubicki of NH Architecture, describes, "As a kind of pleated house curtain, reiterating the building's function while reconnecting it to a former cinematic experience: an anticipation of the screening and illusion."
Hubicki extols the virtues of the building envelope that dazzles not with glare but in its visual impact. Forget neon, or sugar-dusted graphics. This taut design narrative is vividly inviting and utterly fitting for a house of fantasy.
The customised triangular cladding made from COLORBOND® steel in the custom colour, Monika Red®, is complemented by a more traditional cladding in the same colour: LYSAGHT LONGLINE 305® profile. Other contrasting colours for the wall cladding include the same LYSAGHT LONGLINE 305® profile in the COLORBOND® steel colours Thredbo White® and Monument®.
Interestingly, one of the project's biggest sticking points was colour. Hubicki tells how the client had to be persuaded by the team's proposal. Convincing the client to remain open to change demanded imagination and effort.
"Colour might not normally be such a preoccupation, but in this context and setting it was pivotal," says Hubicki of the custom colour Monika Red®.
Colour can divide client and architect as easily as unify. "It's a vibrant red," he says. "You see it from the freeway and travelling along Footscray Road. It provides this tremendous visibility and feels incredibly 'right' given its function and role.
"As soon as we saw the prototype in the factory we said: 'This is it!'. And that was what ultimately won over the client. Until then, he was unconvinced about the red, but when he saw the prototype he had no doubts. He loved it! That was the game-changer."
The architect describes the site as one created from the space left over between the Melbourne Star Observation Wheel and Costco warehouse. "It was extraordinarily difficult," he says.
"There were so many competing forces. It's a reminder that architecture is the act of dogged problem-solving and lateral creativity."
NH Architecture helped heal Docklands' reputation for mediocre buildings with its 2009 design for Costco, resulting in a steel beacon that suddenly activated the site's northern edge. With rare kinetic energy, it turbo-charged a resurgence in better-scaled, bespoke structures.
Costco provided Hubicki with déjà vu, when embarking on the cinema complex. "Its language and dynamism provided a momentum for what was possible, second time around. "There is a symbiosis," he enthuses, "between the earlier building made from COLORBOND® steel in the colours Shale Grey™, Monument® and the custom colour O'Hara Red, and its recently delivered sibling.
"We wanted elements of that first colour scheme - primarily charcoal with a red slash - so that the two buildings could 'ricochet' off each other. It's not often you get to do buildings so many years apart on different sites with different clients that can have such a dialogue."
"It's a vibrant red. You see it from the freeway and travelling along Footscray Road. It provides this tremendous visibility and feels incredibly 'right' given its function and role."

Nick Hubicki

NH Architecture
Hubicki says the project's daring is exemplified by the intensive steel customisation and testing. "The building is a minor essay in how large-scale customisation can be efficiently achieved through collaboration not merely of architect and client, but builder and manufacturer."
He says that the trailblazing qualities of the envelope demanded intensive problem-solving. "The whole production team was exceptional". He reels- off some of the key suppliers and consultants: "Rollformer, fabricator, builder and BlueScope who helped us connect with pivotal people able to contribute to this result."
Hubicki says the stellar cast of BlueScope products was pivotal to the project's success. This included over 200 tonnes of cladding and roofing made from COLORBOND® steel in LYSAGHT LONGLINE 305® profile; 25 tonnes of custom-made triangular cladding made from COLORBOND® steel, welded beams and columns made from XLERPLATE® steel, as well as girts and purlins made from GALVASPAN® steel.
Roofing is made from COLORBOND® steel in LYSAGHT LONGLINE 305® profile, in the colours Monument® and Surfmist®, and the project's signature custom colour, Monika Red®. "The roof is mainly darkly coloured and also has the lighter- coloured Surfmist®," he says. "The red gives it zing and isolates it from everything else, very quickly. Our office puts a high premium on roofs. They're never considered wasted, or invisible.
"The project forms a contextual dialogue between existing structure. The malleable and dynamic properties of the LYSAGHT LONGLINE 305® profile and the triangular sections made from COLORBOND® steel were exploited to allow the building to maximise its volume, given an unusually difficult site boundary."

Nick Hubicki

NH Architecture
"This had to be made from scratch and the full building height had to be achieved seamlessly," he continues. "Mike Brinkman, BlueScope's specification account manager, put us in touch with Australian Rollforming Manufacturers' Henry Wolfkamp."
"Mike did us a great favour by introducing Henry because he is remarkable. Henry worked with BlueScope and ourselves to prototype just the right profiles and paint colours."
Wolfkamp also responded to the architect's request for the biggest, longest sheets available. "Henry was fantastic," says Hubicki. "Nothing was too much trouble. He created the sample 220mm profile as well as the super 18-metre length, rather than the standard 6-metre variety."
Wolfkamp describes the whole process between the installers, architects and builders as one of "huge goodwill".
"We produced the sample profile, had our best operator on the roll-forming job and a team of people to stack and handle the sheets with the care to ensure it all arrived on site in pristine condition," Wolfkamp says.
"We were interested in using a material we could 'push'," Hubicki remarks of the great spans achieved from a profile that is only 1.2 millimetres thick. "Without end-lap connections at 1200mm centres vertically, it is just one length of steel at 18 metres."
Now the project is complete, is Hubicki still impressed by his facade of many colours? "We recently took the Australian Institute of Architects team along as part of judging for the Victorian COLORBOND® steel Award for Steel Architecture - which it subsequently won - and the gods were favourable to us. The light was fantastic. The rotated elevation and varied roof gradient revealed a full gamut – from a colour bordering on orange to a deep, deep red and - further along - a fiery red. It was really quite magical."
So successful has the design and development process for this project been that NH Architecture plans to continue the steel envelope momentum at Melbourne Park's new media centre. "It was simply a small idea that steel then became the dominant material on. We've learned so much from the entertainment complex that we're speaking to Henry again and so we're looking at a similar cladding.
"In that project's case, we started with a simple drawing with some nominal dimensions, and we asked how we could 'push' the material to provide something jointless and incredibly cost effective."
A tough site and roadway elevation for The Cinema Complex at District Docklands might have caused Hubicki palpitations but his response to the challenge is the opposite: "Oh no, not at all. I was licking my lips (for the western facade). That is probably my favourite part of the building," Hubicki says.
"It's not very often as architects you get a big, blind wall to design and one really without apertures. It could easily be anonymous and fade away, or it can star. I think that edge of the project definitely stars."
*Thredbo White® is a COLORBOND® steel Studio colour and Monika Red® is a COLORBOND® steel custom colour - they may be available subject to a specifier's enquiry, with longer lead times and minimum order quantities applicable.
This new entertainment complex is a triumphant demonstration of architecture's power to overcome multiple constraints. Wedged into a prawn-shaped site between two iconic and spatially dominating projects - Costco and The Melbourne Star Wheel - it cleverly uses colour and texture to visually converse with its structural peers, and also create a bold and independent identity.
The primary device for this distinct urban element - somewhat reminiscent of Gunnar Birkerts' ribbed and muscular 1978 Calvary Baptist Church - is an inventive, folded triangular waterproof cladding acting as a rainscreen, custom-made from COLORBOND® steel by Australian Rollforming Manufacturers in the profile MegaRib™. The profile's already pronounced legibility, which references theatre curtains, is amplified by the daring, beacon-like custom COLORBOND® steel colour, Monika Red®. The facade's playful scenography also de-scales its necessary volume, transcending a shed-like appearance.
Project information
Project
Cinema Complex at District Docklands, Victoria
Awards
2019 Australian Institute of Architects Victorian Chapter Awards – COLORBOND® Award for Steel Architecture; Award for Urban Design
2018 Melbourne Design Awards – Gold Winner
Copyright © 2019 BlueScope Steel Limited ABN 16 000 011 058. All rights reserved.
No part of this publication may be copied, reproduced or distributed without consent. BlueScope Steel Limited, to the extent permissible at law, is not liable to any person for loss or damage arising from reliance upon information contained in this publication. The articles featured in this edition of STEEL PROFILE® are sourced, written, fact-checked and curated by the authors with editorial contribution from BlueScope Steel Limited. Any statements or opinions attributed to a person are the views of that person alone and do not necessarily reflect those of BlueScope Steel. The decision to use any particular product or material in the projects featured in this publication was made by the team involved in each project and not BlueScope Steel Limited. While care has been taken to verify the accuracy of details in this publication, BlueScope Steel Limited assumes no responsibility or liability for any errors or omissions in the content of this publication. All information is provided with no guarantee of completeness or accuracy.
Images shown throughout have been reproduced to represent actual product colours as accurately as possible. However, we recommend checking your chosen colour against an actual sample of the product before purchasing, as varying screens and devices may affect colour tones and finishes.
Every project is different and not all products are suitable for all applications, projects and environments. You should confirm the suitability of particular products for your project by contacting the supplier directly and by obtaining information and advice specific to your circumstances.
BlueScope generally recommends the use of COLORBOND® steel or ZINCALUME® steel for the majority of external cladding applications. BlueScope recommends routine preventative maintenance for eaves and other "unwashed areas" of structures that may not be regularly cleaned by rainfall. For information about product maintenance, including preventative maintenance, please call BlueScope on 1800 753 658. To determine whether a BlueScope warranty may be available for use of a product in your particular project, please visit bluescopesteel.com.au/warranties.
BlueScope, COLORBOND®, XLERPLATE®, LYSAGHT®, GALVASPAN®, LONGLINE 305® and ® colour names are registered trademarks and ™ colour names are trademarks of BlueScope Steel Limited.
Submit your project
We encourage you to share your projects for consideration in a future issue of STEEL PROFILE® magazine. We invite you to submit projects that feature a ground-breaking or an innovative use of steel. We love celebrating and writing about such projects!