Edition 121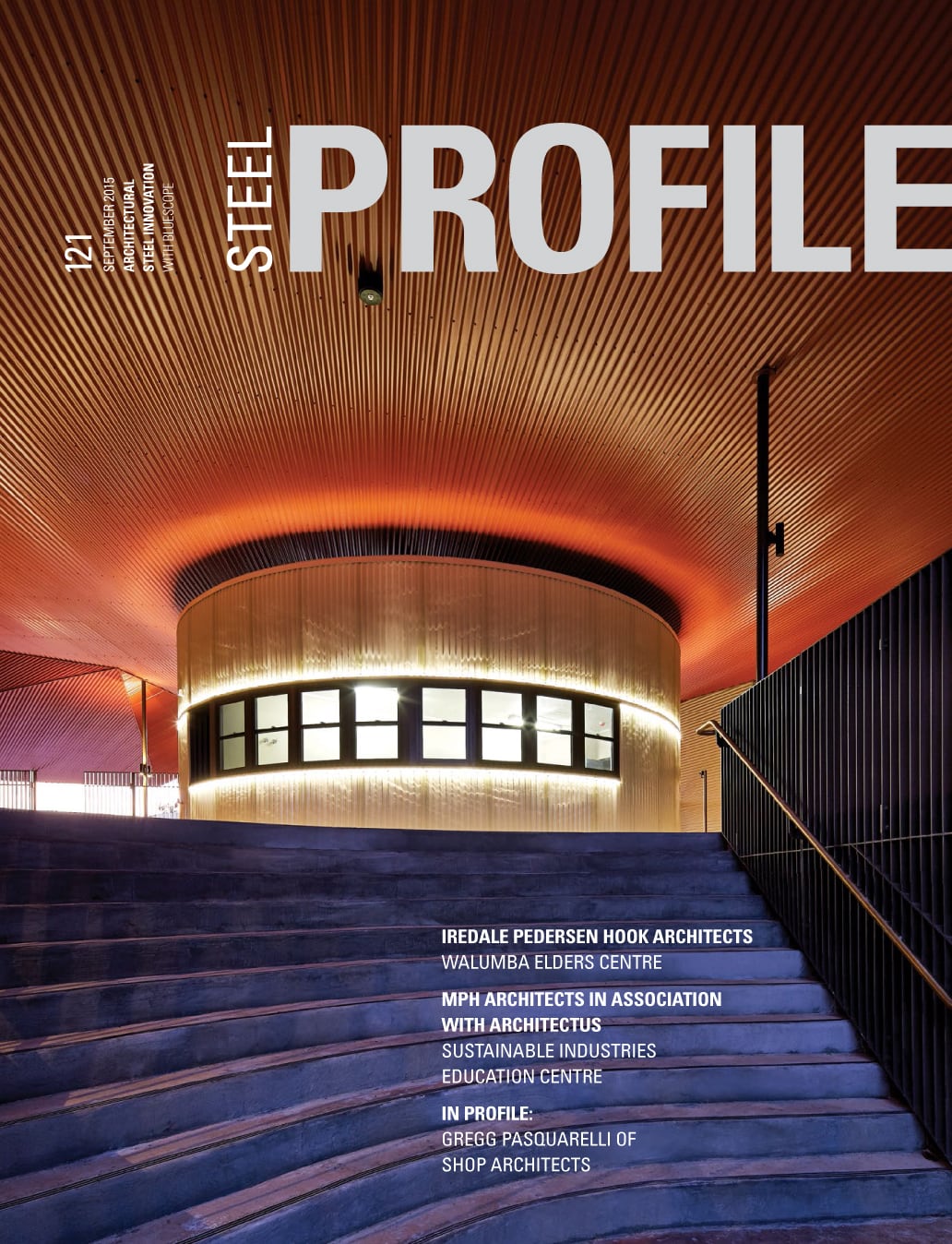 Edition 121 Projects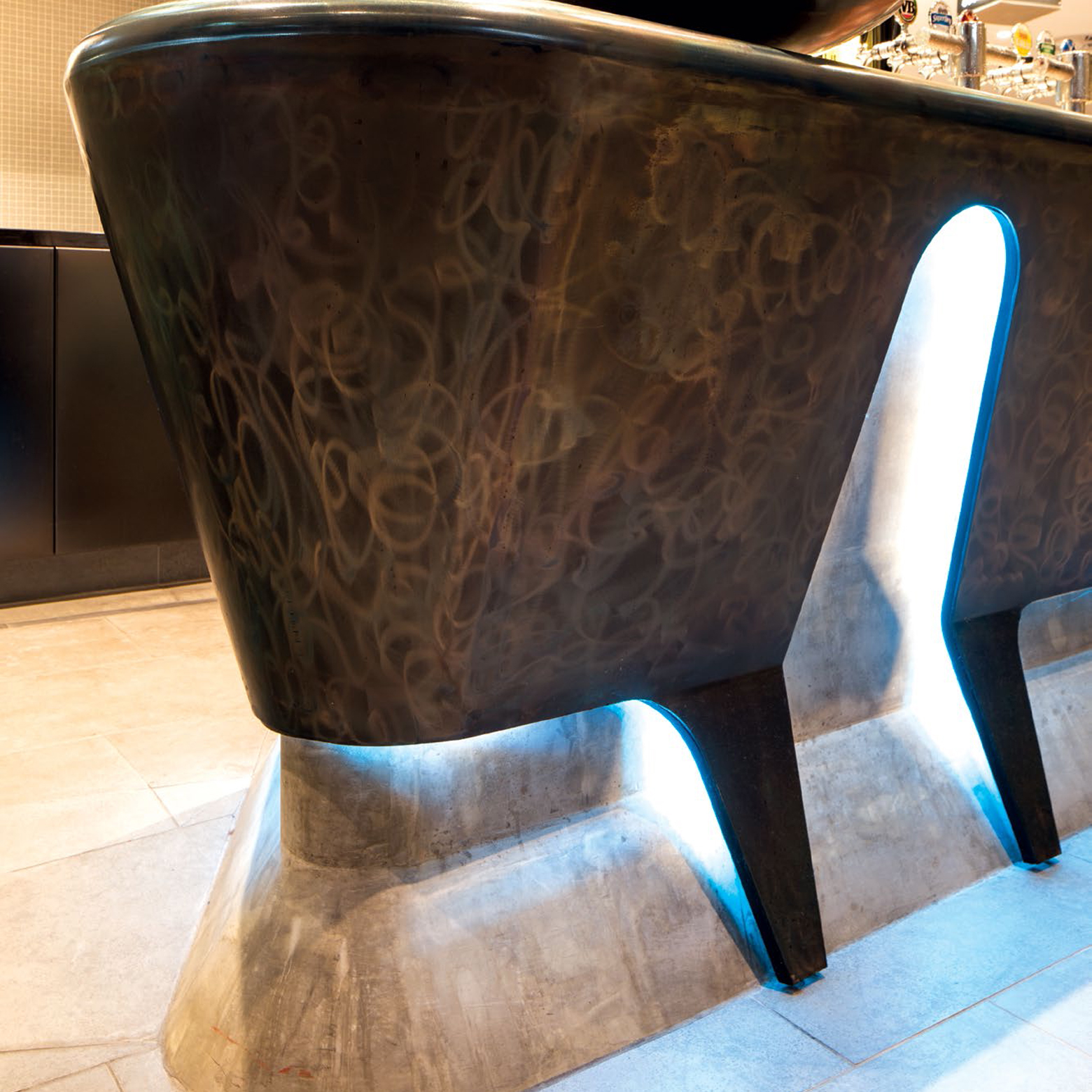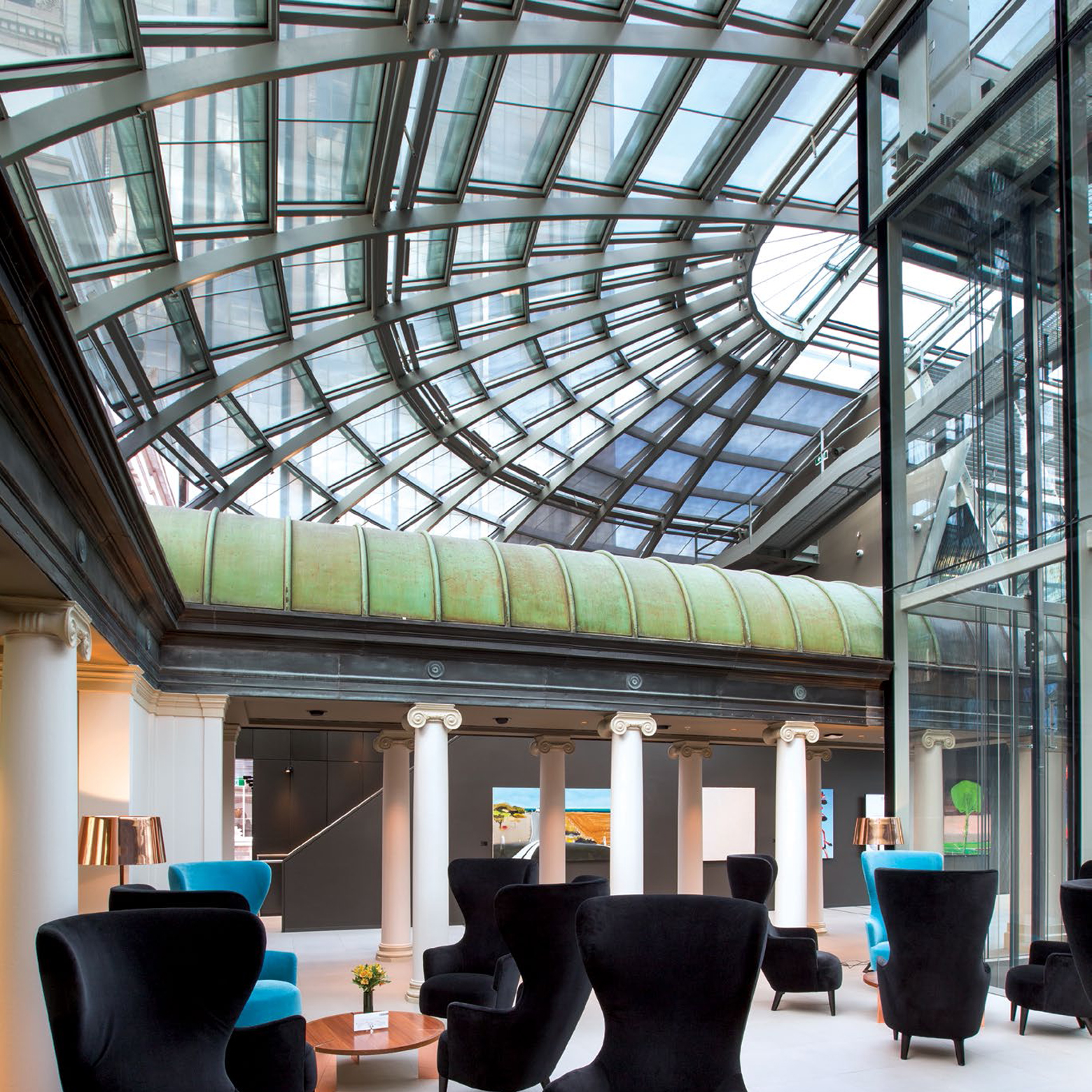 Offices & Workplaces · NSW
Sep 2015
Editorial information
Welcome to STEEL PROFILE® Magazine
We are, as always, proud to bring our readers a collection of the finest steel architecture in the country and some insights into the adventurous, creative minds behind it.
It is telling that every major project featured in this issue has been recently recognised with a prestigious award. This includes many 2015 Australian Institute of Architects state Awards and COLORBOND® Awards for Steel Architecture. Congratulations to the architects.
This year saw BlueScope's support for the Australian Institute of Architects as its Principal Corporate Partner reach 30 years, a milestone we celebrated at the National Architecture Conference in Melbourne, which explored the theme of risk.
The architectural profession is compelled to flirt with risk, to be daring and take a leap of faith in design in order to create something special and unique.
We approach risk through the products and product solutions we supply. We recognise we have a key role to play in risk-mitigation, by designing compliant products and solutions that support innovation in the architectural profession and contribute to its advancement.
Scott Gregory
BlueScope Editor
STEEL PROFILE® has an Editorial Advisory Panel to ensure that only projects of the highest calibre are selected for publication. The panellists are:

Adam Haddow
Adam is a director of SJB Architects NSW. He was awarded the 40th Anniversary Churchill Fellowship in 2006 to study alternatives to conventional models of urban design. SJB Architects recently won two Australian Institute of Architects NSW Awards for Multiple Housing.
More than anything, he loves to design buildings

Frank Stinisic
Stanisic Associates founder Frank Stanisic is a Sydney-based architect and urbanist. His work is fuelled by an evolving interest in the diagram and frame as a basis for architectural invention, and the aesthetics of permeability.
Frank's projects have won numerous awards including Australian Institute of Architects' Special Jury, Wilkinson, Aaron Bolot and Frederick Romberg prizes.

James Loder
James Loder is a graduate architect working at John Wardle Architects. Graduating from RMIT with a Master of Architecture (First Class Honours) in 2012, James was awarded the 2013 BlueScope Steel Glenn Murcutt Student Prize.
His work explores the formal relationships between building and landscape with great consideration given to spatial expression and materiality.
Copyright © 2015 BlueScope Steel Limited ABN 16 000 011 058. All rights reserved.
No part of this publication may be copied, reproduced or distributed without consent. BlueScope Steel Limited, to the extent permissible at law, is not liable to any person for loss or damage arising from reliance upon information contained in this publication. The articles featured in this edition of STEEL PROFILE® are sourced, written, fact-checked and curated by the authors with editorial contribution from BlueScope Steel Limited. Any statements or opinions attributed to a person are the views of that person alone and do not necessarily reflect those of BlueScope Steel. The decision to use any particular product or material in the projects featured in this publication was made by the team involved in each project and not BlueScope Steel Limited. While care has been taken to verify the accuracy of details in this publication, BlueScope Steel Limited assumes no responsibility or liability for any errors or omissions in the content of this publication. All information is provided with no guarantee of completeness or accuracy.
Images shown throughout have been reproduced to represent actual product colours as accurately as possible. However, we recommend checking your chosen colour against an actual sample of the product before purchasing, as varying screens and devices may affect colour tones and finishes.
Every project is different and not all products are suitable for all applications, projects and environments. Some products may perform better than others in certain applications and conditions. You should confirm the suitability of particular products for your project by contacting the supplier directly and by obtaining information and advice specific to your circumstances.
BlueScope generally recommends the use of COLORBOND® steel or ZINCALUME® steel for the majority of external cladding applications. BlueScope recommends routine preventative maintenance for eaves and other "unwashed areas" of structures that may not be regularly cleaned by rainfall. For information about product maintenance, including preventative maintenance, please call BlueScope on 1800 753 658. To determine whether a BlueScope warranty may be available for use of a product in your particular project, please visit bluescopesteel.com.au/warranties or call BlueScope on 1800 753 658.
BlueScope, COLORBOND®, LYSAGHT®, XLERPLATE®, GALVASPAN®, Shadowline® and ® colour names are registered trademarks and ™ colour names are trademarks of BlueScope Steel Limited. Smartspan® is a registered trademark of Stratco (Australia) Pty Ltd.