Pembroke Middle School Redevelopment
Pembroke Middle School Redevelopment
A South Australian school unveils a new middle school development, where a vertical 'learning village' with architectural cladding made from COLORBOND® steel redefines the future of education.
Words: Editorial team led by Brydie Shephard.
Photography: Sam Noonan
An Innovative Learning Hub for Educational Excellence
In 2015, a triangular block of land hit the market in Adelaide, adjacent to the middle school campus of Pembroke - a leading co-educational, nondenominational day and boarding school. Located in the inner-city suburb of Kensington, the block had a complex footprint bordered by diagonal streets, within which Pembroke saw an opportunity to create an innovative learning hub for science, art, technology and cross-disciplinary learning.
At the core of the project's brief was a desire to build an educational setting that would use layout, building materiality and smart building technology to provide a foundation for success.
"The atmosphere and qualities of the building needed to act as a catalyst for discussion, debate, enquiry and collaboration. We wanted the building to inspire future artists, engineers, scientists and artisans of all description – and for these disparate disciplines to collaborate together."

Hannah Bone

Director of Advancement, Pembroke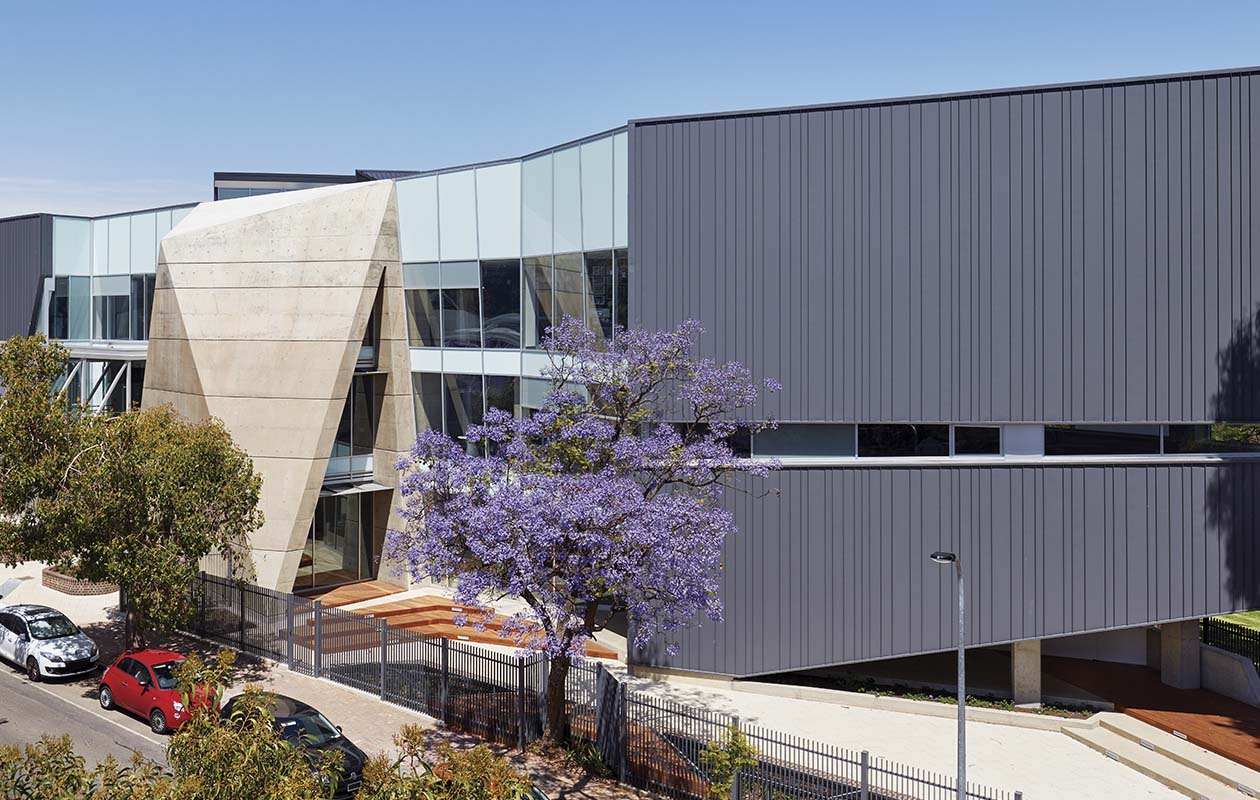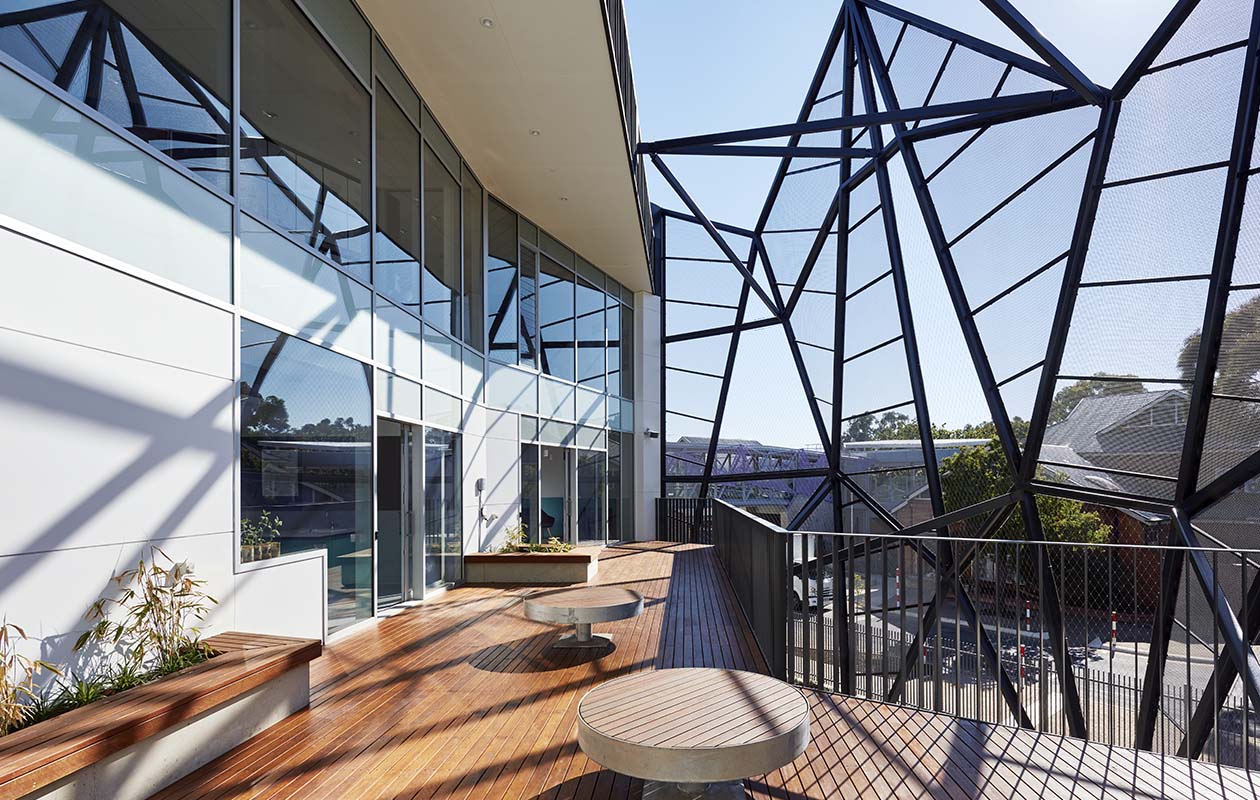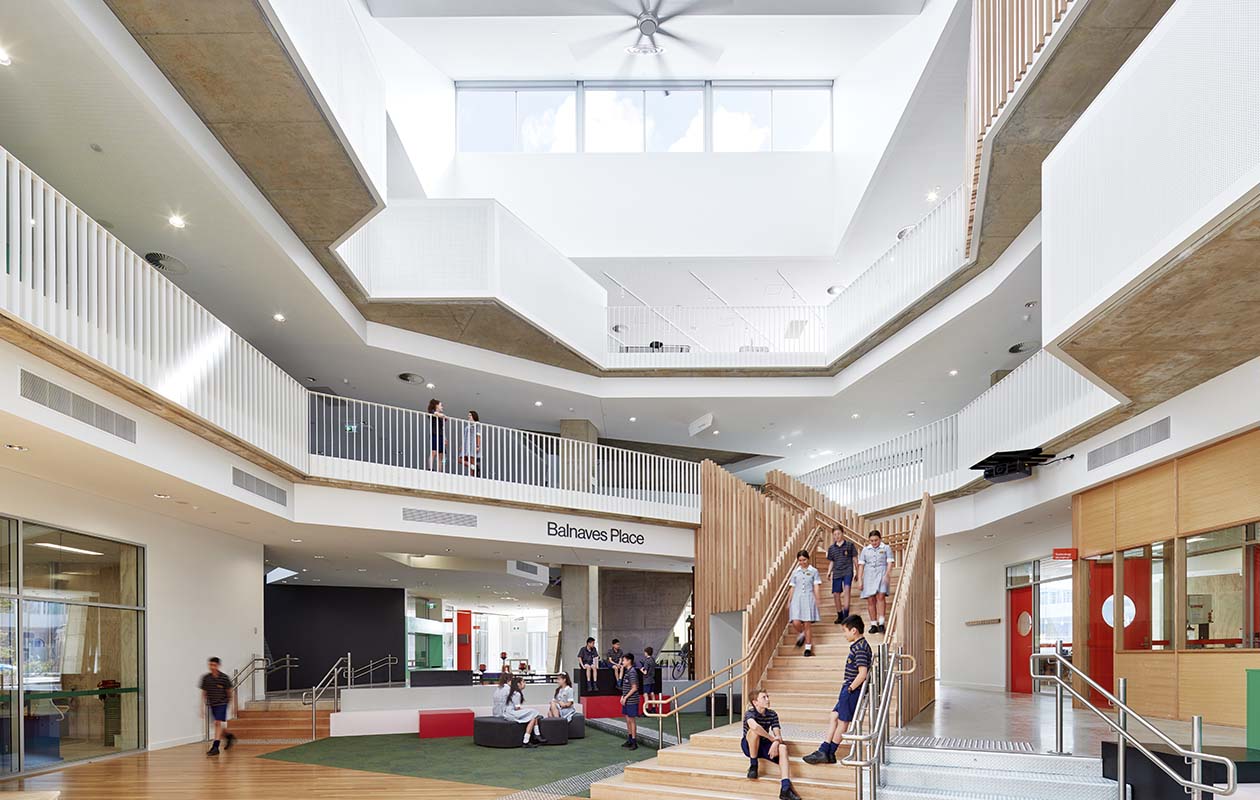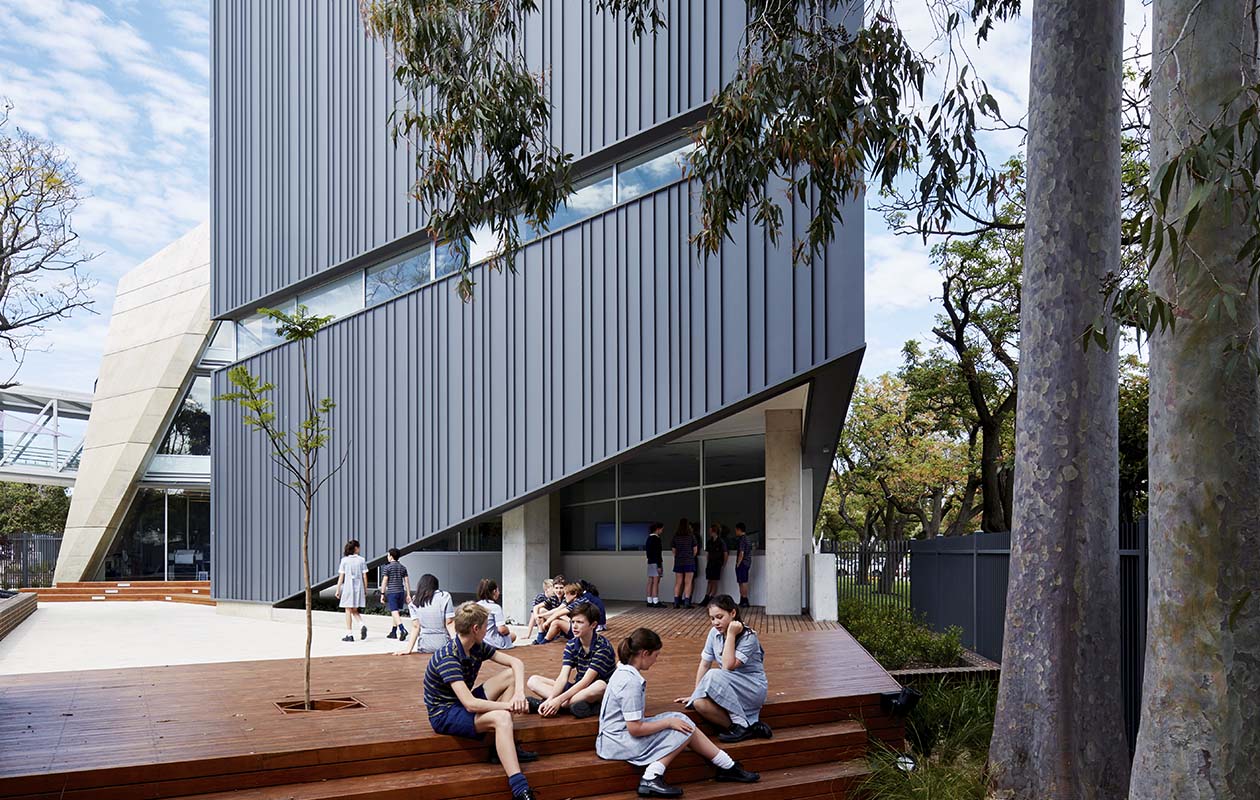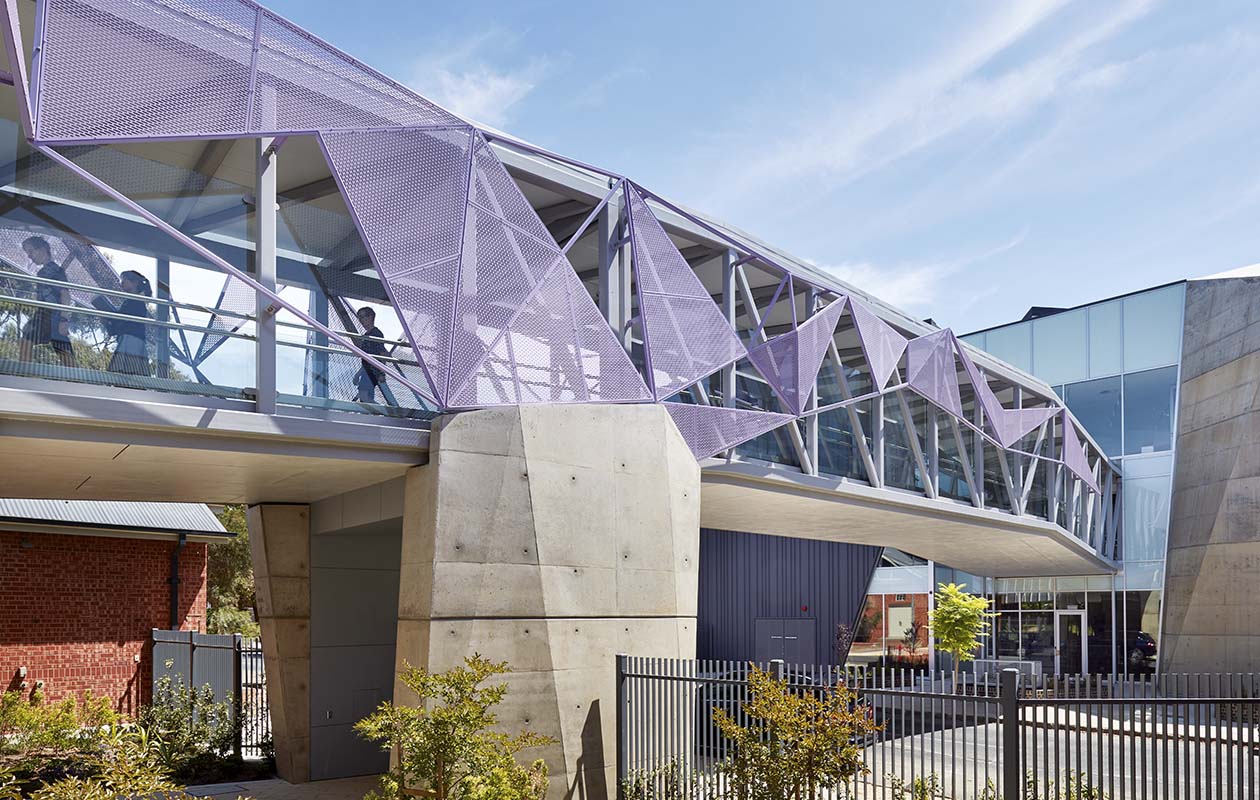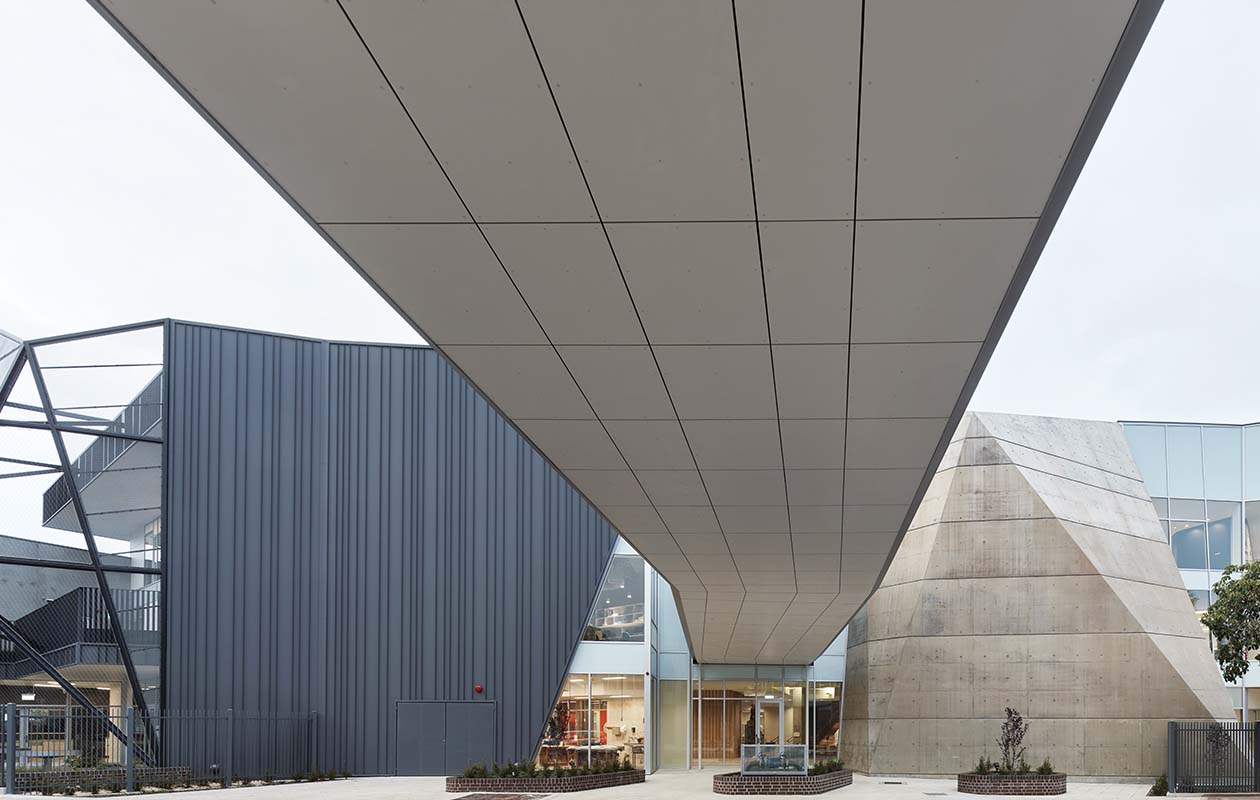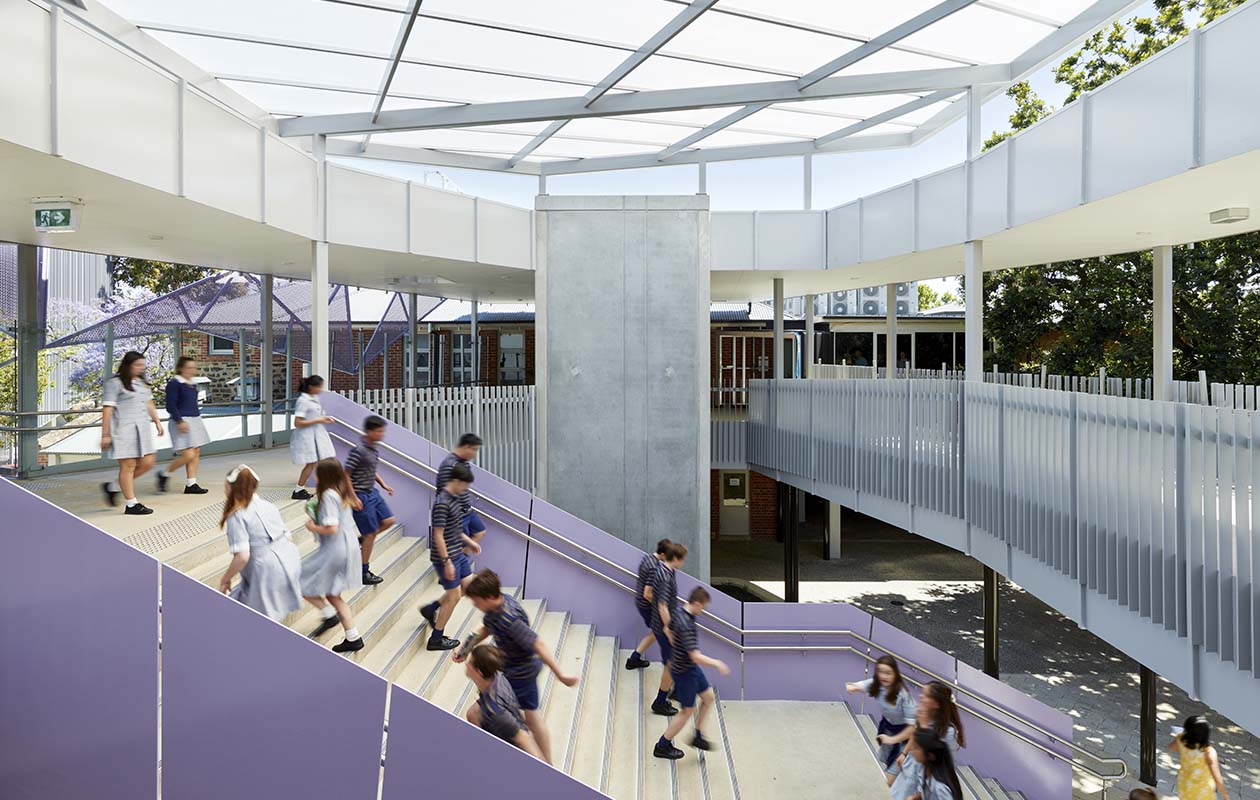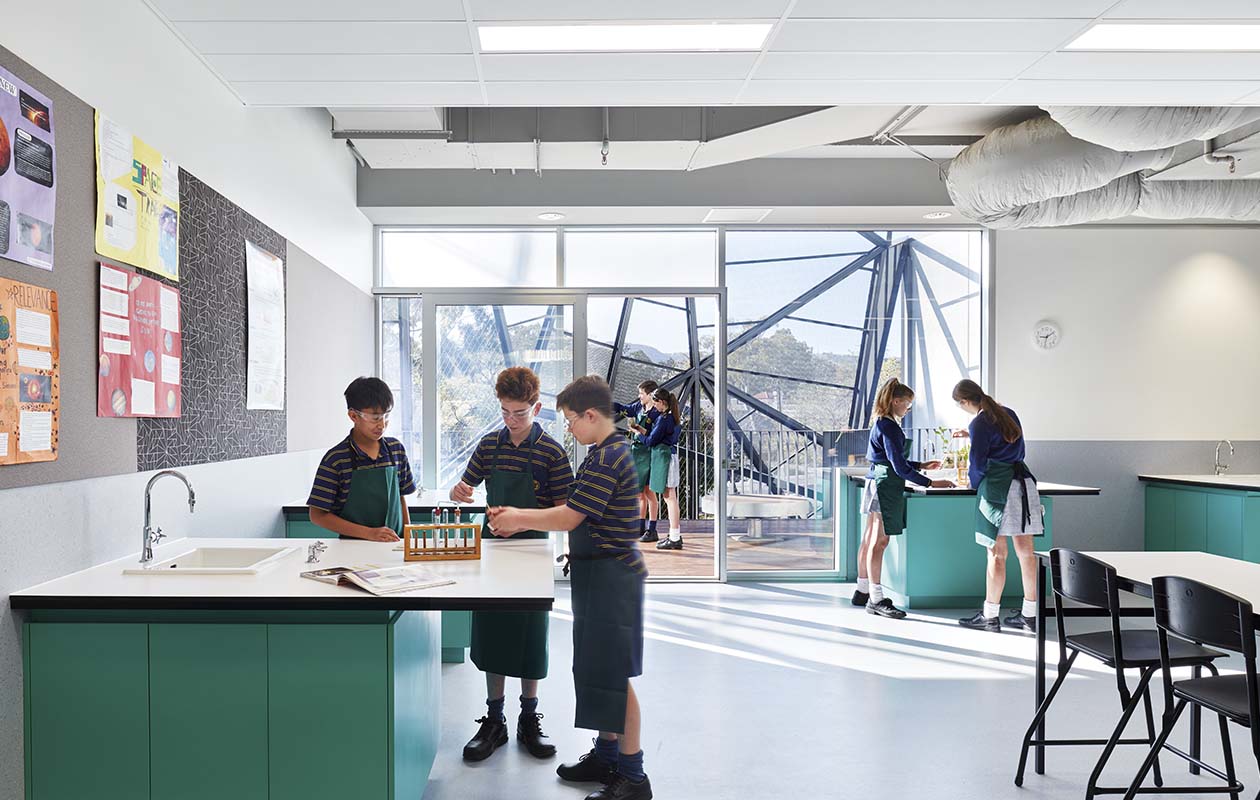 Comprising six specialist classrooms and 13 teaching spaces dedicated to science, technology and art, the new development was imagined as a place that would inspire the next generation of creatives and industry leaders, providing students with the high-tech space and facilities they need to engage proactively with their studies, co-curricular activities, the school community and society.
It was only appropriate then that the building's architecture strived for a similar goal. The key project team of architect Grieve Gillett Andersen (GGA), builder Sarah Constructions and cladding and roofing contractor SA Construct collaborated to produce a complex structure that worked within the site's parameters and was completed in a timeframe of just 24 months due to lightweight construction materials such as prefabricated steel. Where traditional approaches to construction would ordinarily see a project of this size take up to 36 months to complete, innovation, steel prefabrication and on-site assembly allowed the team to cap both project duration and budget.
Connected to the original campus via an enclosed footbridge, the new development is a three-level angular structure that makes the most of the site's footprint.
From the street, a striking external facade of Architectural wall cladding made from COLORBOND® steel Matt in Fielders Finesse® Prominence™ profile, in the COLORBOND® colour Basalt® breaks up the site's concrete and glass form, with the Fielders Finesse® Prominence™ profile variable pan widths creating a welcoming exterior for the school's community. Inside, the triangular block is broken down into a series of multi-storey smaller buildings that are grouped around a central atrium.
Varied building materials feature as a central design device, with large volumes of steel, concrete and glass coming together in a juxtaposition of tones and textures.
These building material choices, and the sensory interplay between them, are designed to distinguish the new development from the school's existing heritage buildings.
For the building's facade, 2020m2 of Fielders Finesse® Prominence™ wall cladding made from COLORBOND® steel Matt in the COLORBOND® colour Basalt® works to add depth and softness to the building's monolithic concrete elements and highlight the intricate angles of the architecture.
Comprising approximately 1600 pieces delivered in 22 sections, the prefabricated steel cladding panels were produced using Computer-Aided Design (CAD) elevations, where different width sheets were rolled out before being hand-cut into their final shapes. The variations in the Fielders Finesse® Prominence™ pan widths brings a custom design element to the architectural cladding for the building, with the irregularity of the intervals providing a depth-of-texture that elevates the overall structure and brings a personality to the otherwise imposing overall facade.
Throughout the wall cladding process, the customisation from Fielders allowed for installation to be quick and easy, providing a durable architectural cladding solution that could be prefabricated and fit within the project's timeline.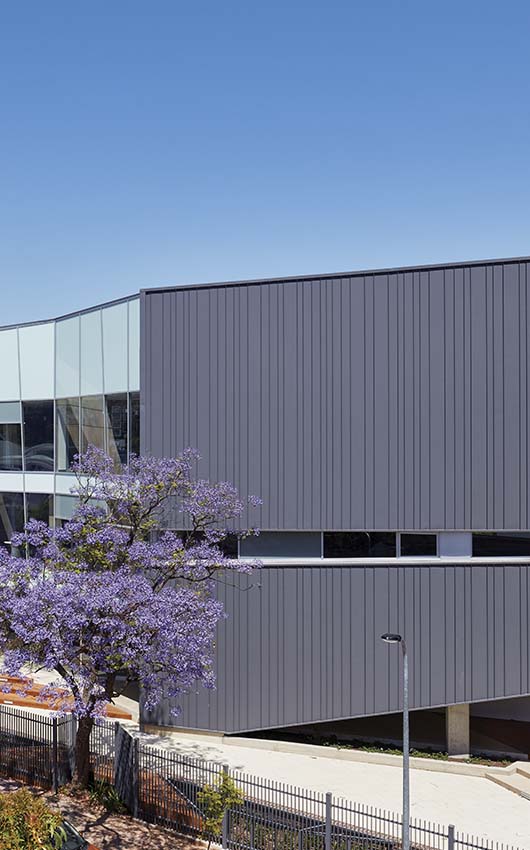 "Steel cladding looks great across large areas, has design flexibility, can be easily customised and is low maintenance"

Dimitty Andersen

Director, Grieve Gillett Andersen Architects
"We detailed the building's cladding in a variable width. This adds a custom design element, enhanced by the matt finish for a softer, more high-end look reminiscent of zinc. In addition, the cladding has a matt finish that gives a soft lustre and depth of colour," says Dimitty Andersen, director of GGA.
The cladding also provided an important architectural reference to the school's progressive ethos, where the tone, texture and materiality draws from typologies of industrial sheds as a nod to the process of making and creation that defines both the building construction process and curriculum.
The typical low roof-pitch of sheds and industrial buildings is also brought into play, where a parapet assists in concealing any visible pitch, giving the appearance of a flat roof. Here, Fielders KingKlip® 700  made from COLORBOND® steel in the COLORBOND® colour Monument® provided a flexible roofing solution that fit the building's triangulated shape while also providing a waterproof roof for the entire structure.
Setting off the facade is a statement 'shard', where 15-metre, vertical-raked angle walls come together to form a series of triangulated shapes.
Unique to the South Australian construction community, the shard is an earthquake-resistant structure, which provides additional lateral stability in the event of seismic movement, while also providing a key architectural statement.
Another major deliverable was the 26.2-metre-long covered footbridge, which stretches across Shipsters Road to provide safe and seamless access between this new development and the existing campus.
With the intention to keep student and community disruption to a minimum, the bridge was formed off-site using prefabricated steel mostly in Square Hollow Sections (SHS) structural steel by structure designers and manufacturers, Specialised Solutions, who worked with GGA, Sarah Constructions and structural and civil engineers Combe Pearson Reynolds to design and manufacture a bridging solution that would require minimal work onsite.
The structure of the bridge is designed in steel and concrete, and is enclosed by perforated metal screens and glazing, to ensure students can transition between the new development and the existing campus, whatever the weather.
"We used structural steel so we could prefabricate the bridge off-site and install it in a single lift," says Ainsley Knights, project manager at Specialised Solutions. "Alternative products may have required us to build on-site which would have eaten into the project's timeline and impacted traffic and pedestrian access over a significantly longer period."
Structural steel prefabrication also allowed greater quality control, with milestone factory visits allowing all consulting parties to ensure relevant expectations were being met.
Staff and students access the bridge via a main thoroughfare on the original campus. Here, shelter is provided by an external roof system consisting of Rectangular Hollow Sections  (RHS) supporting translucent roofing panels.
In the atrium, students and staff are able to work and connect in breakout spaces, view displayed artwork and attend theatre performances and orchestra rehearsals.
The atrium is also the key connection point between the three educational 'neighbourhoods' of technology, science and art, which each has a designated floor in the campus.
"All the design decisions made were focused through the lens of 'building as teacher,'" says GGA's Dimitty Andersen. Indeed, the building is a living educational space, with exposed services putting the inner workings of the building on show. "Hopefully there will be spin-off," Andersen says, "to inform and inspire the next generation of builders, designers and innovators."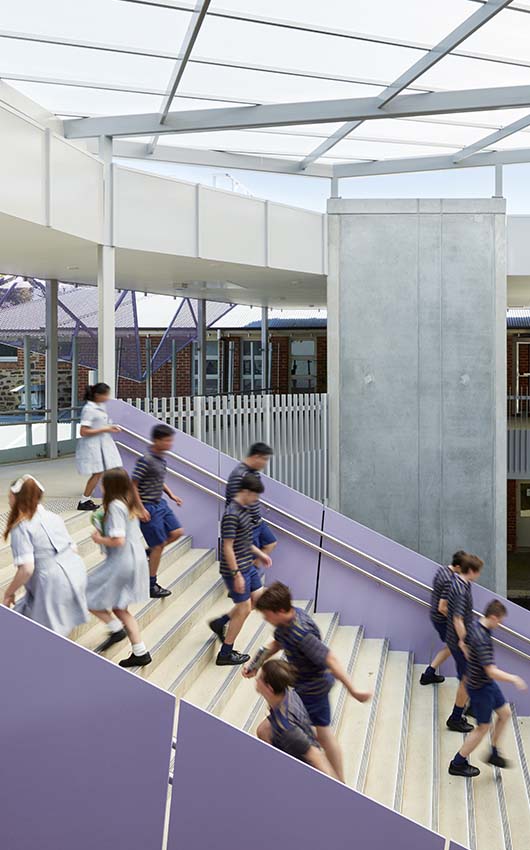 Encouraging staff and students to teach and learn outdoors, the transition from indoor to out is kept seamless and hyper-accessible, with multiple areas that open out from interior spaces, including a large biodeck on level one of the campus. Situated next to the science laboratories, the deck allows for lesson plans to be devised with outside interaction in mind, offering real-world applications for studies of the natural sciences.
Bordering the deck is an intricate "spider web" of steel beams onto which woven wire screening mesh from expanded and perforated metal from wire mesh fabricator, Locker Group, has been applied. This structure provides protection from the early morning sun, acts as a planting screen and provides three-dimensional dynamism to the overall building.
It is this dynamism that truly 'makes' the building, where materiality allowed the project team to lean into the site's restrictions and turn them into features, creating a building that is not restricted but rather is empowered by its constraints.
The result is a campus that looks alive, using shape and texture to manipulate materials and light so they appear as if they are moving, creating what Andersen describes as a "building of energy".
Since the project's completion, it has been recognised with a number of awards from the Australian Institute of Architect's South Australian Chapter, including the COLORBOND® Award for Steel Architecture, the Dr John Mayfield Award for Educational Architecture and a commendation for Interior Architecture.
Perhaps more importantly however, is how the building has been received by its key stakeholders: the students. To this, Andersen recounts a site inspection at the project's completion, where she saw an art class depicting versions of the new campus in 2D and 3D artworks: "That was very emotional for me," she said, because that very thing we hoped would occur, did. This was an appreciation of deeper learning right before you. That was fantastic and very gratifying."
Project information
Architect
Grieve Gillett Andersen Architects
Project
Pembroke Middle School Redevelopment, South Australia
Awards
2020 Australian Institute of Architects South Australian Chapter, COLORBOND® Award for Steel Architecture
2020 Australian Institute of Architects South Australian Chapter, The Dr. John Mayfield Award for Educational Architecture
2020 Australian Institute of Architects South Australian Chapter, Interior Architecture – Commendation
2020 Australian Institute of Building Professional Excellence in Building Awards South Australian Chapter, Commercial Construction $1 Million to $25 Million - High Commendation
Copyright © 2020 BlueScope Steel Limited ABN 16 000 011 058. All rights reserved.
No part of this publication may be copied, reproduced or distributed without consent. BlueScope Steel Limited, to the extent permissible at law, is not liable to any person for loss or damage arising from reliance upon information contained in this publication. The articles featured in this edition of STEEL PROFILE® are sourced, written, fact-checked and curated by the authors with editorial contribution from BlueScope Steel Limited. Any statements or opinions attributed to a person are the views of that person alone and do not necessarily reflect those of BlueScope Steel. The decision to use any particular product or material in the projects featured in this publication was made by the team involved in each project and not BlueScope Steel Limited. While care has been taken to verify the accuracy of details in this publication, BlueScope Steel Limited assumes no responsibility or liability for any errors or omissions in the content of this publication. All information is provided with no guarantee of completeness or accuracy.
Images shown throughout have been reproduced to represent actual product colours as accurately as possible. However, we recommend checking your chosen colour against an actual sample of the product before purchasing, as varying screens and devices may affect colour tones and finishes.
Every project is different and not all products are suitable for all applications, projects and environments. You should confirm the suitability of particular products for your project by contacting the supplier directly and by obtaining information and advice specific to your circumstances.
BlueScope generally recommends the use of COLORBOND® steel or ZINCALUME® steel for the majority of external cladding applications. BlueScope recommends routine preventative maintenance for eaves and other "unwashed areas" of structures that may not be regularly cleaned by rainfall. For information about product maintenance, including preventative maintenance, please call BlueScope on 1800 753 658. To determine whether a BlueScope warranty may be available for use of a product in your particular project, please visit bluescopesteel.com.au/warranties.
COLORBOND®, ZINCALUME®, GALVASPAN®, LYSAGHT®, FIELDERS KINGKLIP®, FIELDERS FINESSE® and ® colour names are registered trademarks and ™ colour names are trademarks of BlueScope Steel Limited.
Submit your project
We encourage you to share your projects for consideration in a future issue of STEEL PROFILE® magazine. We invite you to submit projects that feature a ground-breaking or an innovative use of steel. We love celebrating and writing about such projects!
Related projects