Woodcroft Neighbourhood Centre
Woodcroft Neighbourhood Centre
The design relied on steel to achieve the stunning roofline, which connects the proportional volumes of the various interior spaces in a beautiful serpentine line traced by a roof made from ZINCALUME® steel.
Words: Micky Pinkerton.
Photography: Brett Boardman
Love Thy Neighbour
Since the first few appeared in the 1960s, Australia's neighbourhood centres have gradually evolved with the times and social policy, morphing from small adult education centres into the multi-purpose community, allied health and cultural facilities we know today.
Now numbering more than a thousand across the country, academic articles have been written trying to define exactly what a neighbourhood centre is. The most perceptive of these states that the question is actually redundant, as each centre continues to shape and re-shape itself, to become "something more besides" and concludes by asking whether a better question might be: "What can a neighbourhood centre become?1".
It's a question that Carter Williamson has thoroughly embraced and explored in this inspiring project, deep in Sydney's western suburbs, a stone's throw from Blacktown. Woodcroft is a small 1990s housing development on an old brownfield site. Both timber and brick are used in the building's material palette in reference to the site's history, but it's the ZINCALUME® steel roof building material which really captures the imagination and provides the centre with the requisite 'something' and a whole lot more besides.
The striking roof concept evolved from a simple brief, which required a range of flexible spaces to accommodate the centre's different groups and activities: smaller rooms for one-to-one meetings, a seminar space for up to twenty people, a large hall for more significant events. In short, the roofline reflects the different volumes of the interior spaces.
"We looked at each space through the idea of the golden mean – the idea of perfect proportion," explains architect Shaun Carter. "We wanted the roof to hold and shape the right proportions for each of the spaces that sat underneath it. So we started working out what heights those rooms needed to be, to be proportionally correct.
Diagrammatically we had these spaces popping up at different heights, and when we traced over these volumes it started to describe this lovely serpentine curve."
The ZINCALUME® steel roof is clearly the significant element of the design, although its curved structure generated equally significant challenges. The curves undulate east to west, while the fall of the roof is south to north, requiring some sophisticated 3D modelling to resolve every junction.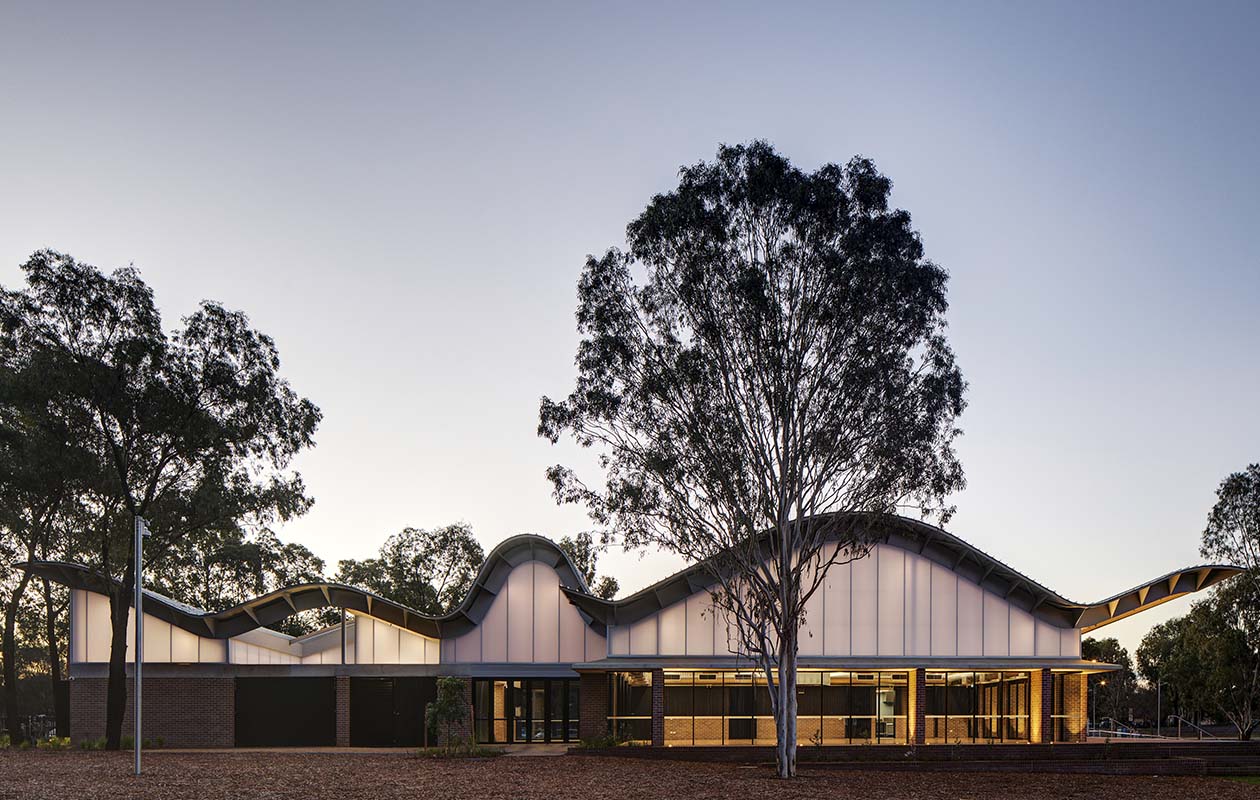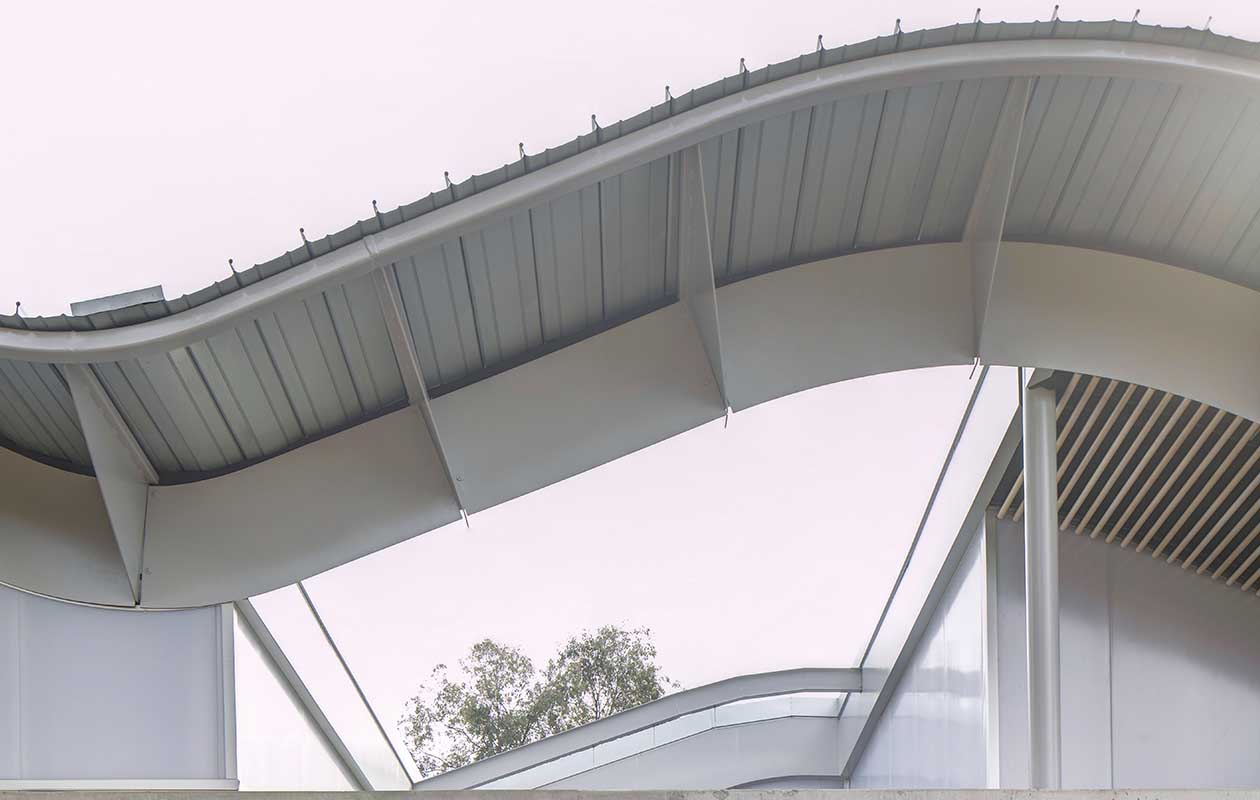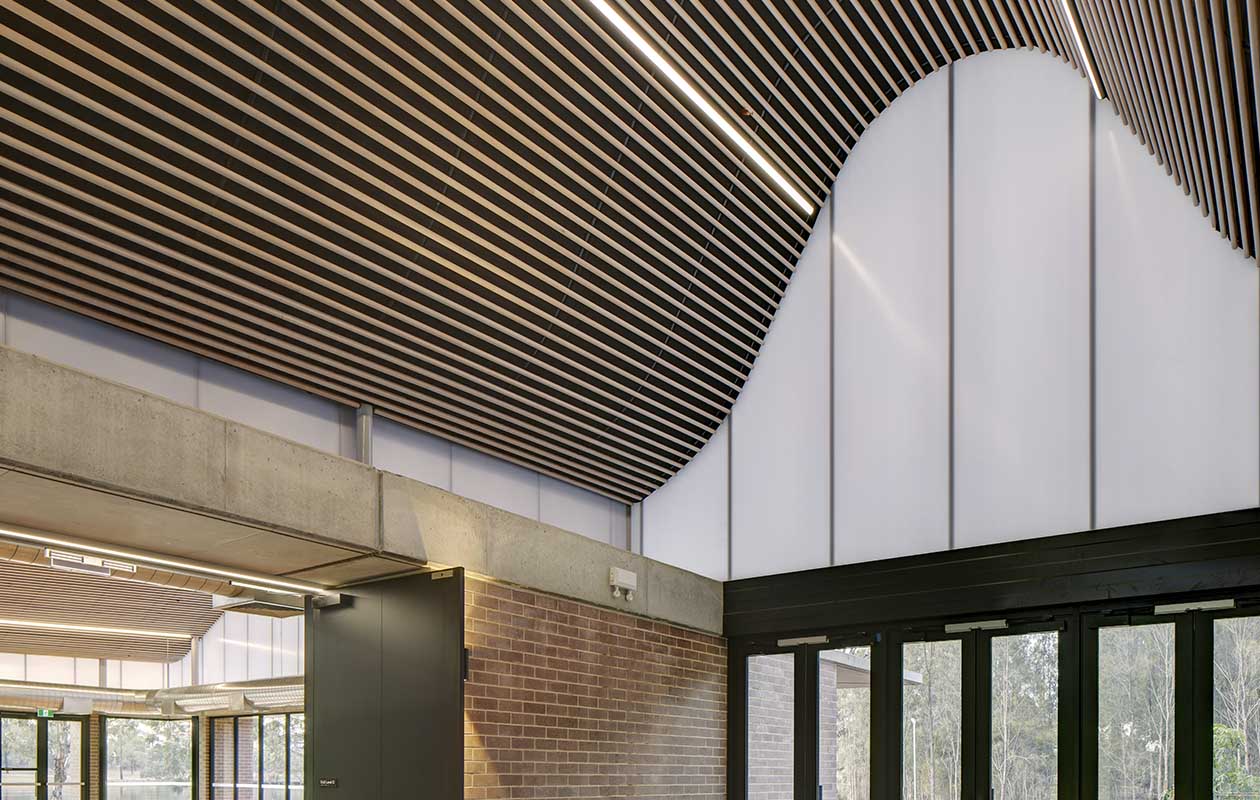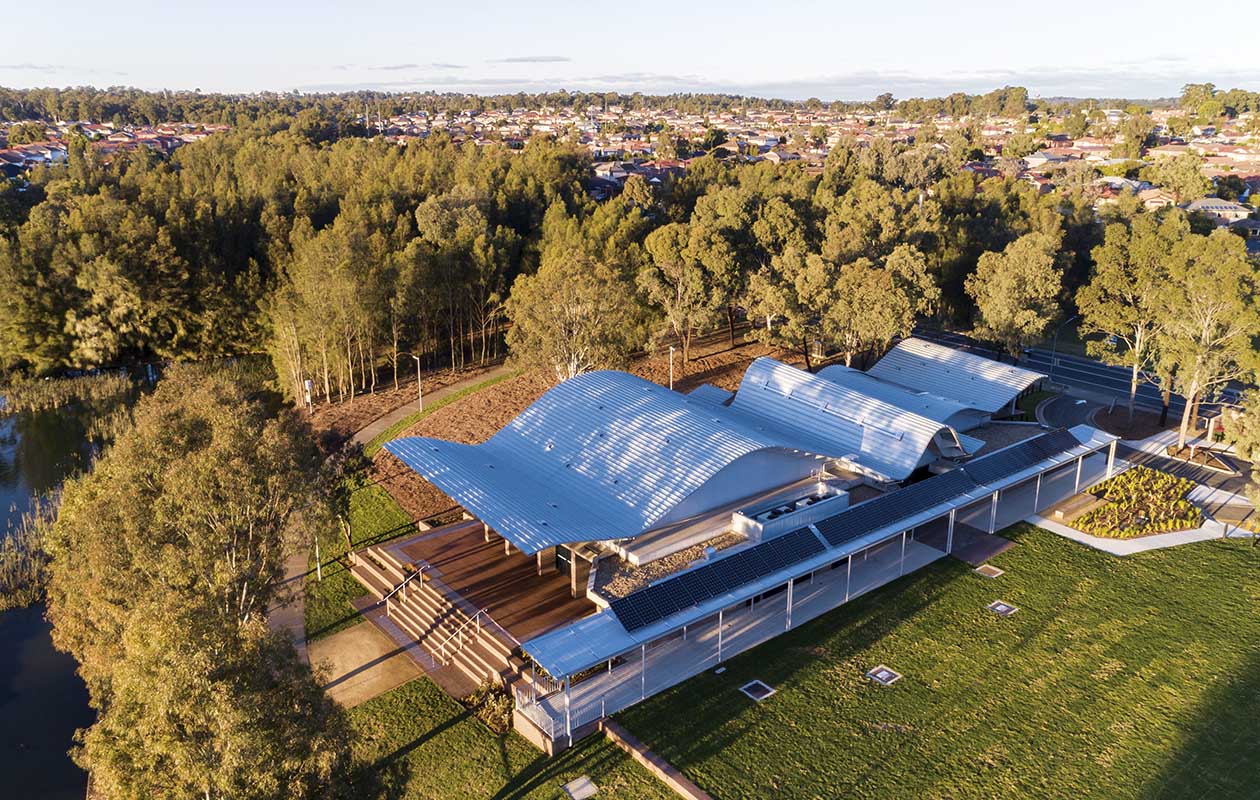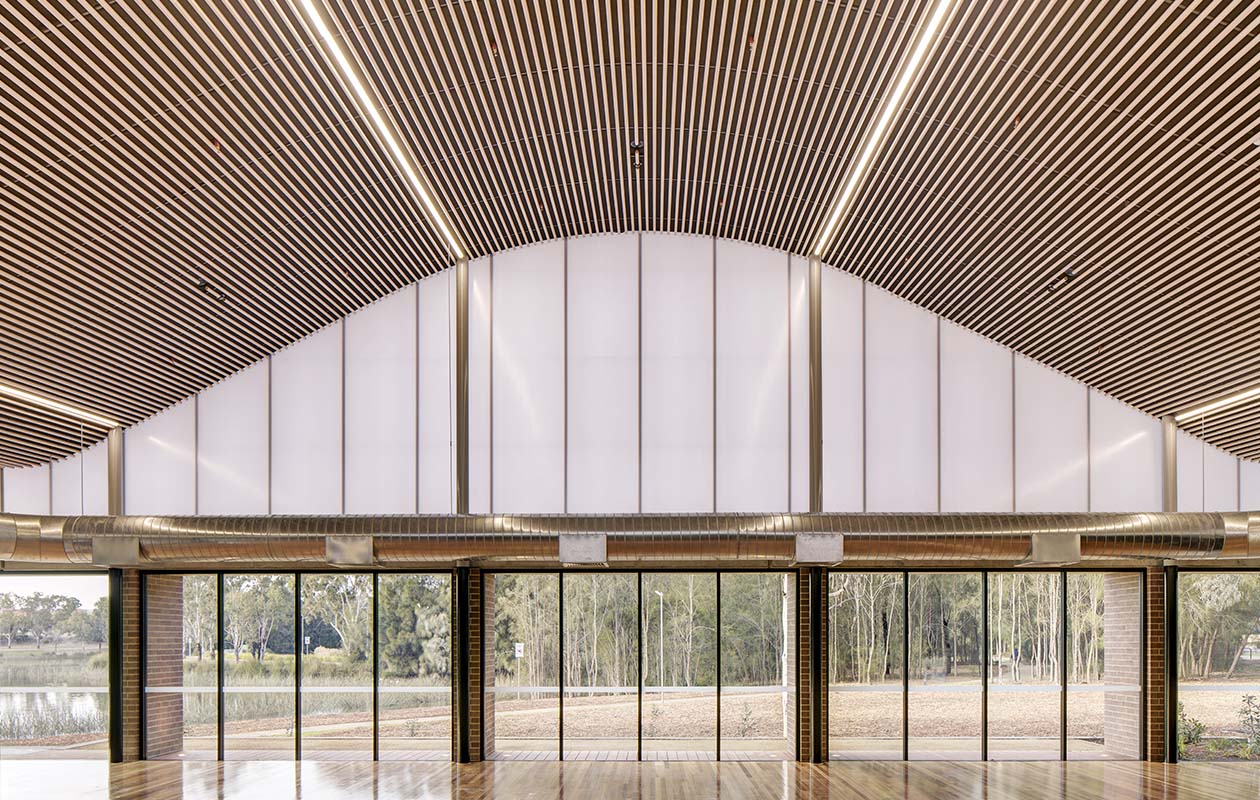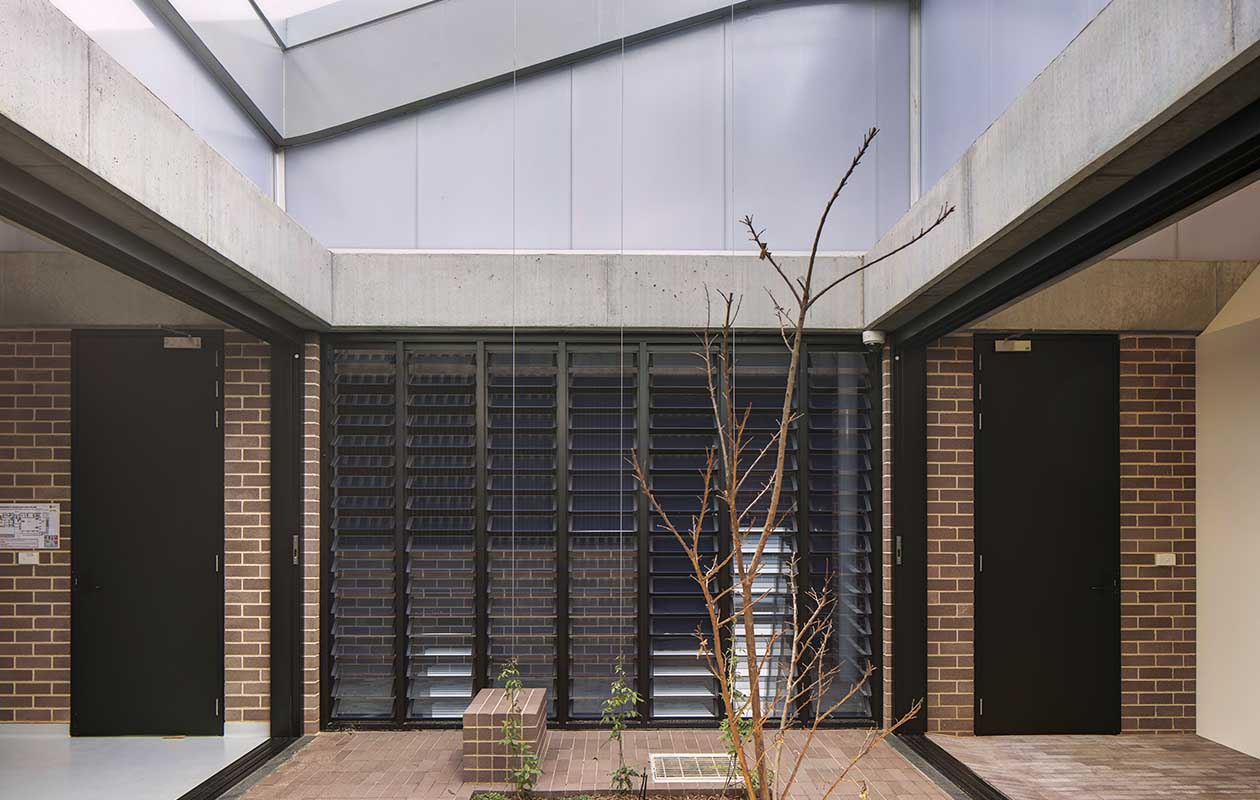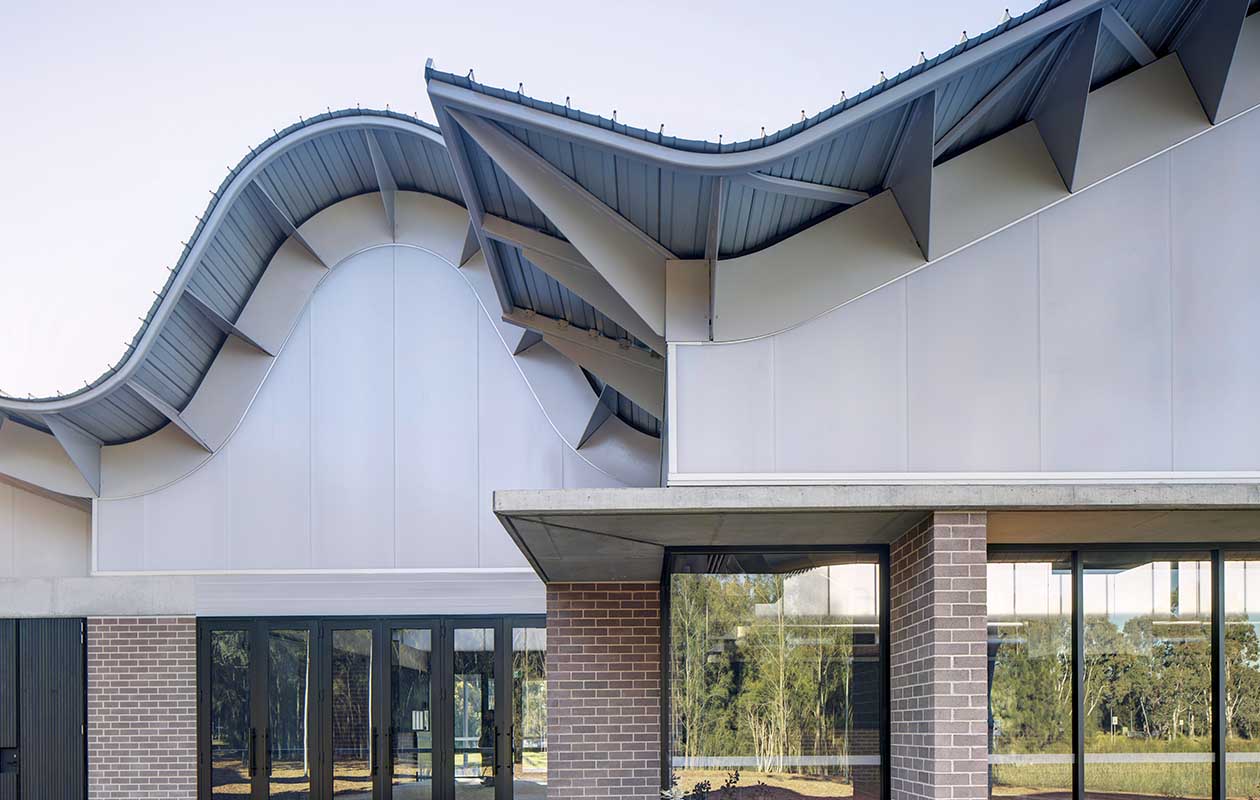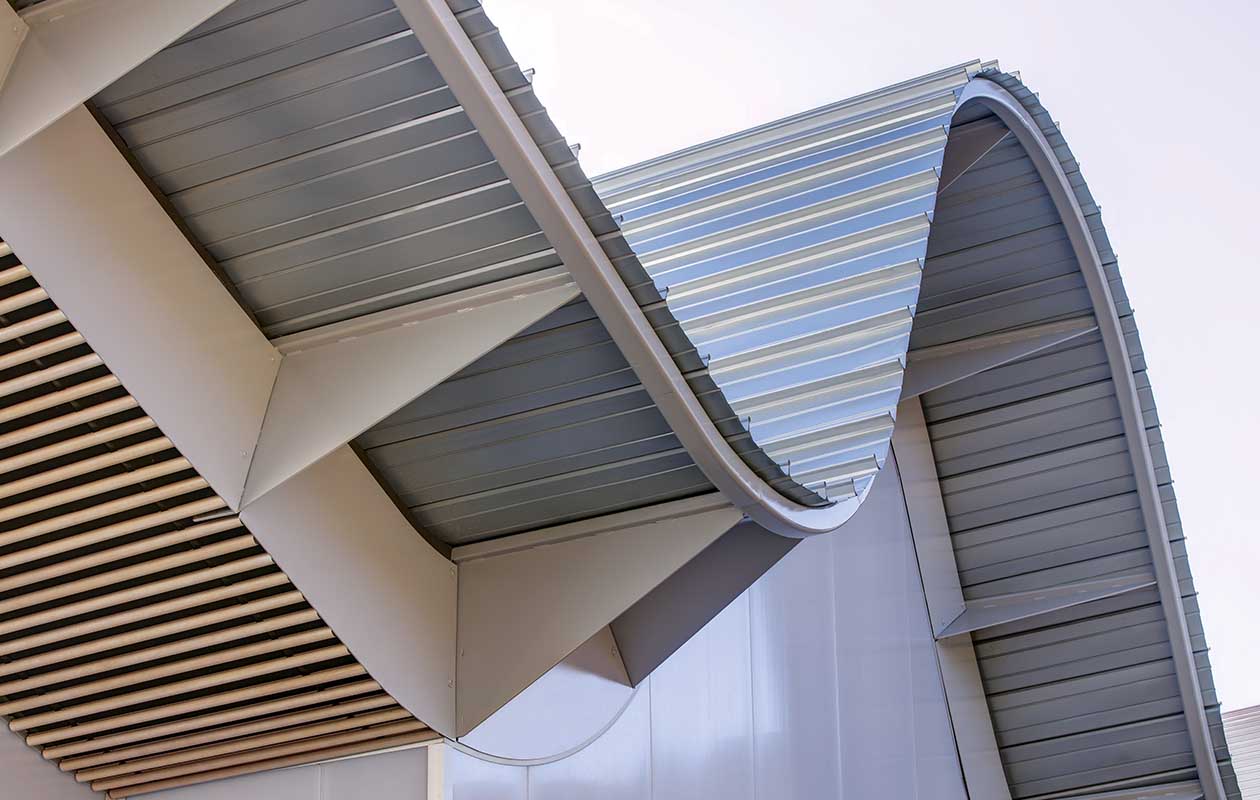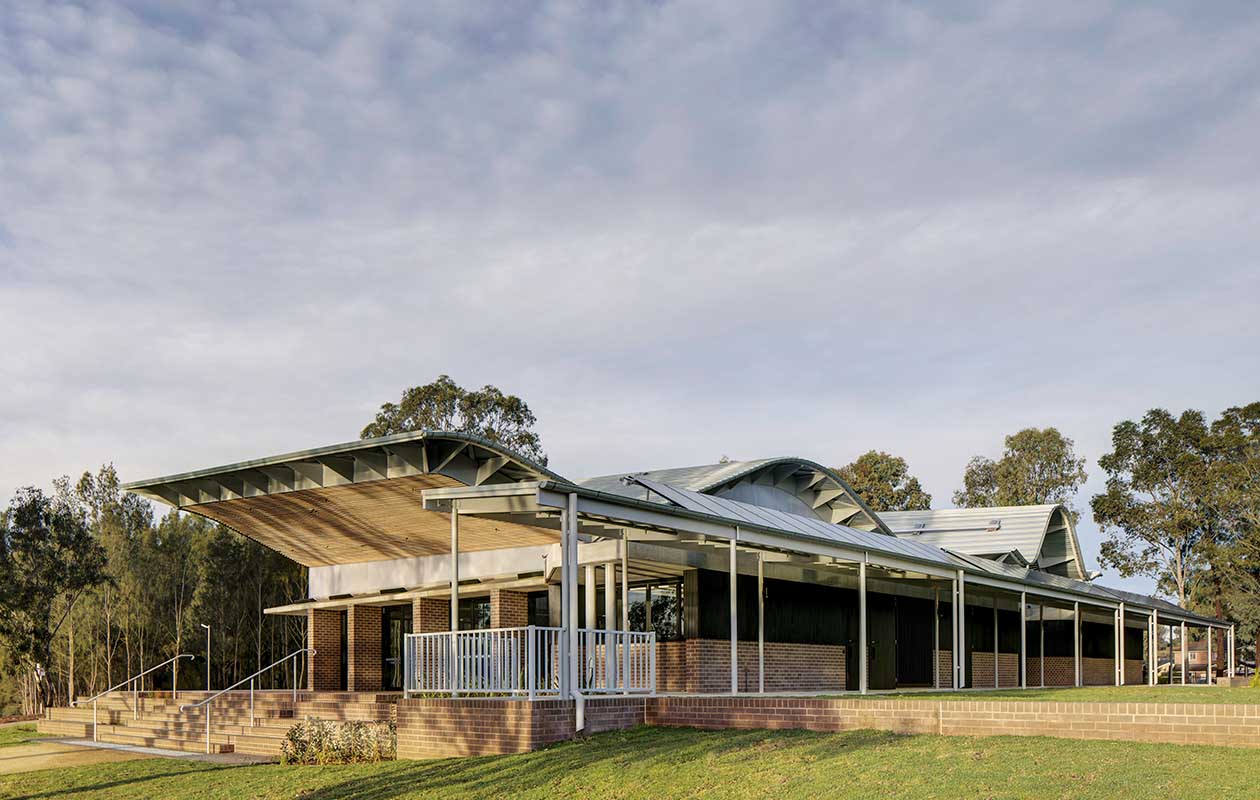 Even with models, steel fabrication and installation teams were faced with layers of complexity, with the curvature of the structure meaning each individual curve worked to a different radius.
Addressing this, ZINCALUME® steel sheets were individually rolled on site into the profile Fielders FreeForm®, ensuring the roof's architectural requirements were met without compromising the quality and performance of the roof over time. Using a mobile rolling mill, the on-site team could produce precise roofing lengths and reduce the need for seams and expansion joints in the finished roof.
"It's extraordinarily complex and the only material we could see that could do that in a durable, tough, cost-effective, beautiful way was a steel roofing solution," says Carter Williamson associate Ben Peake. "The ZINCALUME® steel was able to handle the complexity of a roof that had to bend in three axes – with all of the surfaces being warped surfaces."
More than just a performance choice, the ZINCALUME® steel also represents an aesthetic reference to the industrial history of the site.
"Carter Williamson has a long history of specifying ZINCALUME® steel in our work. It's a familiar and well-known material, but used at Woodcroft in an interesting way"

Ben Peake

Associate, Carter Williamson Architects
As well as being key to the roof's success, steel was also integral to the construction of the building, with Circular Hollow Sections (CHS), Rectangular Hollow Sections (RHS) and Square Hollow Sections (SHS) framing the roof.
While Carter is an advocate for the fifth façade, he hasn't forgotten that a roof's undercarriage is what is actually visible for those beneath it, and the tapered ends of the thin steel finger elements in 8mm thick steel plate of this impressive skeleton structure peek out from generous timber soffits.
This follows an approach to the project which puts materials on display, with steel, brick, timber and concrete all left exposed. In a space required to be left relatively bare, the interplay of materials creates a dialogue of layered textures and finishes which brings a warmth to the centre and explores the layers of construction and creation.
So too, the confluence of curves and angles provides a lovely rhythm to the edges of the building, and provides a subtle reminder about which material is doing the heavy lifting on the project.
"Steel is such as wonderful material for making elements and edges fine so we used it to thin- out the edge of the roof, so it wasn't too thick and chunky," says Carter.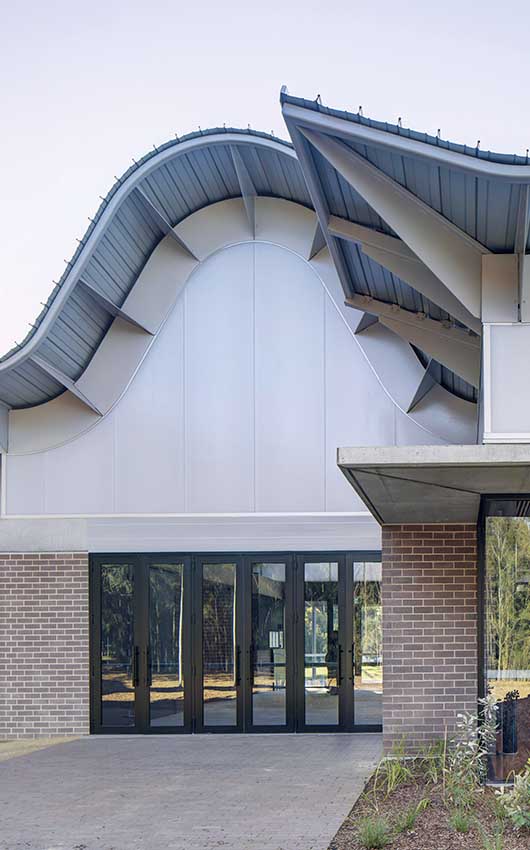 "We love metal roofs, and we mostly work with COLORBOND® steel or ZINCALUME® steel. It's strong, it's durable, it feels like the Australian roofing material."

Shaun Carter

Architect, Carter Williamson
The delineation of the rise and fall of the roofline continues at night via opalescent polycarbonate infill panels between the roof and the brick datum line. It's an over-worn expression to say the building transforms into a lantern at night, but in this case it works and then some, with the flowing, floating ribbon of light giving an impression of the movement and activity within.
It's another way in which the building responds to its site and addresses the flaws of the previous centre. The building's site was re-oriented towards the park and its man-made lake - the flooded brickpit - and parking was re-located to be less of an imposition on both the built form and the surrounding landscape.
This allowed a stronger relationship between the centre and the park green where the annual Woodcroft Festival takes place.
"We're conscious that this is public money so we want to understand how the building works on other levels, so we can give them something 'more'," explains Carter. "Which is why we set the building up to define the edge of a green square so that the veranda becomes the stage for public open days when it has to work at a scale of 2000 people."
"It's also a shaded place to sit in the middle of summer, it's a circulation path to take people from the street to the water: these are some of the other ideas at play which didn't cost any extra but responded to all these other programs."
Carter has nothing but praise for the builder, Westbury Constructions, and metal fabricator, A Class Engineering, who shared the studio's and the Council's ambition for the project and wanted it to be a 'signature' project for their businesses.
With no precedent to follow, each company and contractor was required to face and overcome their own challenges in the construction and to work consultatively to ensure the brief could be realised.
"This project seemed impossible at the beginning," said Tim Kennard, business development manager from A Class Engineering, "so we needed to apply a high level of detail during the drafting process to ensure we could meet the individual challenges of the project.
Of these, our biggest hurdle was for the sheer number of curves in the design, especially as no two curves had the same radius."
Luke Fredericks, construction manager from Westbury Constructions adds to this, citing the intricate steel roofing design as the biggest challenge for this team. "As the roof is a wave design, it falls in one direction but tapers in the other. The challenge was to make sure all the members planed correctly."
"... we needed to apply a high level of detail during the drafting process to ensure we could meet the individual challenges of the project..."

Tim Kennard

Business Development Manager, A Class Engineering
This new centre hasn't just replaced an old one but has created a facility and an environment that Carter describes as "A bit bigger than just itself" – a re-shaping that the Council anticipates will add to the suburb's identity and galvanise community pride.
Indeed, this is not just an inspiring building for the local neighbourhood; it's an emblematic statement of its vitality and its status as an inclusive community driven by culture and shared well-being.
Footnotes:
1. Rooney, D. (2011, July). Centres 'down under': Mapping Australia's neighbourhood centres and learning [Paper presentation]. 40th Annual SCUTREA Conference, University of Warwick, Coventry.
*Warranty subject to application and eligibility criteria. For full terms and conditions and to determine the eligibility of your project for warranty visit the BlueScope Warranty Website or call BlueScope on 1800 064 384.
Project information
Architect
Carter Williamson Architects
Project
Woodcroft Neighbourhood Centre, New South Wales
Awards
2020 GOV Design Awards, Architecture: Community and Civic – Silver
2020 Good Design Awards, Architectural Design: Commercial and Residential – Gold Winner
IPWEA: (NSW) Engineering Excellence Award for Multi-Disciplinary Project Management
Copyright © 2020 BlueScope Steel Limited ABN 16 000 011 058. All rights reserved.
No part of this publication may be copied, reproduced or distributed without consent. BlueScope Steel Limited, to the extent permissible at law, is not liable to any person for loss or damage arising from reliance upon information contained in this publication. The articles featured in this edition of STEEL PROFILE® are sourced, written, fact-checked and curated by the authors with editorial contribution from BlueScope Steel Limited. Any statements or opinions attributed to a person are the views of that person alone and do not necessarily reflect those of BlueScope Steel. The decision to use any particular product or material in the projects featured in this publication was made by the team involved in each project and not BlueScope Steel Limited. While care has been taken to verify the accuracy of details in this publication, BlueScope Steel Limited assumes no responsibility or liability for any errors or omissions in the content of this publication. All information is provided with no guarantee of completeness or accuracy.
Images shown throughout have been reproduced to represent actual product colours as accurately as possible. However, we recommend checking your chosen colour against an actual sample of the product before purchasing, as varying screens and devices may affect colour tones and finishes.
Every project is different and not all products are suitable for all applications, projects and environments. You should confirm the suitability of particular products for your project by contacting the supplier directly and by obtaining information and advice specific to your circumstances.
BlueScope generally recommends the use of COLORBOND® steel or ZINCALUME® steel for the majority of external cladding applications. BlueScope recommends routine preventative maintenance for eaves and other "unwashed areas" of structures that may not be regularly cleaned by rainfall. For information about product maintenance, including preventative maintenance, please call BlueScope on 1800 753 658. To determine whether a BlueScope warranty may be available for use of a product in your particular project, please visit bluescopesteel.com.au/warranties.
COLORBOND®, ZINCALUME®, LYSAGHT®, GALVASPAN®, Fielders FreeForm®, and ® colour names are registered trademarks and ™ colour names are trademarks of BlueScope Steel Limited.
Submit your project
We encourage you to share your projects for consideration in a future issue of STEEL PROFILE® magazine. We invite you to submit projects that feature a ground-breaking or an innovative use of steel. We love celebrating and writing about such projects!
Related projects