Coopworth House
Coopworth House
Coopworth house has been influenced by the traditional agricultural sheds of the area, but teleports the typology into the 21st century with its exceptional level of detailing and technical resolution.
Words: Micky Pinkerton.
Photography: Dianna Snape
Residential - Dwellings · TAS
Feb 2022
Project Summary
Clad in roofing and walling made from COLORBOND® steel in LYSAGHT CUSTOM ORB® profile, in the colour Terrain®*, Coopworth house has been influenced by the traditional agricultural sheds of the area, but teleports the typology into the 21st century with its exceptional level of detailing and technical resolution.
See Project Information
Accepting the Elements
Situated in a paddock at the far edge of Tasmania, there's nothing between this house and Antarctica except a few penguins. An incredibly robust material solution was therefore always going to be needed to withstand the unforgiving climate.
In the words of the architect, the winds on Bruny Island are "ferocious, some of the strongest in Australia", and the rain is "relentless". Add Bushfire Attack Level (BAL) compliance and a remote location to the list of constraints, and this was never going to be an easy build. Throw in a once-in-a-century pandemic, which locked the architect in Victoria for the duration, and the project's challenges take on Herculean proportions. And yet the Coopworth team pulled together, enthusiastic and unfazed, to deliver this contemporary country home which has exceeded all expectations and celebrates the versatility of steel.
"We used COLORBOND® steel because it's lightweight, easy to transport, highly durable, easy to install and the colour is a strong reference and direct connection to the existing red-lead shacks on the island. It was always going to be steel"

FIONA DUNIN

FMD Architects
The building's practical response to the weather and fire extremes is expressed in a resilient exterior shell, which, in an area where deliveries are limited by ferry access and country roads, needed to be made from an easily transportable material. Meanwhile, the design's aesthetic response to the site sought to complement the original agricultural sheds on the farm. Steel was fundamental to both solutions. "We needed something that is extremely hard wearing," explains architect Fiona Dunin, of FMD Architects. "We used COLORBOND® steel because it's lightweight, easy to transport, highly durable, easy to install and the colour is a strong reference and direct connection to the existing red-lead shacks on the island. It was always going to be steel."
The need to limit penetrations on the roof to eliminate leaks and leaf build-up was an overriding functional concern that has contributed to the signature clean lines of the building. With extraneous elements stripped away, and gutters relocated to trenches in the ground, attention is focused on the pure geometry of the building. This geometry is further accentuated by pushing the pergola area to one side of the house rather than wrapping it around, so as not to obstruct views out from – or back to – the house.
Apart from an extruded brick bath house on the south-western side of the residence, the building is entirely clad, including the doors, with roofing and walling made from COLORBOND® steel in LYSAGHT CUSTOM ORB® profile, in the colour Terrain®*. It's a flawless effect that required complete attention to detail.
"The geometry was particularly challenging," says Dunin. "It does look simple from the front but then you get around the sides and you see all the complex angles going on. So that was the first challenge, and then the detailing for the steel needs consideration, so it's all about those custom details and custom flashings to make it look really crisp on every edge. That was what was challenging – all those really fine details to really elevate this innately humble material to something really special."
Helping Dunin raise that bar was an experienced team of builders, consultants and trades. In2Construction had been sought-out by FMD on the recommendation of another architect who had built a house nearby. The In2Construction team included a father and son who were the fourth and fifth generation in a family of builders, as well as a highly regarded carpenter who lived on the island and who had been apprenticed at 15 to his father. As project manager Mark Singleton says, there were "generations of skill" on the project which were called on throughout the build.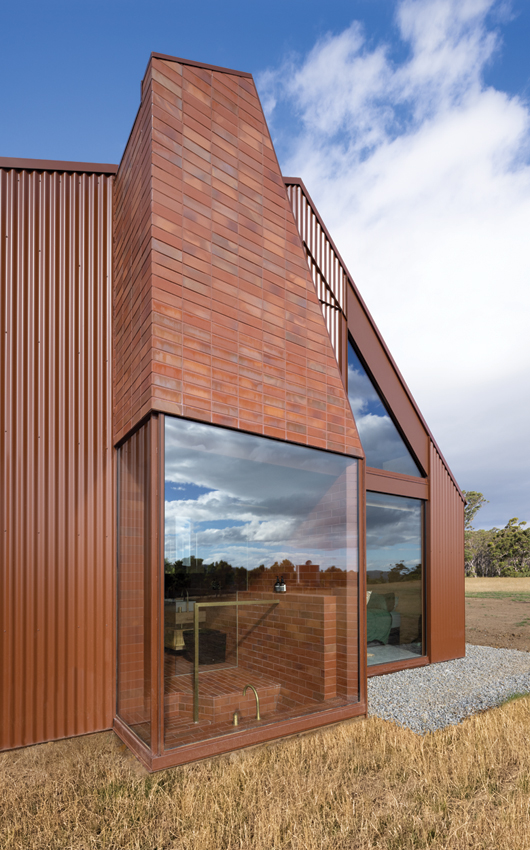 "So, completely clad in steel means, in some ways, you're limited as to where you can hide things," says Singleton. "And so there's a lot of forethought right from the time you're digging your hole, essentially the whole way through to the finish, that you're always thinking about how that thing is going to look and how it's going to be finished at the end."
The pre-planning and documentation phase of the project was intensive and intensely cooperative despite the distance between FMD in Melbourne, In2Construction in Hobart and the builders on site – a number of whom opted to live on Bruny Island during construction and lockdown.
"There were probably 20 to 30 sheets of details on every single juncture, down to how those big sheets of glass come together and putting a capping made from COLORBOND® steel on the edge of those," says Dunin. "All those little details – even the bin storage area was extremely detailed – nothing was left to chance. And so we don't tender jobs, we negotiate with the builder through the documentation phase. They can review the details with us, have a look at them, and then they get reviewed again on site. When the builder looked at them he had other ideas and then we'd rework them. They were probably re-worked two or three times with the builder, to get them right and still achieve the look that we wanted. It's a very collaborative process."
In particular the resolution of the junctions where steel meets glazing drew on all the knowledge of those generations of skill and the strong relationship between builder and fabricator, Central Roofing Supplies.
"It's all about those custom details and custom flashings to make it look really crisp on every edge … to really elevate this innately humble material to something really special"

Fiona Dunin

FMD Architects
The structural steel elements of the build were more straightforward, using standard- sized SHS, PFC and UB members and predominantly bolted connections.
Internally, a large open-plan lounge-dining-kitchen area, which is flanked by two bedrooms, bathrooms and a small rear protected porch. The footprint of the house was kept compact for a number of reasons: to maximise arable land, minimise build cost and acknowledging that at most times there would only be two people using the house. Having said that, Coopworth would nonetheless need to occasionally accommodate an extended family. To avoid having to add bedrooms that would be used only once or twice a year, bunk beds are set into pocket walls and daybeds into the floor of the main living area, where space has been augmented and steel was called on to provide the structural strength required.
"Over the dining area is a very large span of roof that you can see and so that has some fairly substantial steel beams through there," says Dunin. "It had to be done in steel to get that span, most definitely."
Singleton agrees, citing further reasons for the decision to use steel. "Structurally, it gave us the ability to do long spans, so that long beam that's in the living room, it's holding up half of the roof load, essentially. It gave us that ability to go that long span without having a huge, big bulky member in there. If it was timber or LVL or something like that, or a glulam beam, the size of it would have been huge. So steel meant that we could do that economically."
While economics did not define this build – landscape and materiality are the lasting takeouts – it was nonetheless a concern owing to the expected time-cost associated with building in a more remote location. In the end, however, the project compared well financially.
The ongoing efficiency of the house has been addressed via a number of sustainability initiatives, resulting in a building consisting of double glazing, substantial insulation, LED lighting throughout, low VOC paints and local or recycled furniture. Recycled timber from the one of the owner's childhood family farm has been used in key furniture pieces such as the dining table and the kitchen island.
This is the third time that the clients have commissioned Dunin to create a home for them, so it's no surprise that their feedback is effusive: "FMD smashed the brief and created something super special," the clients said. Dunin is quick to deflect any individual praise and says the project is a reflection of an outstanding, resilient and collaborative effort across the project team which delivered a beautiful outcome in spite of the challenging and unique circumstances of the build.
Unable to see the project take shape in the flesh, she has since visited Coopworth and her favourite thing about the home is how it sits in the landscape and how the occupants can intimately experience the environment through the large expanse of windows in the open-plan living area.
"The glass basically butts right into the edge of the roof so when it rains; it's like a waterfall running down the glass. The thing with Bruny Island is you need to just accept the elements. It rains so much that you need to get used to it; we wanted to kind of embrace that so that you always feel the weather, you're not really sheltering from it, you're standing there with your arms wide open like Kate Winslet on the Titanic [laughs] embracing the weather. So, when it's rainy and you're sitting inside, you feel that rain, you're part of it. And when it's a sunny and peaceful day it's the most serene place in the world, it truly is."
Steel Details
A Technical Dive into Coopworth
Architect Fiona Dunin has a thing about triangles and it's an itch she hasn't yet fully scratched. "I think it's about the geometry and capturing light, and the way the angles work. So we follow the angles of the sun and for some reason that ends up being sculpted into triangular forms," says Dunin. "[But] the thing with triangles is they come to zero. There is no tolerance. Everything has to be perfect."
Working with triangles in steel – and in particular the junction between steel and glazing – presents its own set of considerations, as Dunin had explored on an earlier residential project, CLT House, featuring a dramatic saw-tooth roof made from COLORBOND® steel with integrated windows to capture the changing light throughout the day. That experience informed the design of Coopworth.
The owners had imagined Coopworth as more of a weekender. However, it took on a new dimension during lockdown as a more permanent second residence.
As a result, they requested a mid-build change to include an operable window in the roof to allow more light and air into the second-level study space, to be able to more comfortably work from home in the future. Dunin proposed a triangular dormer window to meld with the overall aesthetics of the project, and the builder and fabricator rose to the challenge.
"How do we build that in so that it looks like it was always meant to be there and get some uniformity across the whole building? So how do we make a little ventilation flap, how do we make that open and close but also remain weathertight as that faces south and southwest, which is exposed to the roaring forties winds? The window had to be made watertight and all seemingly effortlessly with that whole minimalist idea, the flashings and all the elements that make it work."
As with the junction where the long glass wall meets the roof and where the absence of roof guttering to mask irregularities might otherwise be met with consternation if adequate planning was lacking, Singleton said this was counterbalanced by the ability to pull the sheets of COLORBOND® steel in LYSAGHT CUSTOM ORB® profile up and down to allow the fixing of the custom flashings and ember proofing as they were refined and manipulated during this dormer-design-on-the-hop process.
"When the glass came we managed to be able to get the glass in underneath the steel sheets without taking the sheets off, but then to fit the flashings and the ember-proofing, and all the other little bits of detailing that happened, that meant we were unzipping and zipping those steel sheets on and off. Definitely the ability to reuse the screws and screw holes, and steel is quite stable.
Custom flashings were manufactured from COLORBOND® steel in the colour Terrain®* by Central Roofing Supplies at their Hobart workshop and then transported to Bruny Island.
"It was an easy job from our perspective because Mark Thiessen [a member of the building team] is a good operator," says Garth Bealey of Central Roofing Supplies.
On a job like this, with transportation and time being clear constraints, those generations of skill and experience were essential and really came to the fore in the precision of the drawings and the accuracy of the finished products. These exacting fabrications respected not only the power of the elements, but also helped achieve the architect's vision for a form with powerfully clean lines.
Project information
Project
Coopworth House, Tasmania
Awards
2021 Australian Institute of Architecture Tasmania Chapter Esmond Dorney Award for Residential Architecture – Houses (New)
2021 MBA Award for excellence in Dwelling Construction $750,000- $1 million
2021 HIA- CST Tasmanian Home of the Year
Copyright © 2022 BlueScope Steel Limited ABN 16 000 011 058. All rights reserved.
No part of this publication may be copied, reproduced or distributed without consent. BlueScope Steel Limited, to the extent permissible at law, is not liable to any person for loss or damage arising from reliance upon information contained in this publication. The articles featured in STEEL PROFILE® are sourced, written, fact-checked and curated by Indesign Media Asia Pacific with editorial contribution from BlueScope Steel Limited. Any statements or opinions attributed to a person are the views of that person alone. The decision to use any particular product or material in the projects featured in this publication was made by the team involved in each project and not BlueScope Steel Limited. While care has been taken to verify the accuracy of details in this publication, BlueScope Steel Limited assumes no responsibility or liability for any errors or omissions in the content of this publication. All information is provided with no guarantee of completeness or accuracy.
Images shown throughout have been reproduced to represent actual product colours as accurately as possible. However, we recommend checking your chosen colour against an actual sample of the product before purchasing, as varying screens and devices may affect colour tones and finishes.
Every project is different and not all products are suitable for all applications, projects and environments. Some products may perform better than others in certain applications and conditions. BlueScope generally recommends the use of COLORBOND® steel or ZINCALUME® steel for the majority of external cladding applications.
BlueScope recommends routine preventative maintenance for eaves and other "unwashed areas" of structures that may not be regularly cleaned by rainfall. To determine the most suitable material for your project, please contact your supplier or visit steelselect.com.au. For information about product maintenance, including preventative maintenance, please call BlueScope on 1800 753 658. To determine whether a warranty may be available for use of a product in your particular project, please visit bluescopesteel.com.au/warrantiesor call BlueScope on 1800 753 658.
COLORBOND®, LYSAGHT®, CUSTOM ORB®, and ® colour names are registered trademarks and ™ colour names are trademarks of BlueScope Steel Limited.
Submit your project
We encourage you to share your projects for consideration in a future issue of STEEL PROFILE® magazine. We invite you to submit projects that feature a ground-breaking or an innovative use of steel. We love celebrating and writing about such projects!