Dreamcatcher House
Dreamcatcher House
Tasked with transforming the "ugliest house on the street", architect Fiona Winzar has employed a chorus of steel that frames, clads, beautifies and shades a former clinker-brick townhouse.
Words: Rob Gillam.
Photography: Paul Bradshaw
Residential - Dwellings · VIC
Sep 2016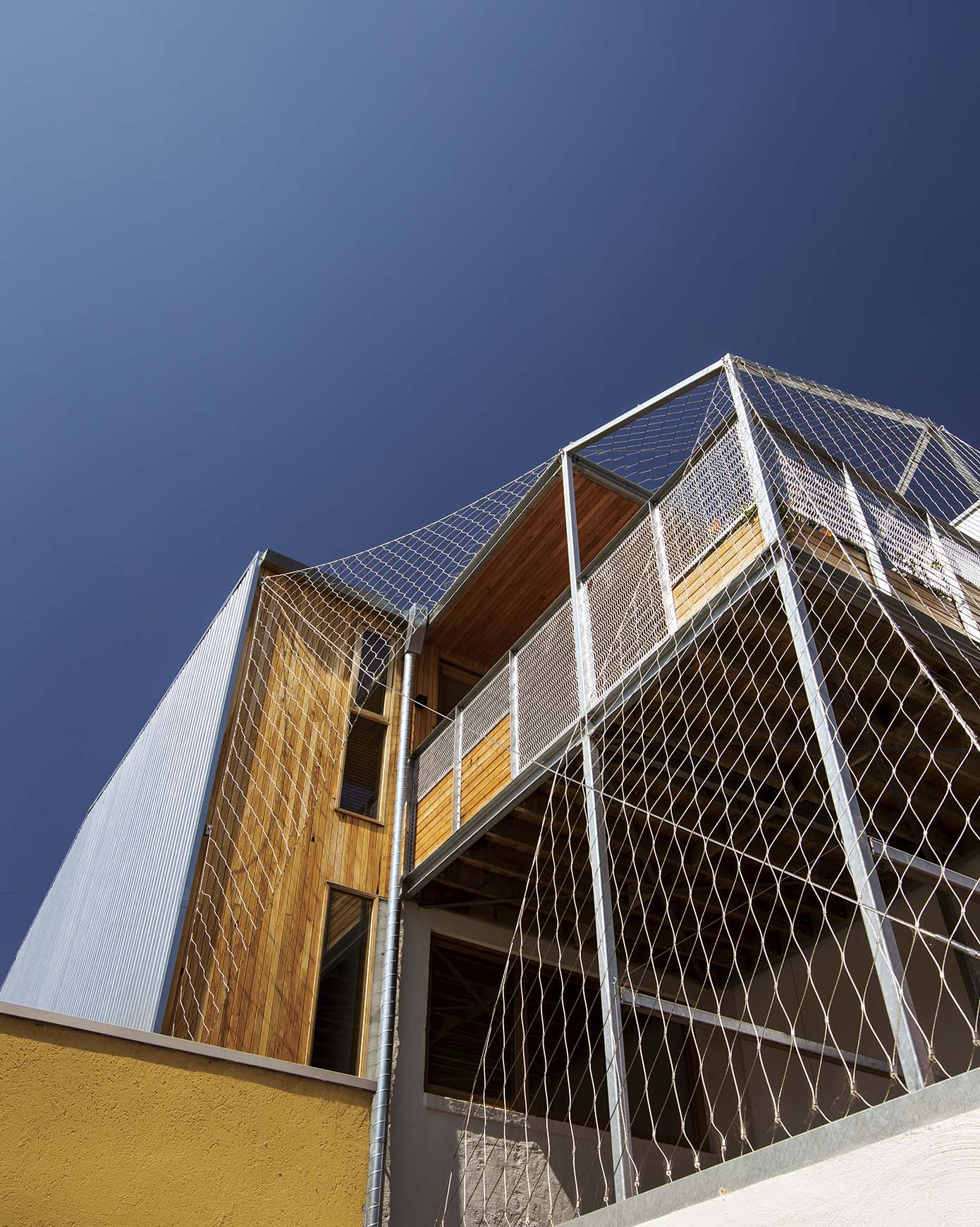 Project Summary
Architect Fiona Winzar has employed a chorus of steel as framing, cladding and shading, to transform a tired a former clinker-brick town house.
See Project Information
Well Woven
Four growing children helped sway a decision by Fiona Winzar and her husband to seek more living room for their family. She spied an opportunity in a 1980s brick town house in South Melbourne that she briefly considered demolishing, before settling on retaining the original building's shell and morphing new steel additions onto it.
"That clinker-brick almost seemed a bit brutal," says Winzar. "We decided to employ a lightweight steel structure with some timber as a foil. We have structural steel studs to the double-height entry space and a series of steel portal frames  for the top floor living level, allowing us to keep the new walls slim." The shell of the old town house was recycled for the ground floor self-contained studio and middle sleeping floor.
Externally, galvanised 75mm x 75mm SHS is used to support the top floor deck as well as the Ronstan Tensile Architecture-supplied Carl Stahl X-TEND® stainless steel cable mesh, which provides a scaffold for vines to climb. The permeable steel mesh curtain is carefully sculpted around the exposed exterior framing to the north-facing top deck and lower courtyard.
Designed to carry up to two tonnes of 'green ' weight, the mesh already has tendrils of ornamental grape and will soon envelop this unusual street facade. The resulting green screen will eventually protect the house's northern face from summer sun, yet allow winter sun to penetrate.
Winzar says she took her inspiration for the mesh screen from the original lattice porch of the Victorian weatherboard residence which was once on the site but was demolished before heritage controls were put in place. "Because our plantings are quite new, our house feels a bit nude at the moment but we know that in a couple of years it will be dressed in a nice green coat."
In a nod to the light industrial fabric of the area, Winzar deliberately chose raw construction materials for the project, largely sticking with the theme of galvanised steel which extends to balustrades, downpipes, roller-door and – on the eastern and southern facades – liberal amounts of 51mm SPEEDPANEL® wall cladding made from galvanised steel.
We selected that cladding for its finish and although it's lightweight, it is stiff and strong because of the aerated concrete inside it. It comes in super-long lengths, up to nine metres, which a couple of installers can handle and install from inside the site which was beneficial because we had very limited exterior access."
Sustainability was another key consideration for the project and several measures were taken, including the selection of a high solar reflectance roof made from COLORBOND® Coolmax® steel in the colour Whitehaven®. "We went for the product with the highest solar reflectivity and lowest solar absorption in the COLORBOND® steel range. Along with insulation, that assists in reducing the amount of air conditioning we need. We also have a three kilowatt, 12 solar panel array up there. We're only using half the energy we actually produce."
Now that work is complete and she's had ample time for reflection, what does Winzar think of this house with a mesh facade so reminiscent of the Native American Indian talismans believed to filter good and bad dreams?
"At its most basic it could have been just a big square extension out and off, but we wanted to apply a sculptural greening element; a degree of symmetry combined with asymmetrical organic form-making. In my work I'm trying to combine a balance between those things."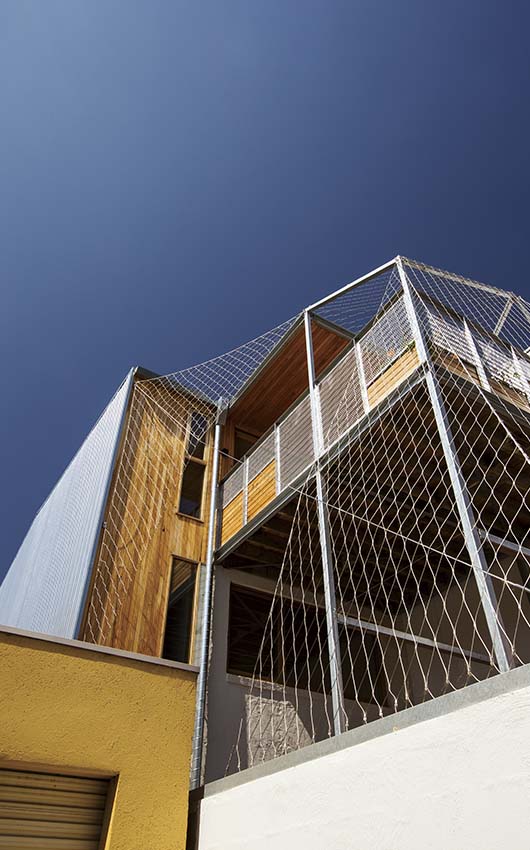 "Because our plantings are quite new, our house feels a bit nude at the moment but we know that in a couple of years it will be dressed in a nice green coat"

Fiona Winzar

Architect
Although once an ugly duckling of the street, Winzar denies the house is now a pretty swan. "I wouldn't call it a pretty house. I think it's interesting but it's unusual and unexpected so therefore can be somewhat confronting. "I think that there's a lightness and elegance in the mesh structure that is quite feminine. I'm really happy with the fact that it has a very fine and slender look and it helps the whole expression to be relatively understated. It's not heroic but it's not conservative, either. Maybe that's a bit of me in there."
Project information
Project
Dreamcatcher House, Victoria
Awards
Finalist World Architecture Festival 2015
2015 Australian Institute of Architects Victoria State Awards – Shortlisted for Houses and Sustainable Architecture
2016 Houses Awards – Shortlisted
Copyright © 2016 BlueScope Steel Limited ABN 16 000 011 058. All rights reserved.
No part of this publication may be copied, reproduced or distributed without consent. BlueScope Steel Limited, to the extent permissible at law, is not liable to any person for loss or damage arising from reliance upon information contained in this publication. The articles featured in this edition of STEEL PROFILE® are sourced, written, fact-checked and curated by the authors with editorial contribution from BlueScope Steel Limited. Any statements or opinions attributed to a person are the views of that person alone and do not necessarily reflect those of BlueScope Steel. The decision to use any particular product or material in the projects featured in this publication was made by the team involved in each project and not BlueScope Steel Limited. While care has been taken to verify the accuracy of details in this publication, BlueScope Steel Limited assumes no responsibility or liability for any errors or omissions in the content of this publication. All information is provided with no guarantee of completeness or accuracy.
Images shown throughout have been reproduced to represent actual product colours as accurately as possible. However, we recommend checking your chosen colour against an actual sample of the product before purchasing, as varying screens and devices may affect colour tones and finishes.
Every project is different and not all products are suitable for all applications, projects and environments. You should confirm the suitability of particular products for your project by contacting the supplier directly and by obtaining information and advice specific to your circumstances.
BlueScope generally recommends the use of COLORBOND® steel or ZINCALUME® steel for the majority of external cladding applications. BlueScope recommends routine preventative maintenance for eaves and other "unwashed areas" of structures that may not be regularly cleaned by rainfall. For information about product maintenance, including preventative maintenance, please call BlueScope on 1800 753 658. To determine whether a BlueScope warranty may be available for use of a product in your particular project, please visit bluescopesteel.com.au/warranties.
BlueScope, COLORBOND®, Coolmax® and ® colour names are registered trademarks and ™ colour names are trademarks of BlueScope Steel Limited. SPEEDPANEL® is a registered trademark of SPEEDPANEL Holdings Pty Ltd. 
Submit your project
We encourage you to share your projects for consideration in a future issue of STEEL PROFILE® magazine. We invite you to submit projects that feature a ground-breaking or an innovative use of steel. We love celebrating and writing about such projects!