North Avoca Studio
North Avoca Studio
This multipurpose residential studio – wrapped in cladding made from COLORBOND® Ultra steel in LYSAGHT SPANDEK® profile, in the colour Monument® – perches assuredly on slender 'branches' of structural steel that let it reach out into the air.
Words: Rob Gillam.
Photography: Bob Seary; Paul Bradshaw
Residential - Dwellings · NSW
Jun 2019
Project Summary
A challenging site was the genesis of this studio in the sky - wrapped in cladding made from COLORBOND® Ultra steel in LYSAGHT SPANDEK® profile, in the colour Monument® - which perches on slender steel 'branches'.
See Project Information
Top Deck
Owner, Tony Palmer, says that when he and wife Danielle bought the Central Coast property as a holiday house, he had an inkling that they might one day take more permanent advantage of the panoramic view over the suburb and South Pacific Ocean from the site's steeply sloping rear border.
After making the move to North Avoca as a full-time home, and with both Tony and Danielle working from home in creative industries, they soon found need to emancipate house from office.
"I had a little office tucked under the house but it was like a shoebox. It had no aspect and was hot in summer and pretty horrible in winter. Before contacting Matt Thitchener, I was talking to agents about buying office space. The completed studio ended up costing about the same as a small office in Gosford, but I'm so glad we did it this way. Building a studio specific to our needs has so many advantages.
"I'm an advocate for sustainability and sometimes that's not just about a building's fabric but how you use it and the things you're not doing. My commute to work is now 36 steps."

Tony Palmer

Owner
Did he ever think such an impressive and substantial architectural achievement was possible on the site? "No, we knew the challenges we faced with such a heavily sloped block. And with only 900mm-wide access, we had no ability to bring machinery onto the hill. So I went into it knowing the idea might not be feasible. Luckily, Matt saw it as a challenge that could be solved by getting it up off the ground and into the air."
Matt Thitchener concurs. "I don't mind difficult sites because it drives the creativity and guides the outcome," says Thitchener. "My father is the engineer for this project and I had worked for him previously, before I got into architecture. We always liked pushing cantilevers and trying to do interesting things, structurally. I'm always looking to do something clever and sublime."
Architect and client were pondering solutions when the core idea was born of a 'box' resting its back on an off-form elevated concrete beam, supported in the middle by a stilt frame made from structural steel. But first, they had to hit rock.
Initial signs from the site geotechnical survey indicated bedrock might be only a few metres away - "I think they hit some floating rocks," says Palmer - but we eventually found it at 6-7.5 metres below ground level.
All four piers had to be dug out by hand, with bucket and spade. "We had two guys and they were so far down we lost sight of them," says Palmer. "There's basically a double-axle truck's-worth of concrete - 6 cubic metres - in each pier."
Knowing that such effort and expense was a possibility, Thitchener adapted his design early to minimise the number of piers necessary and devised the structural supports, or piloti, made from 89.9mm circular hollow section (CHS) steel. "The piloti were always going to be made from steel. It's the natural choice," he says. "Once you reach a certain span-size it doesn't make any sense to attempt construction with other materials.
"Size-wise, you aren't going to get the slenderness that steel has out of timber, and concrete would have been just too heavy."
Thitchener put his steel piloti design through the engineering modelling process and discovered there was the potential for the CHS to be thinner. "But we decided that would look a little bit too thin. Aesthetically, I preferred the wider 89.9mm-diameter selected, for a stronger appearance. That also allowed for more room to fit all the plates and bolts at the end.
"The CHS piloti also provide cross-bracing for the overall structure, resulting in a clean aesthetic. "Had we just used simple vertical columns, we would still have needed lateral cross-bracing in between them and it would have been much busier underneath," he says. "It was just a better way of doing it, structurally, for the rigidity of the building and was so much simpler in construction. We were basically building a small space-frame."
Sitting atop each pier footing is a circular 200mm-thick custom-made steel base plate with cleats connecting the CHS piloti. Another cleat at the top of each piloti connects it to one of three main steel floor bearers running front-to-back. The floor bearers are 310mm universal beams concealed within the floor space - one running through the middle and one under either side of the building. These are connected by 89.9mm CHS and 180mm UB tie beams that span side-to-side. All the connections are pinned together.
"Size-wise, you aren't going to get the slenderness that steel has out of timber, and concrete would have been just too heavy."

Matt Thitchener

Architect
Sitting atop the universal floor beams are vertical columns made from rectangular hollow section (RHS) steel and square hollow section (SHS) steel that support the steel roof structure and the cantilevered awnings. A long-span universal beam supports the roof trusses over the sliding doors, and another smaller universal beam supports the roof trusses at the heel end.
All structural steel was prefabricated for speed-of-installation and craned onto site. "We had to lift from the street, up over the powerlines and the house, to start building our working platform," says Thitchener. "In a single day, all the scaffolding was erected and the main structural steel  frame bolted together."
Palmer says he was immediately taken with the view from the in-construction studio. "Pretty much as soon as the frame went up and a floor was on, I walked out onto that platform and thought, 'Wow!'. I knew we had something special."
With structure and insulation complete, the studio was finished with wall cladding made from COLORBOND® Ultra steel in LYSAGHT SPANDEK® profile, in the colour Monument®.
Given the studio is located near the ocean, COLORBOND® Ultra steel was specified rather than standard COLORBOND® steel, due to it being more suitable for this type of coast environment*.
The architectural wall cladding made from COLORBOND® Ultra steel in LYSAGHT SPANDEK® profile, in the colour Monument® wraps under the studio's soffit. Precise detailing is evident in the perfect alignment of the LYSAGHT SPANDEK® profile between the soffit and walls.
Thitchener says the colour Monument® was chosen to clad the studio to help it recede into the background. "We considered other colour options but we didn't want to draw too much attention to the building. We decided it best to go with a darker colour which helps hide it away. It's quite effective: people don't tend to notice the studio unless you point it out to them."
Cladding made from COLORBOND® Ultra steel was also chosen with maintenance in mind. "That was a primary consideration," says Thitchener. "We didn't want something that we were going to have to keep painting every few years. Steel is just much easier to look after. With COLORBOND® steel, it can be as easy as hosing it down to keep it in condition. There is also decent access to reach the soffit from below and wash it down with a soft brush and detergent."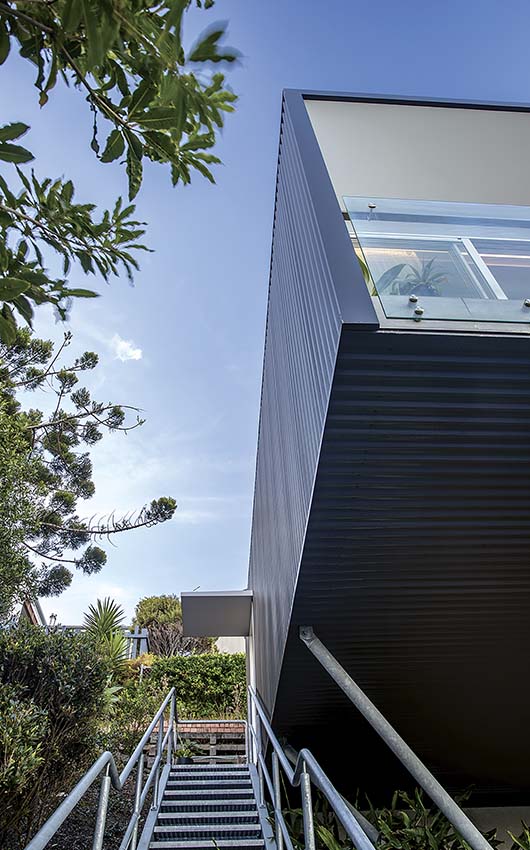 The building envelope is completed with roofing made from COLORBOND® Ultra steel in LYSAGHT TRIMDEK® profile, in the colour Windspray®. The LYSAGHT TRIMDEK® profile was chosen for its low (two degree) pitch for gathering rainwater - used to irrigate the fern garden planted under the studio - and the colour Windspray® for its lower solar absorptance than the darker-coloured Monument®.
Virtually the entire 60 square-metre roof is covered in solar panels which generate enough power to comfortably run the studio and also the main residence, with excess electricity being stored in a battery.
The studio is accessed via a detached industrial staircase made from galvanised steel, which ties in visually with the CHS piloti. Ascending, the intricate geometries of the piloti come sharply into focus, as does the meticulous detailing of the soffit and southern wall cladding made from COLORBOND® Ultra steel in LYSAGHT SPANDEK® profile, in the colour Monument®. Deliberately windowless, the south-west wall creates a screen to the view that is broken only via the front door. "The outside surfaces are hard – quite raw and masculine," says Palmer. "Contrastingly, the interior with its sheer curtains and diffused lighting, is quite soft, airy and feminine– which is just as well because my wife shares the space with me."
Wall-to-wall and floor-to-ceiling sliding glass doors in the south-east wall - along with commercial bi-fold windows which span the entire north-east wall - open up the studio up and invite the outside in.
"Even inside the studio, there's a keen sense of floating above the sea and drifting amongst the clouds."

Tony Palmer

Owner
From the balcony you can soak up sweeping 180-degree views of the ocean and surrounding headlands. Even inside the deeper recesses of the studio, there's a keen sense of floating above the sea and drifting amongst the clouds.
"It was our goal that once you stepped inside the space all the roof lines disappear in your peripheral vision and, suddenly, you're part of the wider area. The building itself fades away into the background, leaving you engaged with the all-encompassing view."
So, what's it like working in your very own studio in the sky? "I'm generally very productive up here but when the whales do a slow cruise past or there's a bait-ball out there getting smashed by sharks, I'm probably the least productive. My favourite thing to do is sit in a particular chair and just watch the ocean," Palmer says
Generous breezes effectively negate the need for active air-conditioning and the space can just as easily be closed off to the storms that blow off the ocean.
No matter how violent the weather conditions, though, the studio never waivers. "It's an incredibly stiff structure. You walk around on the floor up there and it just feels so solid. We've been there in the middle of the most brutal storms and there's no movement in it, at all. It's just an absolute pleasure."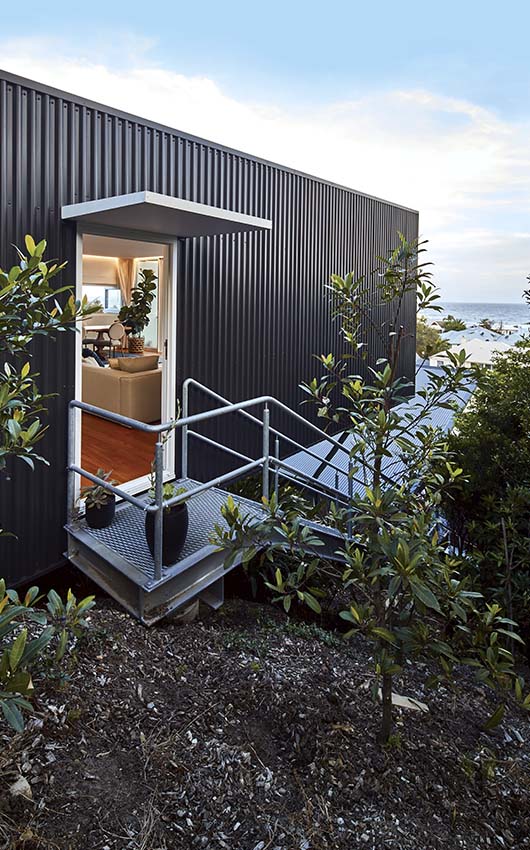 Floating ethereally in its panoramic coastal setting, the North Avoca Studio might at first glance appear a simple combination of two key elements. A closer inspection reveals a study in daring design and elegant execution, the result of which is greater than the sum of its parts.
How do architect and owners feel now the project is complete? "So much went into this project that no singular particular element stands out," Thitchener says. "It's a lot of little things that have come together to make it a successful whole. I'm always excited to see it in the flesh though. I get such a good feeling when I visit. I look at it and think: 'I did that!'."
The building imparts a similar feeling in Palmer. "It really has exceeded all our expectations," he says. "Functionally, it has met our lifestyle needs but beyond that there is such a wonderful feeling when you walk through the door. I never thought it would be so tangible and rewarding.
"Whatever could be going on outside, when I come up here it's just serenity. Everything just feels right with the world. I feel complete."
Note:
*For details on steel roofing and walling product selection, please refer to BlueScope Technical Bulletin guides TB 01A and TB 01B or call BlueScope on 1800 753 658.
This tiny studio – perched high above a beach on the New South Wales Central Coast – is a thing to behold: a 'box' wrapped entirely in cladding made from COLORBOND® Ultra steel, resting upon a finely engineered 'web' of structural steel supports.
Significant design effort has produced meticulous detailing, from the way the wall profile meets that of the undercroft, to the entry sequence. Reducing the number of piers for the piloti structure helped minimise disturbance of the sloping site. The same rigour continues inside, where the clarity of the concept becomes evident. It's all about the elevated position and the view, and the two windows capture the eastern and northern outlooks handsomely. This is a beautifully resolved and restrained example of how architecture can in-fill existing suburbs to meet the growing demand for more diverse housing types.
Project information
Architect
Matt Thitchener Architect
Project
North Avoca Studio, New South Wales
Awards
2018 Australian Institute of Architects New South Wales Chapter Awards, COLORBOND® Award for Steel Architecture – Commendation
2018 Australian Institute of Architects Newcastle Awards, COLORBOND® Award for Steel Architecture, Small Project Architecture – Commendation
Copyright © 2019 BlueScope Steel Limited ABN 16 000 011 058. All rights reserved.
No part of this publication may be copied, reproduced or distributed without consent. BlueScope Steel Limited, to the extent permissible at law, is not liable to any person for loss or damage arising from reliance upon information contained in this publication. The articles featured in this edition of STEEL PROFILE® are sourced, written, fact-checked and curated by the authors with editorial contribution from BlueScope Steel Limited. Any statements or opinions attributed to a person are the views of that person alone and do not necessarily reflect those of BlueScope Steel. The decision to use any particular product or material in the projects featured in this publication was made by the team involved in each project and not BlueScope Steel Limited. While care has been taken to verify the accuracy of details in this publication, BlueScope Steel Limited assumes no responsibility or liability for any errors or omissions in the content of this publication. All information is provided with no guarantee of completeness or accuracy.
Images shown throughout have been reproduced to represent actual product colours as accurately as possible. However, we recommend checking your chosen colour against an actual sample of the product before purchasing, as varying screens and devices may affect colour tones and finishes.
Every project is different and not all products are suitable for all applications, projects and environments. You should confirm the suitability of particular products for your project by contacting the supplier directly and by obtaining information and advice specific to your circumstances.
BlueScope generally recommends the use of COLORBOND® steel or ZINCALUME® steel for the majority of external cladding applications. BlueScope recommends routine preventative maintenance for eaves and other "unwashed areas" of structures that may not be regularly cleaned by rainfall. For information about product maintenance, including preventative maintenance, please call BlueScope on 1800 753 658. To determine whether a BlueScope warranty may be available for use of a product in your particular project, please visit bluescopesteel.com.au/warranties.
BlueScope, COLORBOND®, LYSAGHT®, SPANDEK®, TRIMDEK® and ® colour names are registered trademarks and ™ colour names are trademarks of BlueScope Steel Limited.
Submit your project
We encourage you to share your projects for consideration in a future issue of STEEL PROFILE® magazine. We invite you to submit projects that feature a ground-breaking or an innovative use of steel. We love celebrating and writing about such projects!