True North
True North
An elegantly tailored shell made from broad-ribbed, pearlescent COLORBOND® Metallic steel produces a stellar result in downtown, inner-urban Melbourne.
Words: Peter Hyatt.
Photography: John Gollings; Paul Bradshaw; Peter Hyatt
Residential - Dwellings · VIC
Nov 2017
Wave House
The prototype house demands a restless curiosity, and a certain alignment of the stars, to ensure occupants remain dry and comfortable. Inspiration is one thing, practicality and function, another. The search for an original response can emerge in many ways, but for Melbourne architect Tim Hill of Tandem design studio, his own house largely came about by association or metaphor.
While designing in Melbourne's inner-urban Kensington, Hill found himself reflecting upon the beauty and function of coral bommies - column-like structures that support the complex array of marine organisms and fish within coral reefs and outcrops. Describing his work as inspired by the "visual metaphor", Hill saw parallels in a house that transcended the typical two-dimensional front and back, to become a permeable, vibrant series of possibilities.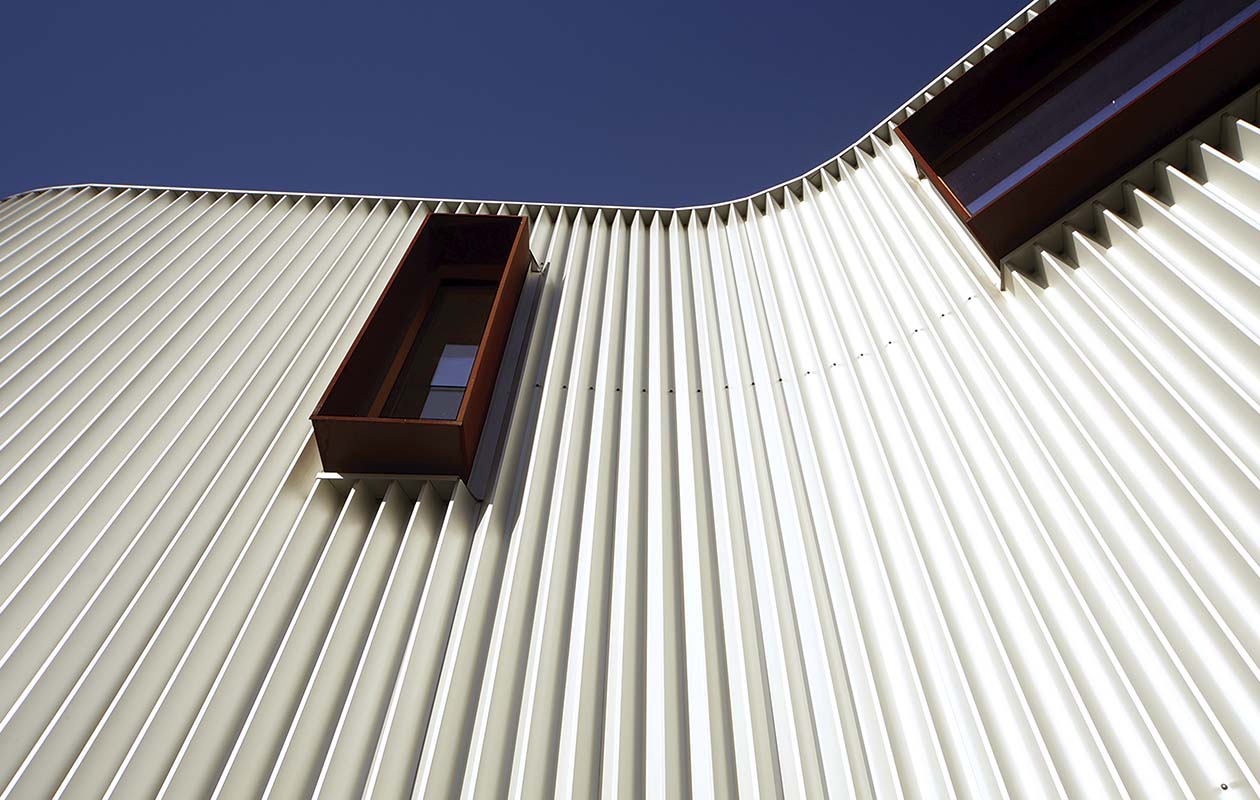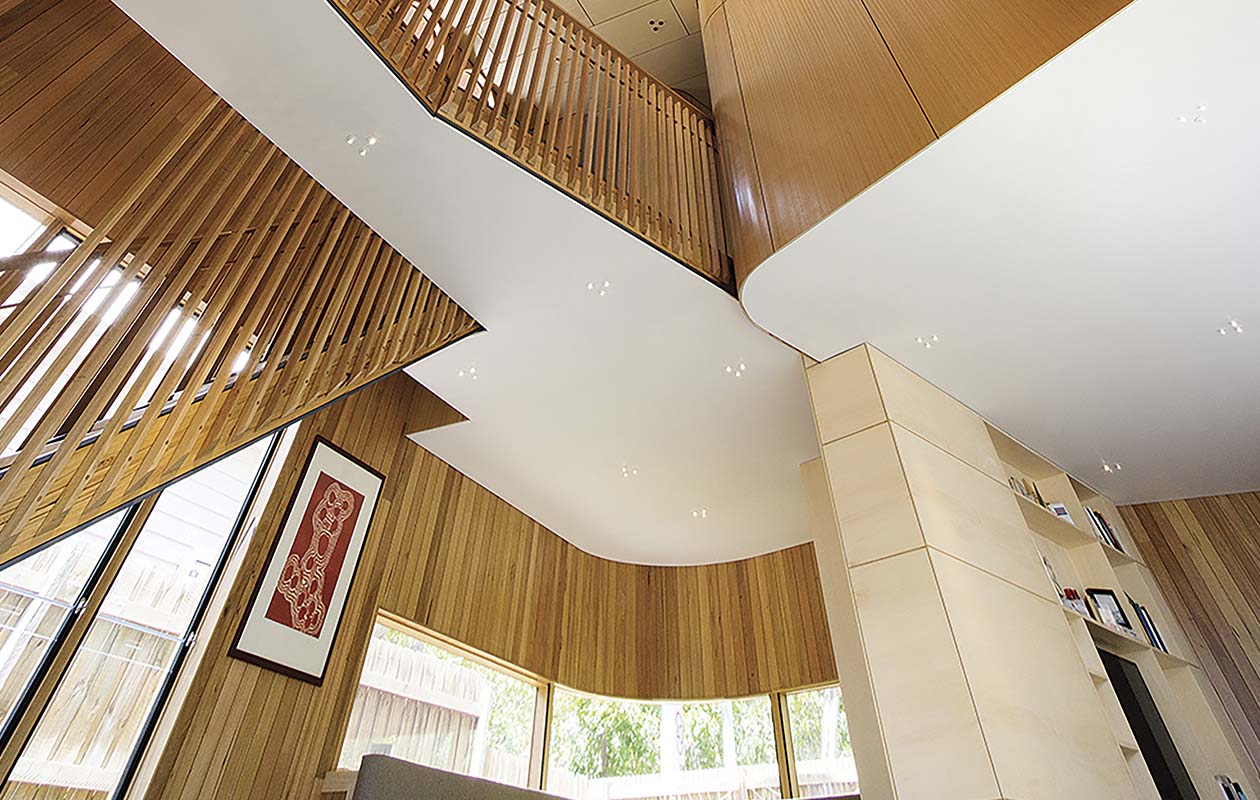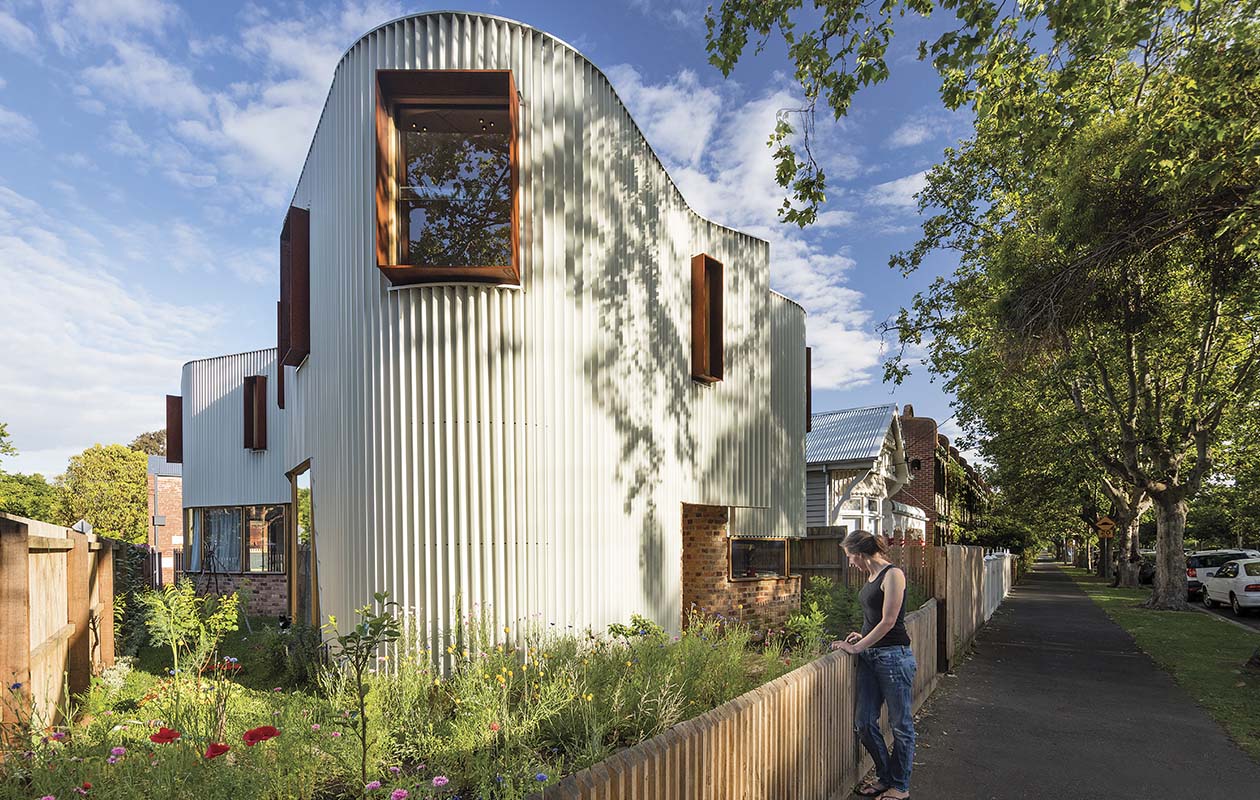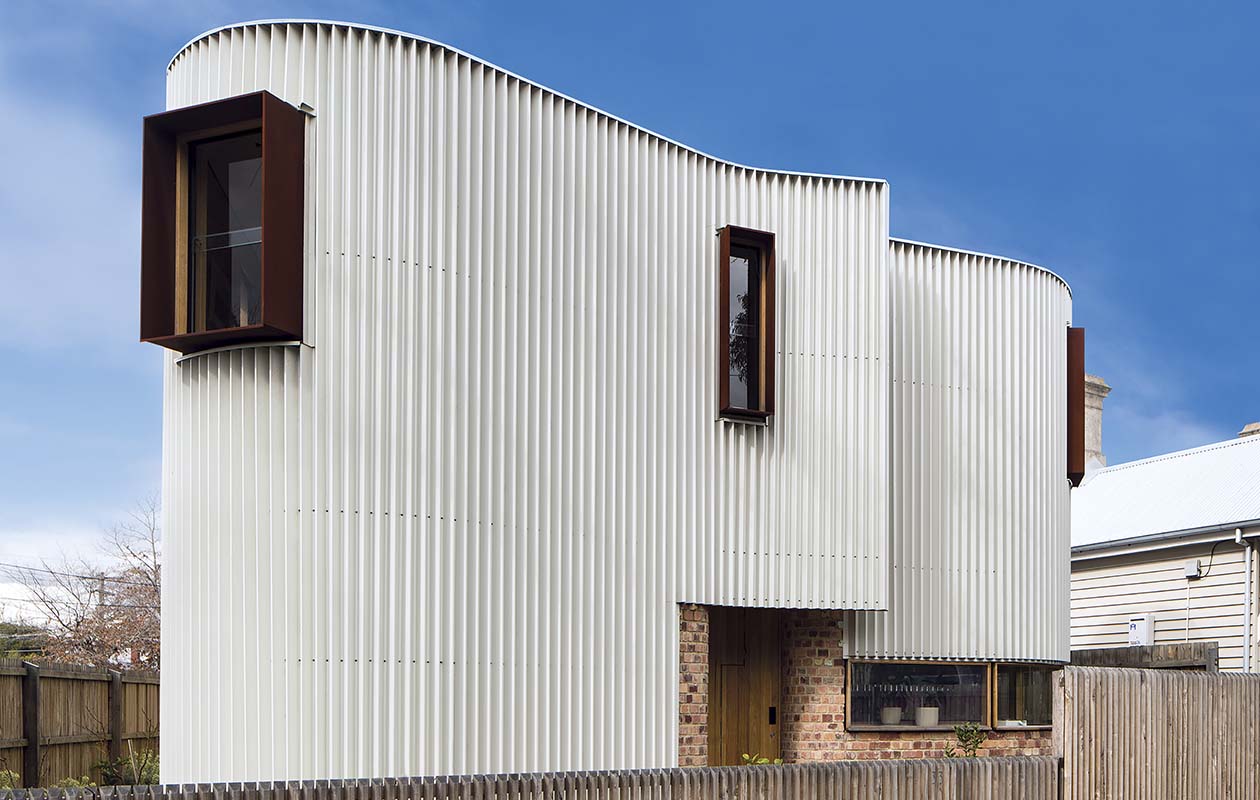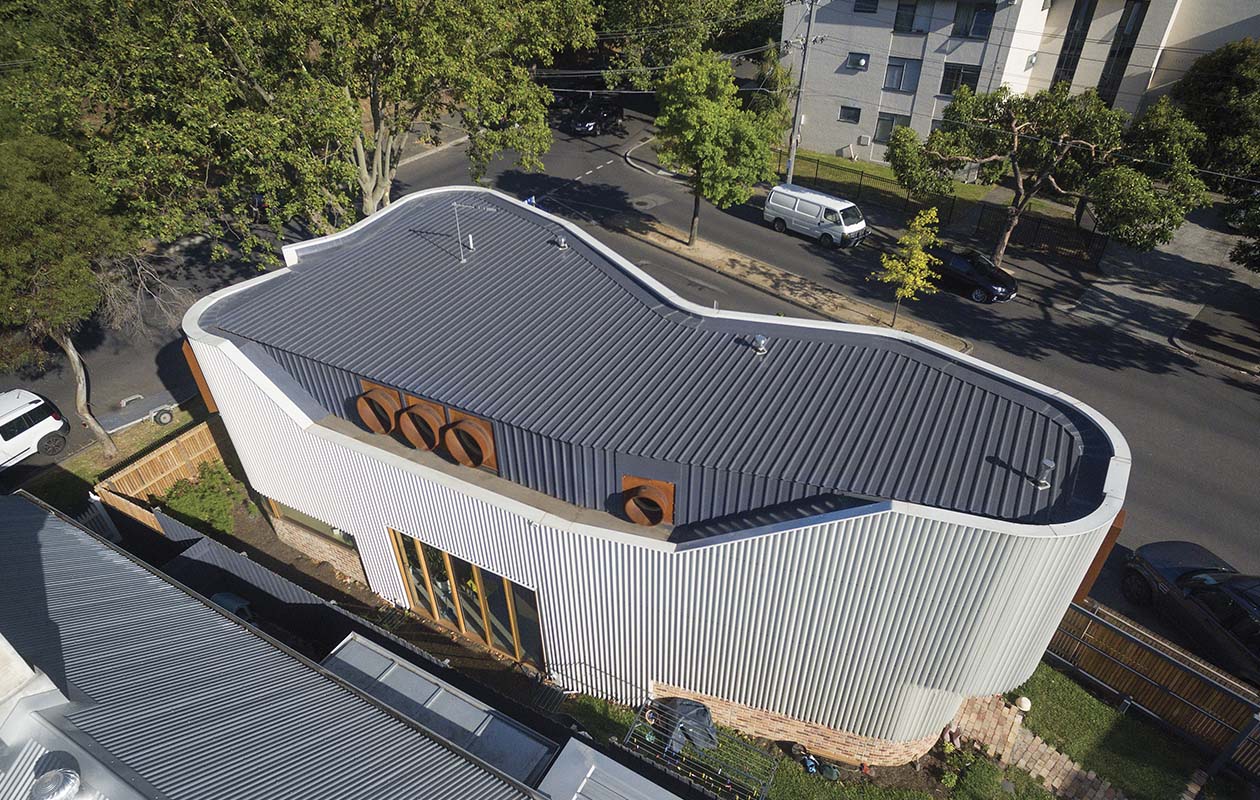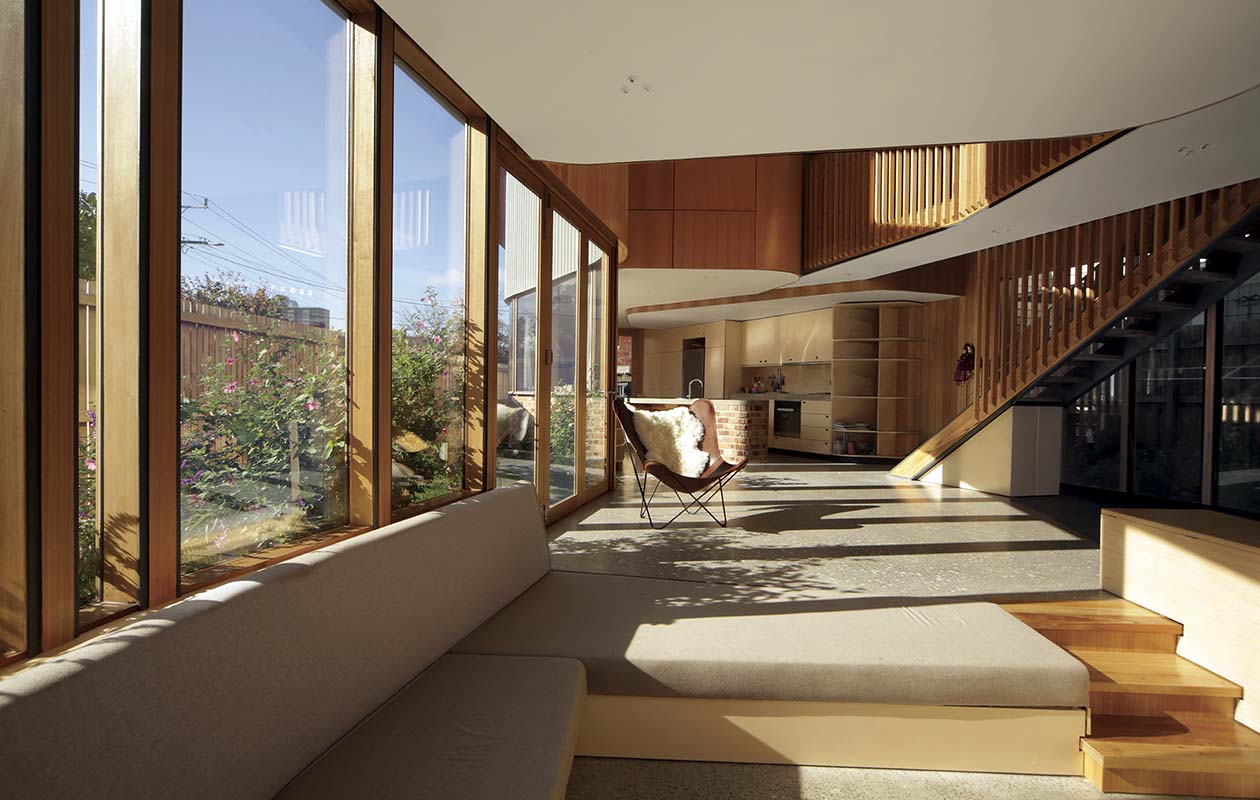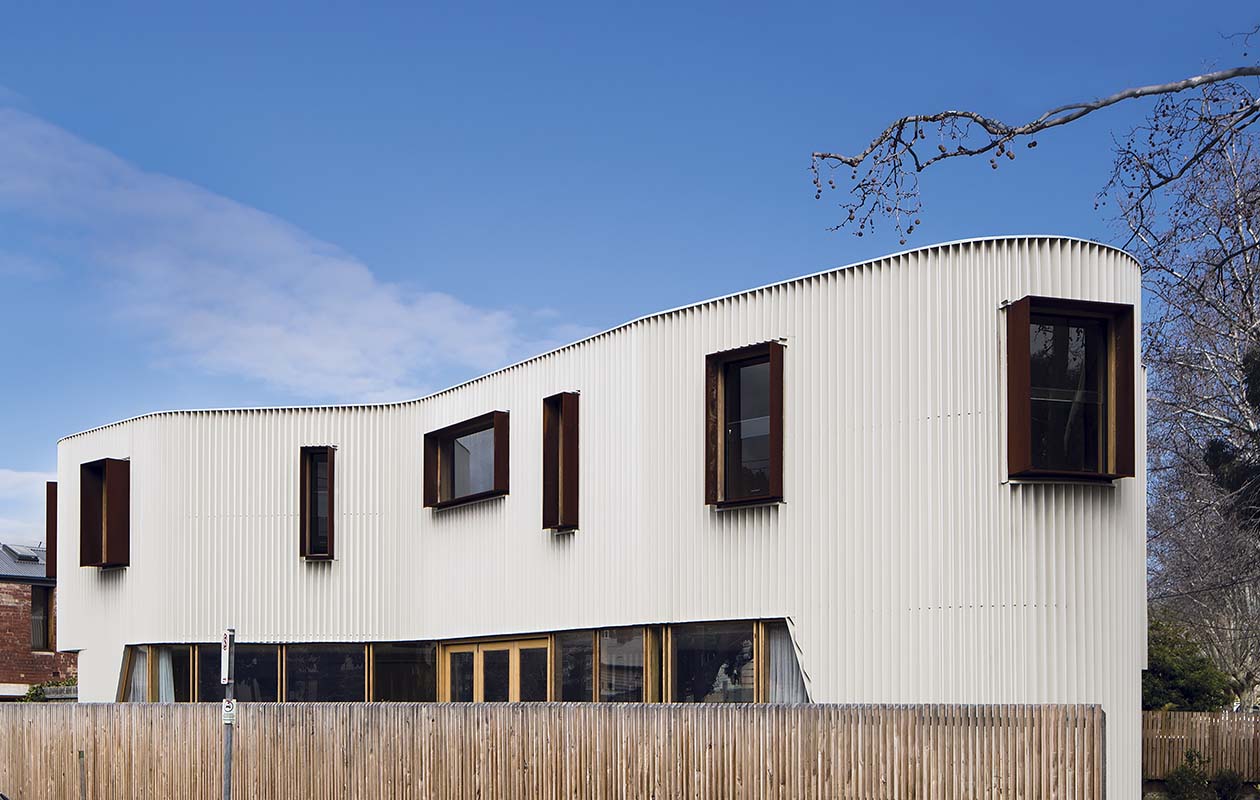 Hill says he prefers architecture to have a certain life of its own that allows others to make their individual associations. "I was most interested in the idea of the 'slippery metaphor' that allows everybody to bring their own reading; where people would say: 'Oh, it reminds me of something I haven't thought of'," he says. "I like it when others form their own relationship and find their own meaning in a shape, but it has to engage people in a friendly way," he adds. "There are plenty of examples of corporate architecture that try to intimidate or impress. Good domestic architecture has to be warm, inviting and stimulating. It should be a very positive and uplifting experience."
The once working-class suburb of Kensington is now gentrified, with upstarts frequently appearing as space-hungry behemoths. Hill's house on the other hand is all about available square millimetres. The site would have deterred many architects and clients – or simply driven them crazy. And yet for all of its oddities, the architecture elicits a satisfying cohesion. Hill's work is known for its jelly-mould form thanks to his organic gestures, but his designs are neither arbitrary nor whimsical.
Its curvilinear form isn't meant to directly reflect the ocean, but to respond to a testing, tapered, triangular site that could easily have shoe-horned a far more geometric, restrained and unyielding result.
Despite the physical constraints and frugal means, fearlessness, invention and common-sense all intersect on this project.
It's not a house where sheer volume or space was the goal, but rather it provides a variety of options: a house for all seasons, where every room has its own signature and opportunity. "Exactly," Hill says. "It's an object in the round, and part of that is because it's on a very exposed corner and yet it sits back into its block. You can actually see all three sides and that's unusual because most inner-city houses are concealed behind walls."
The house draws on an industrial vernacular but introduces an organic, quite soft, almost feminine hand. It's not a brutal thing. "I think the house is really 'pretty'. I use that adjective quite a lot to describe the result," Hill says. "I think it's to do with the scale of the pleats and the colours. My previous house was kind of masculine, but this one is quite pretty. I think it's to do with the scale and the amount of detail."
"We eventually settled on a 125x125mm equilateral triangle. It was amazing that even a minor variation in size either direction – up to 150mm or down to 100mm – changed the building's whole appearance"

Tim Hill

Tandem Design Studio
The house's walls are entirely covered in cladding made from COLORBOND® Metallic steel in a custom-made profile, in the colour Galactic®. Hill says the metallic colour Galactic® was chosen for its pearlescent finish that responds with endless subtlety to prevailing conditions and light. Roofing, meanwhile, is made from COLORBOND® steel in Stramit Speed Deck Ultra® profile, in the colour Ironstone®, delineating the planes and providing a colour contrast.
The steel cladding was customised into a triangular profile that Tandem designed and had steel fabricators Design Sheet Metal (DSM) roll-form into shape. The resulting profile was designed to achieve the precise visual ratio of ribs to flat surface. "We went through a whole prototyping process to get the optimum pleat size with three or four prototypes," Hill says. "We eventually settled on a 125x125mm equilateral triangle. It was amazing that even a minor variation in size in either direction – up to 150mm or down to 100mm – changed the building's whole appearance.
"DSM picked up on the idea of the slippery metaphors I was presenting," he continues. "They took me to a pleating factory once I'd started to talk about the pleat. As the steel fabricators, they were interested in participating in how the cladding could be most efficiently folded and expressed, and evolving something really special."
During the course of each project, Hill investigates other associations and uses those thoughts to push the design forward. "Here, the facade pleats for example, were literally a connection back to a simple way of wrapping the building up without creating too many construction problems. Once I decided that, they started to remind me of fabric, and then I was interested in capturing some sort of sense of movement or some sort of restlessness with the form."
The zig-zagging, pleated facade creates a continuous, curving edge which is pinned together over the front door. The curving form is visually dynamic, appearing to be always in motion. The pleats are punctuated by window hoods made from weathering steel that frame views across the neighbourhood from the upper-level bedrooms.
"Once I made the decision to round the corners, I was quite fearful about creating too much complexity," he says. "I decided to extrude the plan shape up, but subtract volume from the interior. While there are some vital sectional qualities, it's primarily about the plan as a response to site and orientation."
The building is placed in the centre of the block, so the facade undulates and bends to create north-facing pocket gardens, a rear produce garden, and to allow light to enter neighbouring rear yards.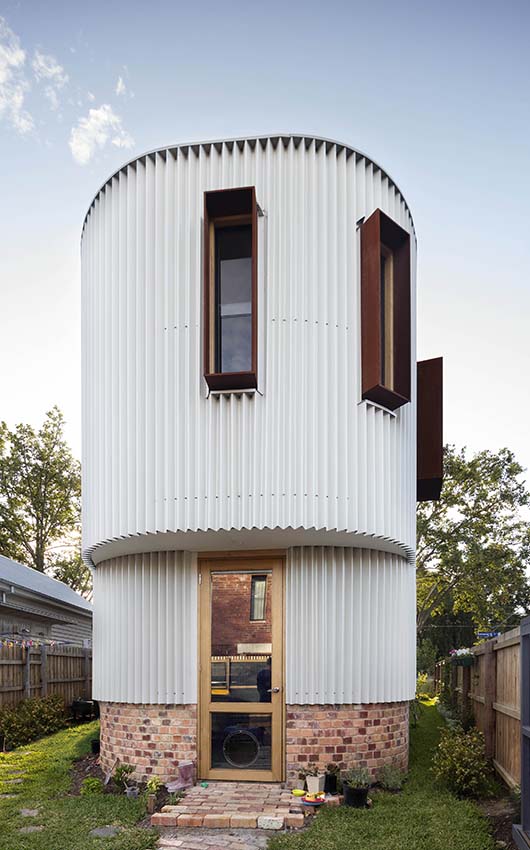 The new dwelling is a high-performance solar passive house with living on the ground floor and sleeping above. The open corner block is wide enough to accommodate two rooms and a corridor on the western boundary, narrowing to a single room towards the east.
Hill says the house's energy efficiency is "Largely about the fundamentals of aspect and volume. That was something of a surprise to me because we're often working with these long and skinny, inner-city houses where you struggle with energy ratings because of such large surface area to volume. Ours was terrific to begin with," Hill says.
"The other remarkable benefit of the pleated profile is its stiffness," he adds. "My previous house was a pole-and-frame structure made of timber that used to wobble. This one is just really rock-solid rigid. Other subtle qualities emerged almost coincidentally as the consequence of this shape and particular ribbed profile that forms an ever-changing display of striations across the surface with sun movement."
"Here, the facade pleats for example, were literally a connection back to a simple way of wrapping the building up without creating too many construction problems"

Tim Hill

Tandem Design Studio
Now that it's finished, Hill says he frequently hears the comment: 'Oh, you must have had a preconceived idea for the house, and so you finally got the opportunity to build it'. "Actually, it was the opposite," he asserts. "The site created the constraints which produced the building, so it is very much the other way around rather than the popular understanding of how these things are designed."
While he found the process of being both architect and client a challenging one, he says it was hugely rewarding. "It's really an opportunity to do something on your own, to make and back your own judgments. There are going to be risks, but you have to negotiate those risks in a way that makes them acceptable rather than frightening. Finding a site, having some freedom to perform your own work, reaching the end and then living in it is just really satisfying."
Rather than the idealised, glamour-model view of architecture, Hill's work shines as a lighthouse. It reminds us that architecture can be a way of life, rather than the standalone, remote object. Lightweight in feel and appearance, a curvilinear steel shell made from COLORBOND® Metallic steel contributes structure, rhythm and spatial delight. While the sum of many parts, it's this bespoke shell that brings haute-couture to this inner 'burb.
As a counterpoint to its neighbours – which include traditional timber and masonry homes with pitched roofs – this curvaceous flat-roofed house showcases the capacity of steel to be both practical and playful. It also serves the architect-owner's aspiration to make efficient use of this odd-shaped site, thanks to its ability to cloak unusual geometries with ease.
Conceived as an object in the round, the house is clad entirely in custom-profiled COLORBOND® Metallic steel in the colour Galactic™. The wide ribs accentuate the design's careful manipulation of proportion and scale, and enliven the play of light and shadow across the material's surface. With its projecting window hoods made from weathering steel, and internal timber linings that echo the dimensions of the exterior steel cladding, the design achieves a neat symbiosis between external and internal worlds, and provides a joyous addition to the streetscape.
Copyright © 2017 BlueScope Steel Limited ABN 16 000 011 058. All rights reserved.
No part of this publication may be copied, reproduced or distributed without consent. BlueScope Steel Limited, to the extent permissible at law, is not liable to any person for loss or damage arising from reliance upon information contained in this publication. The articles featured in this edition of STEEL PROFILE® are sourced, written, fact-checked and curated by the authors with editorial contribution from BlueScope Steel Limited. Any statements or opinions attributed to a person are the views of that person alone and do not necessarily reflect those of BlueScope Steel. The decision to use any particular product or material in the projects featured in this publication was made by the team involved in each project and not BlueScope Steel Limited. While care has been taken to verify the accuracy of details in this publication, BlueScope Steel Limited assumes no responsibility or liability for any errors or omissions in the content of this publication. All information is provided with no guarantee of completeness or accuracy.
Images shown throughout have been reproduced to represent actual product colours as accurately as possible. However, we recommend checking your chosen colour against an actual sample of the product before purchasing, as varying screens and devices may affect colour tones and finishes.
Every project is different and not all products are suitable for all applications, projects and environments. You should confirm the suitability of particular products for your project by contacting the supplier directly and by obtaining information and advice specific to your circumstances.
BlueScope generally recommends the use of COLORBOND® steel or ZINCALUME® steel for the majority of external cladding applications. BlueScope recommends routine preventative maintenance for eaves and other "unwashed areas" of structures that may not be regularly cleaned by rainfall. For information about product maintenance, including preventative maintenance, please call BlueScope on 1800 753 658. To determine whether a BlueScope warranty may be available for use of a product in your particular project, please visit bluescopesteel.com.au/warranties.
BlueScope, COLORBOND®, ZINCALUME® and ® colour names are registered trademarks and ™ colour names are trademarks of BlueScope Steel Limited. Speed Deck Ultra® and Stramit® are registered trademarks of Stramit Corporation Pty Ltd.
Submit your project
We encourage you to share your projects for consideration in a future issue of STEEL PROFILE® magazine. We invite you to submit projects that feature a ground-breaking or an innovative use of steel. We love celebrating and writing about such projects!