Rosanna House
Rosanna House
Inventive handling of structural steel and steel cladding by Nest Architects sensitively modernises and extends a treasured mid-century family home.
Words: Verity Campbell.
Photography: Paul Bradshaw
Residential - Dwellings · VIC
Aug 2017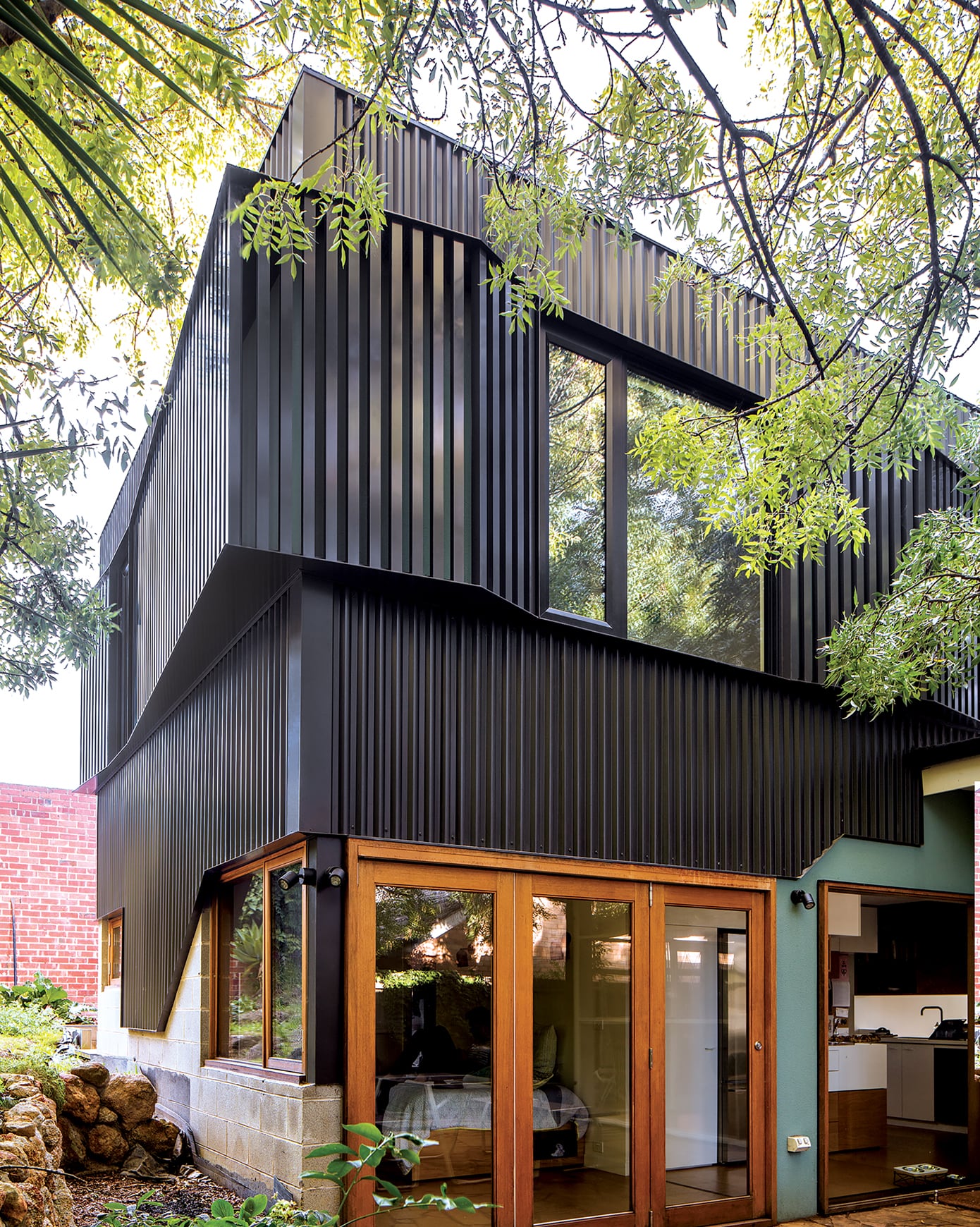 Project Summary
Cleverly blending past and present, structural steel and steel cladding creates a refined domesticity for this responsive extension of a mid-century home.
See Project Information
Modernised Mid-Century
There is renewed zeal for mid-century design in Australia, of well-considered, affordable homes that were sensitively in tune with the landscape.
This 1960s home in Melbourne's leafy Rosanna is a classic example of the era: light-filled, unadorned, surrounded by greenery and hidden from the street by a fabulous breezeblock garden wall. The family was looking for an architect who could extend and modernise the home, yet respect its philosophical and architectural integrity.
Nest Architects' Emilio Fuscaldo reassured these clients that they could entrust their own gem to Emilio and his team. The family's brief to Fuscaldo was explained: "They wanted the home renovated sensitively, without it becoming a simple homage to mid-century architecture and interior design," explains Fuscaldo. It was to be affordable, able to evolve with changing family needs, and to allow a varied, engaging occupancy experience. 
To realise the project and accomplish the brief's requirements, the use of steel was crucial. It was the one material, Fuscaldo calculated, that could help bring to life the clients' trio of aspirations for the project: spirit of place, dynamism and affordability.
The design revolves around a sizeable two-storey central "core", inserted into the existing floorplan, that houses a new kitchen and service areas on the ground floor, and two bedrooms for the teenage children upstairs. Structural steel and architectural steel cladding sensitively connect old with new, ensuring the interventions are responsive and considered.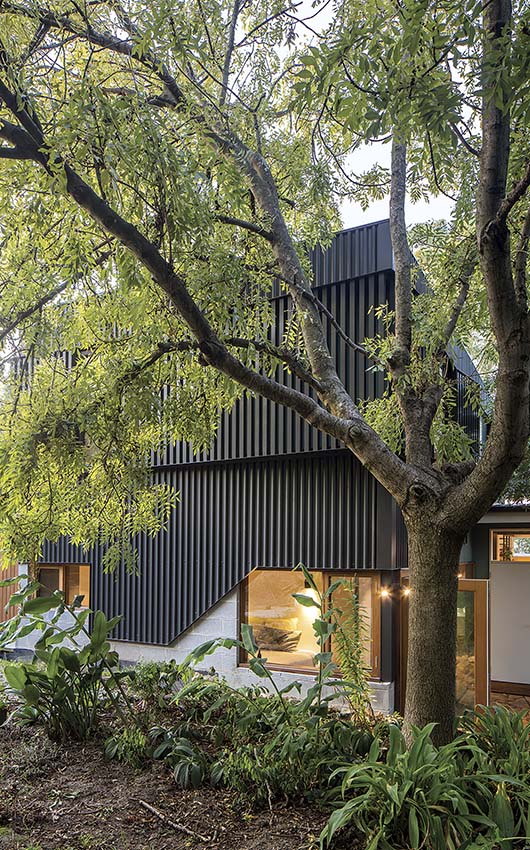 "We wanted the connection between the ground floor and the first floor to be slender and slim. Steel's the best thing to do that"

Emilio Fuscaldo

Nest Architects
Holding up the first-floor structure above the kitchen, two angular structural steel columns in a V-shape form one corner of the room. Specified as 90mm circular hollow sections (CHS), their strength allows the kitchen to remain open to the expansive living areas while, without undue bulk, creating a sense of separation. "We wanted the connection between the ground floor and the first floor to be slender and slim," explains Fuscaldo. "In my opinion steel's the best thing to do that. It's the most appropriate material for achieving forms that are slight and slender, yet really strong."
Steel also plays a role in mediating the spaces, when moving inside to outside, from old to new. Black timber framework battens in the new kitchen link with the external cladding on the addition in what seems a single movement. Cladding made from COLORBOND® steel in Stramit Longspan® profile, in the colour Night Sky®* forms a simple steel skin teamed with areas of painted turquoise and undulating metal slat screens, a motif from the kitchen that continues outside along the exterior wall. The Night Sky®* coloured architectural cladding recedes into the shadows of a gigantic elm in the back garden, contrasting with the light and permeable, floor-to-ceiling glazing of the existing home. From the street, the new second-storey addition is barely visible against the verdant canopy. "People think black tends to stick out, but when you have shadow-play on a facade, as this one does, black will recede the form," says Fuscaldo.
As self-described "nest" architects, Fuscaldo sees his practice's work as analogous to the way a bird forages for useful objects to construct a stable and safe home, which also happens to fit beautifully into its environment. This principle is clearly articulated throughout this project.
Central to Nest's work is a philosophy that each project should be more about the client than the architect. "If you're designing for them, for their perceptions and for their experience, then ultimately it's their house," asserts Fuscaldo. "If you're designing for you or the camera angle or the hero shot or the one tactic, I don't think it's representative of the client, I think it's representative of you. I'm not sure that that's our job."
In this home, steel's strength and versatility has enabled the achievement of the client-centric dynamism both architect and client were after: forging an architectural experience that slowly reveals itself over time. "We didn't want to have a one-hit-wonder that our client would get bored of," says Fuscaldo.
"People think black tends to stick out, but when you have shadow-play on a facade, as this one does, black will recede the form"

Emilio Fuscaldo

Nest Architects
From a distance, the oblique angles of the V-shape are difficult to align with the eye, offering countless new perspectives and views into and out of the kitchen. Look closer and the expert marriage of circular steel columns piercing white Corian- and American Oak-veneered joinery demonstrate a craft and material dexterity that stretched the abilities of both the design and construction teams. "It's quite a bit of work to achieve a nice detail at that junction. You can imagine a circular post on an angle going through joinery and benchtops is difficult to detail, let alone construct!" says Fuscaldo.
The undulating slat screens on the facade of the insertion help ensure the home reveals itself over time. At different times of the day, under different lighting conditions and from different angles, the building offers new perspectives and views. The screens are spaced such that the colour behind can be seen at certain angles and blocked out at other angles, heightening the feeling that there is a bit more to this simple building than first thought.
Nest Architects also chose COLORBOND® steel for the exterior cladding for its appearance, and for its longevity and ease of maintenance qualities that were especially relevant for the second-floor addition. "We didn't want our client to be in a position where they'd have to employ an overly rigorous maintenance regime on their house," Fuscaldo says.
The architects specified a contrast for the roofing, which is made from COLORBOND® Coolmax® steel in Stramit Speed Deck® 500 profile, in the colour Whitehaven®. The team was able to combine the material with insulated plasterboard, adding a touch of sustainability in the form of a cool roof to help combat the urban heat island effect without blowing their budget, says Fuscaldo.
"We're proud of the fact that we were able to design a house that punches above its weight in terms of its look and feel, for quite a low budget," he says.
Fuscaldo credits the adaptability and strength of steel as instrumental to an innovative design that was achieved with current building practices. The casual, open, friendly and unfussy home has retained its pavilion-style mid-century grace while at the same time reflecting and responding to the people who live in it.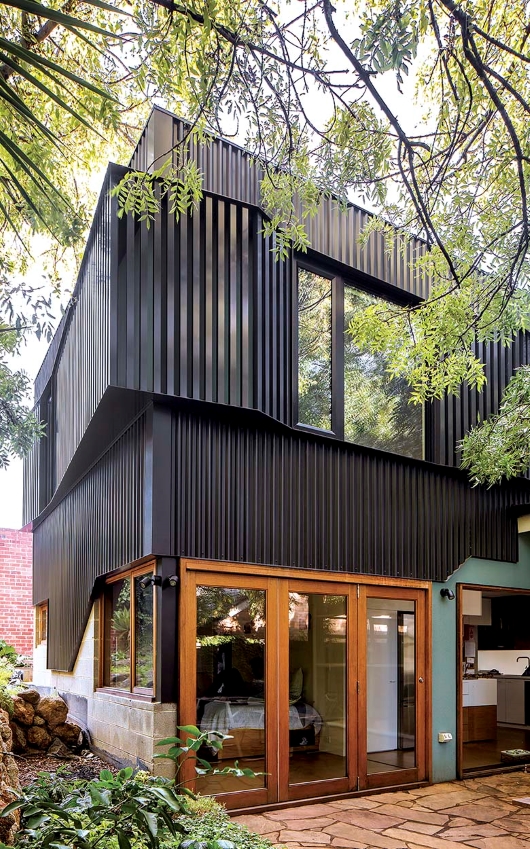 *COLORBOND® steel in Night Sky® may be available subject to a specifier's enquiry, with longer lead times and minimum order quantities applicable.
In this alteration and addition to a modest mid-century house in Melbourne's northern suburbs, Nest Architects has skillfully used COLORBOND® steel in the colour Night Sky® to perform two distinct but equally important tasks.
Firstly, from the street, the new steel-clad second-storey addition appears to float and recede into the established tree canopy, minimising its visual impact above the original house and within the streetscape and neighbourhood. From the back, however, the crisp steel cladding imparts definition and a contemporary character to the new addition, and the wrap-around effect integrates new and existing fabric.
The simple and understated interior contrasts with the steel exterior to create a refined domesticity. This is a clever blend of past and present, where each era accords respect and deference to the other, where steel plays a key matchmaking role, to bring them both together.
Project information
Awards
2016 Australian Institute of Architects Victorian Chapter Awards, Alterations and Additions – Shortlisted
Copyright © 2017 BlueScope Steel Limited ABN 16 000 011 058. All rights reserved.
No part of this publication may be copied, reproduced or distributed without consent. BlueScope Steel Limited, to the extent permissible at law, is not liable to any person for loss or damage arising from reliance upon information contained in this publication. The articles featured in this edition of STEEL PROFILE® are sourced, written, fact-checked and curated by the authors with editorial contribution from BlueScope Steel Limited. Any statements or opinions attributed to a person are the views of that person alone and do not necessarily reflect those of BlueScope Steel. The decision to use any particular product or material in the projects featured in this publication was made by the team involved in each project and not BlueScope Steel Limited. While care has been taken to verify the accuracy of details in this publication, BlueScope Steel Limited assumes no responsibility or liability for any errors or omissions in the content of this publication. All information is provided with no guarantee of completeness or accuracy.
Images shown throughout have been reproduced to represent actual product colours as accurately as possible. However, we recommend checking your chosen colour against an actual sample of the product before purchasing, as varying screens and devices may affect colour tones and finishes.
Every project is different and not all products are suitable for all applications, projects and environments. You should confirm the suitability of particular products for your project by contacting the supplier directly and by obtaining information and advice specific to your circumstances.
BlueScope generally recommends the use of COLORBOND® steel or ZINCALUME® steel for the majority of external cladding applications. BlueScope recommends routine preventative maintenance for eaves and other "unwashed areas" of structures that may not be regularly cleaned by rainfall. For information about product maintenance, including preventative maintenance, please call BlueScope on 1800 753 658. To determine whether a BlueScope warranty may be available for use of a product in your particular project, please visit bluescopesteel.com.au/warranties.
BlueScope, COLORBOND®, ZINCALUME®, Coolmax®  and ® colour names are registered trademarks and ™ colour names are trademarks of BlueScope Steel Limited. Stramit Longspan® and Stramit Speed Deck® are registered trademarks of Stramit Corporation Pty Ltd.
Submit your project
We encourage you to share your projects for consideration in a future issue of STEEL PROFILE® magazine. We invite you to submit projects that feature a ground-breaking or an innovative use of steel. We love celebrating and writing about such projects!